Rainbow Valentine Nubby Wand!
This lovely glass dildo has a heart-shaped handle, making it perfect for play with a partner! It is also great for anal play so men can enjoy this toy as well! There is loads of texture with this toy and it's not lacking for a neat look to it as well, with all of that color!
Published:
Pros
~Beautiful, rainbow colors
~Very textured
~Cute heart handle
Cons
Basic care needed with all glass toys
I'd had the
Rainbow Heart
on my wishlist for a very long time before finally breaking down and purchasing this toy. This dildo made by
SSA Glass
is made for internal and external stimulation for everyone! Both men and women can enjoy using this toy, since it can be used externally, vaginally and anally.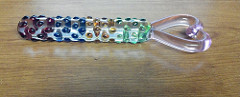 This unique dildo is made out of
pyrex glass
, a strong and hard material rated 10 out of 10 on the safety scale: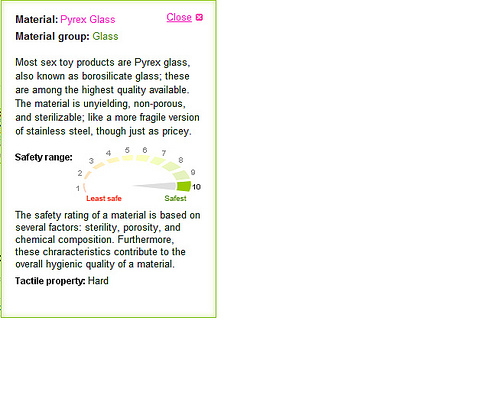 Extra care should always be taken while playing with glass toys. Because they are so hard and unforgiving, they can possibly bruise the cervix during use. It is best to either use them solo or with a partner who knows your limits. Glass, if used right, is one of the most fun materials, in my opinion! I love glass toys, and they are quickly becoming my favorite material!
Before anything else, you will want to check your toy for any cracks or chips in the material. Though you may not even feel any cracks in the glass, this can harbor bacteria and is unsafe. Other than that, there are no real problems with glass toys. They don't have any odor or taste even straight out of the package. They are also fantastic for temperature play. To do this, simply place your toy in a bowl of hot or cold water, depending on your preference. After a few minutes, remove the toy and it's ready for play! Don't ever microwave or freeze a glass toy, as this can cause the material to become brittle and break, even microscopically. This can cause bacteria to grow in the crevices, or cause the toy to break.
The Rainbow Heart feels great externally, especially during temperature play. It can tease the nipples, clitoris, anal opening or other parts of the body. It is great for anal play, and possibly P-spot stimulation, though with the shape it may be more tricky to do. It works very well for clitoral stimulation and hits the g-spot, though for my smaller body it is a bit bulky for this. The texture is very intense and sometimes numbing at faster thrusting speeds. Another great way to play is in the shower or bath tub. Glass toys are waterproof, of course, so feel free to take them with you when you clean up, so you can get dirty! Just be careful, though! Glass toys are also very
slippery
when wet!
When you are finished using your toy, you may clean it
or
sterilize it. To clean, simply wipe down with a toy wipe, use some toy cleaner, water and antibacterial soap, or isopropyl alcohol. If you plan to share this toy, either use a condom or remember to sterilize in between partners! To sterilize, whether for sharing or not, simply place it for a few minutes either in boiling water or a 10% bleach solution.
Lube is never an issue with the Rainbow Heart! Use your favorite oil-based, water-based or silicone-based lubricant with this toy, and no need to worry about it doing damage to the material! Glass is compatible with all types of lube!
This toy is truly something to look at. The shaft minus the handle is 6.5" long and the entire length is insertable. It is made of clear glass and has nubs which create the "rainbow" portion of the toy. The consist of green, yellow, blue and red nubs lining the entire length of the toy. The 2 3/4" pink glass handle really adds a nice touch to this toy. It has a 4" around circumference and while that may not seem like that much girth to some, the nubs certainly add a whole lot! If you don't like larger toys, keep in mind that the nubs do make this toy feel a bit bigger than it is, so keep that in mind when considering that 4"!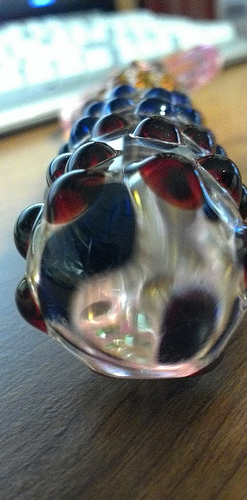 The dildo is perfectly straight, aside from the heart-shaped handle. It does draw attention, so of course it is not something that you can just leave laying around. It does look very neat, though.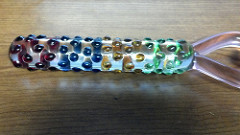 The company provides a red, soft, velveteen drawstring pouch to store the toy in. The pouch is not padded, so you may want to consider buying another
pouch or box
to store it in. I keep mine in the pouch and keep the pouch inside of my toy box! I did notice that it's difficult to close the drawstring pouch with the toy in it, because the toy is slightly too long! I just put the toy in heart first, to close it!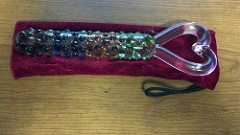 Here, I've provided size comparisons to the
Icicles No. 21
and then the similar but smaller and without a handle,
Rainbow Mega Nubby
.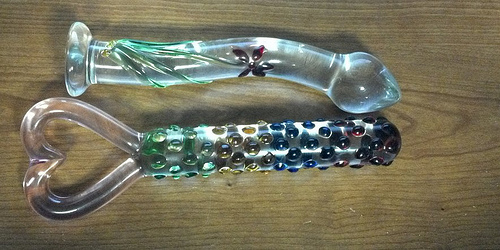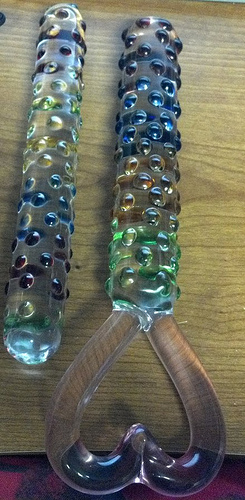 Experience
This toy is very special to me. This was my Valentine's Day toy, and what a perfect toy with its cute heart handle! When I first pulled the toy out of the pouch my guy looked at it and said to me, "I'm going to enjoy using this on you, with that handle!"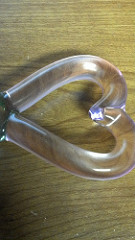 It was exciting to hear him want to use a toy like this on me, and the handle makes it perfect for use with a partner. The handle is also a great "flared base" for anal play solo, but of course it can help a partner play with that as well!
Because I am a small woman, this toy was too bulky to effectively be moved around enough while inside of me to hit my g-spot well. I did manage to brush up against it a few times, but it just didn't work out for me. Women who like larger toys may be able to accomplish this with no problem, though!
This content is the opinion of the submitting contributor and is not endorsed by EdenFantasys.com
Thank you for viewing
Rainbow heart
– textured glass dildo review page!