Pure Plug 2.0 >> A pound and a quarter of Stainless Perfection!
The ultimate Pure Plug design! If you like the NJoy Pure Plug Large, the Pure Plug 2.0. is the complete experience and will easily replace all others as a favorite. Can be worn long term comfortably.
Published:
Pros:
Mirror finish polished Stainless Steel. Excellent design. Weighty, quickly warmed or cooled.
Cons:
Large, Not recommended for first time beginners.
The NJoy 2.0 XL Pure Plug is a formidable 2" dia. x 3.5" insertable stainless plug for the serious aficionado. The Njoy 2.0 comes packaged in a very classy black storage box with a formed fuchsia red satin liner. Njoy toys are made from solid 316 medical-grade stainless steel and then polished to a mirror shine. This is a big, heavy plug weighing in at 1.31 lbs. and worth every penny. Once you get used to this plug, your body will crave it, and thanks to its high quality stainless composition, will last a lifetime. Don't be concerned about the price, if you're like me it will soon replace most of your other anal toys.
Pure Plug 2.0 Actual Size Specs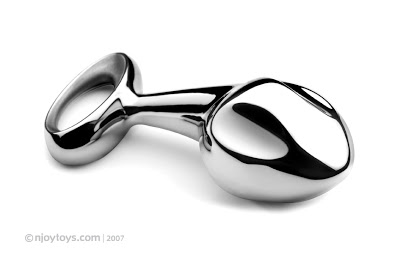 Njoy toys are easily washed with hot soapy water or boiled to sterilize. The non-porous surface won't let bacteria in and only a minimal amount of your favorite thicker lube is needed for long term wear. If you are looking for a larger plug with some heft to it, this is the plug for you. This plug is not recommended for beginners. Even experienced users will take some time learning how to be able to accept this. Don't let that intimidate you. After the first few times wearing this you only want it more. It has a unique smooth strawberry shaped head and a slender stem that stays put. The handle is beveled and makes it easy to remove. The handle is rigid and if you have a bony butt it may get a little uncomfortable at first sitting on hard surfaces. I would consider myself average and have had no problem sitting on a bar stool for hours on end in just a pair of jeans wearing this. The oval bevel makes it impossible for anyone to ever know it is there. Another trick I tried at first was to weave a folded paper napkin or paper towel around the inner ring figure-eight style and lightly saturate it with some long term skin moisturizing lotion like Aveeno daily moisturizing lotion.
link
Stops it from chafing and a very comfortable topical lotion during longer term use. After a while you won't even need that.
Experience
If you enjoy the Pure Plug (Large), you can handle the Pure Plug 2.0 (XL) no problem. The smooth, shallow divots/grooves on the head reduce circumference slightly and actually help retain lube, as there is often residual lube in the divots when I remove it. The secret with this plug is to be super relaxed the first few times you insert and remove it. Go slow. Using plenty of lube, the first time I was laying on my side on a couch, with a leg hiked up over the back of the couch. Gently push out against the plug with your sphincter as you push in on the plug handle slowly with your fingers, wait a little, relax, breath, and repeat until your body absorbs it and it finally slides in. The same goes for removing it, gently put pressure against the plug inward with your fingers firmly on the handle as you push it out slowly with your sphincter, let it slide out very slowly. (Hang on to that handle firmly during removal so you don't drop it, as it is heavy). After a few times you will feel more confident and relaxed, and inserting it from any position will become second nature. I can just hike it in quickly from a standing position now. I've worn this plug as long as 18 hours non-stop with no problems removing it, and I always enjoy sleeping with it in. I like to warm it under the faucet for a minute or so before I lube it and put it in.
Follow-up commentary
1 month after original review
I've had the Pure Plug 2.0 now for about 3 months and it looks as sparkling new as the day I bought it (Can't beat the easy-to-clean Stainless). This is my #1 go-to plug at home during playtime. Provides excellent p/g spot stimulation for him/her solo, and stays put for him while thrusting, but may be a little large for her to wear during intercourse as it could put too much pressure against her vagina (d/p).
..
This is a large, voluminous plug that can be worn comfortably longer term, but due to its weight and size will start to feel heavy after walking around for several hours. I strongly recommend it only for more experienced plug users. Beginners should start with one of the smaller sizes.
..
For longer term wear or out in public (6-8 hours or more), I prefer the Pure Plug Large instead, it's super comfortable and very safe (stays put). However during playtime the Pure Plug Large doesn't provide the overall p/g spot stimulation the Pure Plug 2.0 does. So I have them both, and I highly recommend the Pure Plug 2.0 to the serious plug lover. One of the better investments I've ever made, will last a lifetime. NJoy!
This content is the opinion of the submitting contributor and is not endorsed by EdenFantasys.com

Thank you for viewing
Pure plug 2.0
– butt plug review page!