Trouble Is A Friend.
Please forgive me Happy Valley! I have a number of your toys, but I simply could not use Joe Rock successfully. The base and neck gave both my partner and I great discomfort during sex, and it irritated my bum when I tried to wear it during long periods of time. I hope others will have a more pleasurable time with this plug, but this has become an enemy of my butt.
Published:
Pros:
Silicone, Colors, Intermediate plug, Semi tapered tip
Cons:
Base and neck is way too thick and firm for comfort, Lint magnet, Not for beginners
Oh Happy Valley, how I hate to write anything negative about you! Unfortunately, I just cannot bring myself to love or even like the Joe Rock plug. I highly enjoyed the Pleasure Plug 2. What went wrong? Let me explain.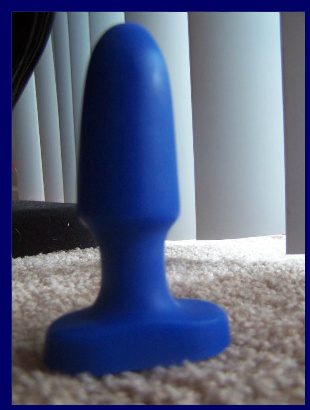 Material/Texture:
The Joe Rock plug is made out of quality silicone. The silicone is super firm, with very little give. It comes in many different colors, which is a huge plus in my book. I loved the blue color, so I decided to go for it. The color did not disappoint me. It looked exactly like the product page photo. Silicone is taste and smell free, hypo-allergenic, non porous (which means it will not harbor any bacteria), and it can be sanitized via boiling or bleaching. Silicone is also known to be a hair and lint magnet.
I am a huge lover of silicone. It is just so darn easy to care for. It is the perfect material for beginners. In fact, I wish my first toy would have been silicone. If taken care of properly, silicone toys will last a very long time. This plug is obviously waterproof, but since it is only compatible with water based lubricants you might run into some trouble when playing in the shower.
While this plug is rock hard firm, it is completely smooth to the touch. There is a little bit of drag, but that is to be expected with almost any silicone toy. The drag can be reduced with some water based lube.
In these flexibility photos, I am putting a lot of pressure to get it to bend where it is. Keep this in mind.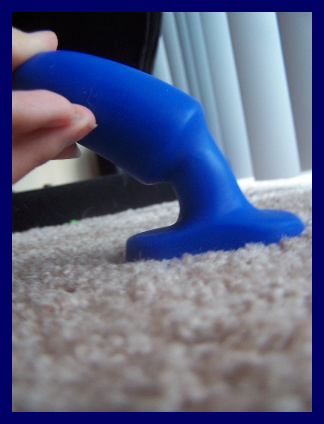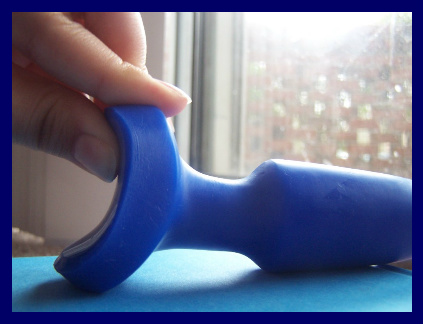 Design/Size:
The plug is designed with the classic butt plug shape in mind. The tip is between a tapered tip and a blunt tip. It was pretty easy to insert thanks to the firm silicone. The shaft gradually increases to the largest part of the toy, and then it quickly drops onto the slimmer neck. There is a flared base which makes this one super safe for anal play. My Joe Rock came to me without any seams.
While the design is like that of many other anal plugs, I ran into some issues. I am not new to firm toys in my bum, but the firmness of the silicone mixed with the thick neck and base equals a very uncomfortable plug. I have ample butt cheeks, yet I cannot wear this plug for more than 5 minutes at a time. The thick rigid base and neck refused to move or flex with my body, and it just caused some immense irritation. The one good thing about the neck is that it was long enough for me to retain. I did not have a problem with it wanting to pop out. However, this plug failed whenever I tried to have sex with my husband. When I was on top or on bottom during missionary, the base would constantly bump into his testicles. When I was on my hands and knees, the entire toy felt like it was digging into his penis. All the while, the base was rubbing my cheeks completely raw!
Measurements:
Total Length-4"
Insertable Length-3 1/2"
Diameter-1 1/4"
Neck Diameter-3/4"
Neck Length-1"
Base Length-2 3/8"
Width of Base-1/2"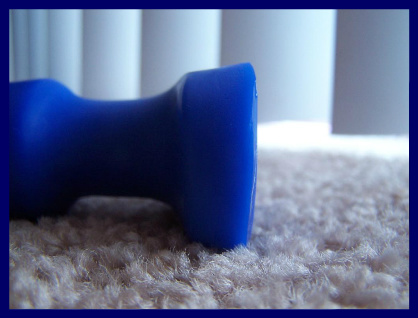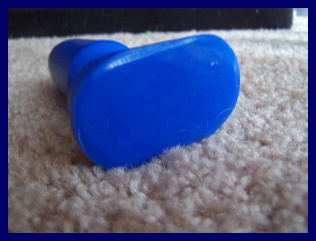 Packaging:
Happy Valley sends this plug in a plastic bag with a think paper fold over stapled to the top. The front of the paper hosts the company's name in big red letters. The back has some care information, but not much. Obviously this is not discreet. The toy is in complete view, and there are hints all over the paper that suggests what the toy is.
Once open, there is no way to close the plastic bag so a Ziploc bag is the option I chose for storage.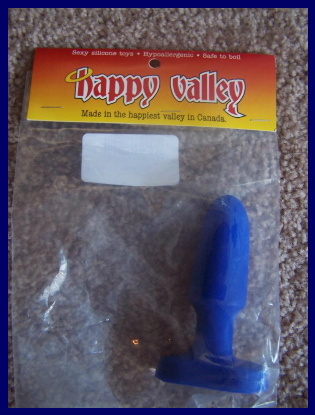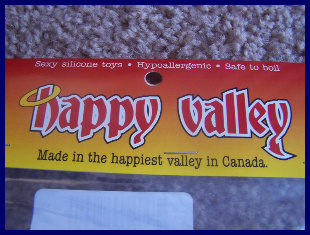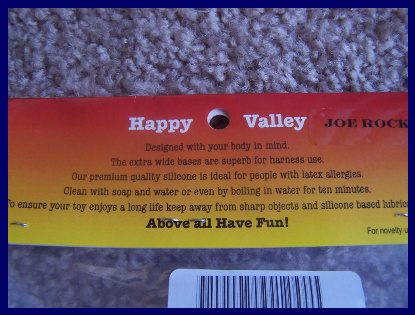 Care/Cleaning:
Silicone is so easy to care for that it is quite ridiculous. Simply wash with warm water and antibacterial soap or your favorite toy cleaner. To sanitize, you can boil for 3-5 minutes or wipe down in a 10% bleach solution. If you plan on sharing with a partner, I still suggest a condom to cover the plug. Also be sure you never go from anal to vaginal with any toy unless properly cleaned. For storage, I suggest a Ziploc bag to cut down on the hair and lint that will not hesitate to stick to the plug. Be sure to only use water based lubes with Joe Rock.
Experience
Comparison Photos:
These pictures are comparing the Joe Rock, Pleasure Plug 2, and Ryder.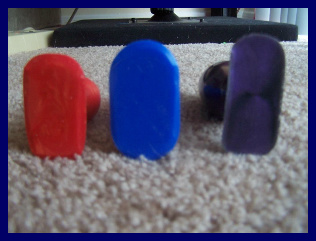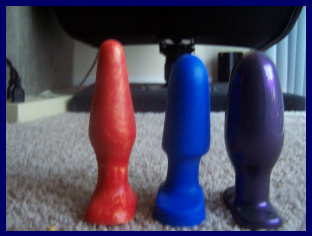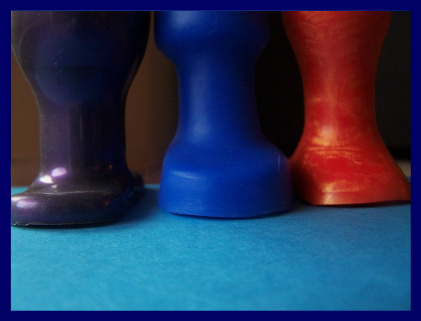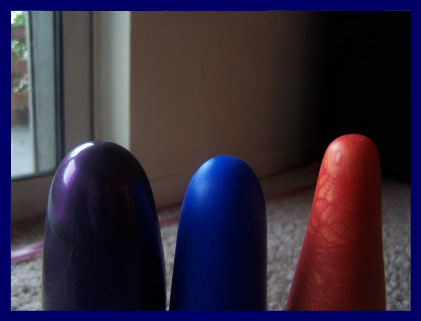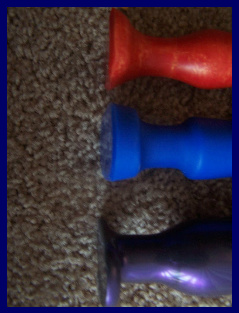 Overall Thoughts:
I cannot completely write this one off. I feel like it was my body's fault just as much as the toy's fault that it did not work out. Someone else might love this plug, but it just was not for me. That being said, I do not know who to recommend this to. I know the material is too firm, and the diameter is too large for it to be comfortable for beginners. The material might be firm enough to rub the prostate, but I cannot say for sure as I do not have a prostate. Due to the fact that I think that it might work for others, I am giving it 3 stars. If I was rating on my experience alone, it would get 2 stars. I am so sorry Happy Valley, but this one was just a huge fail for me.
Follow-up commentary
2 months after original review
I still love the color and shape, but the base really ruined this toy for me. It still might work for others who like a thicker base though.
I have not used this toy since I wrote the review, and I honestly do not miss it at all. I have way too many other amazing plugs to spend any time crying over this one.
This product was provided at a discounted price in exchange for an unbiased review. This review is in compliance with the FTC guidelines.

Thank you for viewing
Joe rock
– butt plug review page!