A Cat-Of-Nine Tails Fit For a Queen!
Take your flogging to the next level with the Roses Flogger. Designed to not only be an excellent flogger this piece is also a wonderful item to display. Experience flogging unlike anything you have before with Ruff Doggie Roses.
Published:
Pros:
Handcrafted, Leather, Exquisite, Durable, Fun To Use, and a Great Accessory.
Cons:
Not a thing we can find.
Ruff Doggie Styles presents the Roses Flogger. Give your lover this cat-of-nine tails bouquet of roses and let them feel the pleasure. The Roses luxury flogger is an erotic experience for all levels of play.
Elegantly hand-made from genuine leather, this flogger is not only an exceptional toy but also an artistic statement. Display it as a medieval piece or use it in photography. The Roses fFogger is an excellent conversation piece you will be proud of. Don't hide this exquisite flogger away. Show off and have fun sporting it to the club or even a biker rally. and flaunt your kink in style.
Performance:
Using the Rose flogger is an experience in a class of its own. The feel of its leather roses upon impact is a thick and blunt while slightly cushioned. Hearing the soft thud of the leather roses hitting the skin is as erotic as it feels.
Those who are less experienced with using cat-of-nine tails floggers, may find yieldingit a bit awkward. The falls are long and tend to tangle up with each other. Not giving up at this point is essential. Experimenting with different ways to swing and hold the falls to find what is comfortable will be worth the few awkward moments experienced.
Also, we found these links very helpful to make our flogging play time a sensual and erotic experience.
The basics of flogging.
A Beginners Guide To Spanking Her.
Flogging and Spanking Safety.
Practical Flogging 101.
Grim's Guide to Flogging.
Craftsmanship:
Simply stated, the craftsmanship of this flogger is superb. Hand made from start to finish the flogger is truly exquisite.
Each of the nine falls is braided leather with leather leaves anchored into the braid. The tip of each fall has four leather hearts securely anchored into the fall's braid which form a single red rose. For extra security, each rose is sturdily tied around the base where it and the fall meet.
The falls are attached to the handle in a manner to hold up to prolonged use. Each fall is securely fastened underneath a 1 ½ inch leather woven band. Tugging and pulling against the falls with all of my might does not make them slip or stretch.
Over all, the leather is thick and soft. Although it is unknown what type of leather is used, it is obvious that the leather is high quality.
Cleaning:
Leather cannot be sterilized. Therefore, it is important to ensure that your flogger does not come into contact with bodily fluids. If this happens, the flogger should not be used on diffrent partner. Also when in group situations, if the flogger breaks your partner's skin, it is possible that droplets of blood can be transmitted through the air. Therefore, it is always best to cover any broken skin with a bandage before or during a flogging session if needed.
Should your flogger become wet, it is important to thoroughly dry it to prevent molding. This can be done by drying each crack and craves. Cotton swabs are especially effective for the inside of the roses and the base of the leaves. Always store your flogger where air can reach it and never in a dark or damp place.
How to clean a flogger? Prevention is the first step since cleaning can be time consuming and difficult. Never throw your flogger down where dirt and particles can be picked up. Also, don't let it come into contact with oils, lubricants, or fluids. This can cause the leather to begin to mildew and in some cases stain or discolor the leather.
The leather can be conditioned when it is dry using leather conditioner.
This links are wonderful for care of your flogger and cleaning of leather….
Basic Leather Care For Toys
Flogger Facts: How do I care for my flogger?
How to clean leather.
Here's The Facts:
Ruff Doggie Styles Roses Flogger.
100% Hand Made.
Genuine Finished Leather.
Perfectly balanced.
Measurements:
Wrist Strap – 12 inch loop.
Handle- 9 inches long and 3 ½ inch circumference. The handle is made of wood covered with woven leather strips. Also, each end has a 1 ½ inch raised area, covered with woven leather.
Falls- 24 inches long including the rose with a circumference of ¾ inch. Length of leather fall before reaching a leaf - 15 inches.
Leaf – Each fall has 3 leaves spaced 2 inches apart. Each leaf is 1 inch long and ¾ inch wide.
Rose- Each fall has one rose at the tip. The rose petals are formed from 4 heart shaped leather pieces wrapped in a cylinder fashion. The finished rose is 2 ½ inches long, 1 ½ inch wide (when flattened), 3 ¼ inch circumference, and ¼ of an inch thick.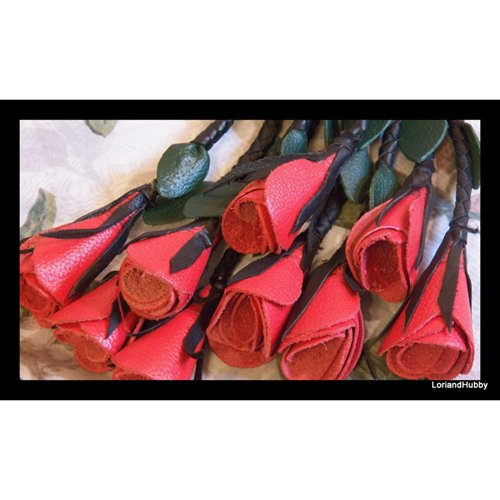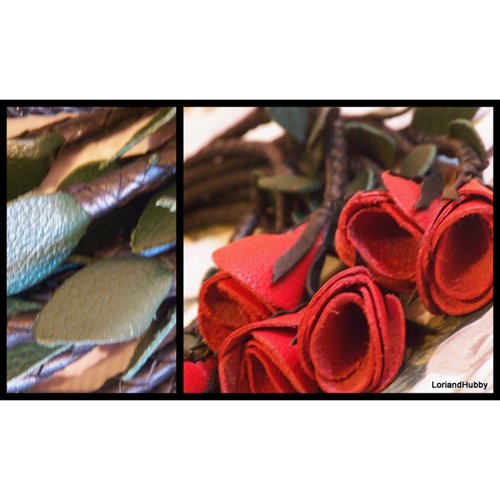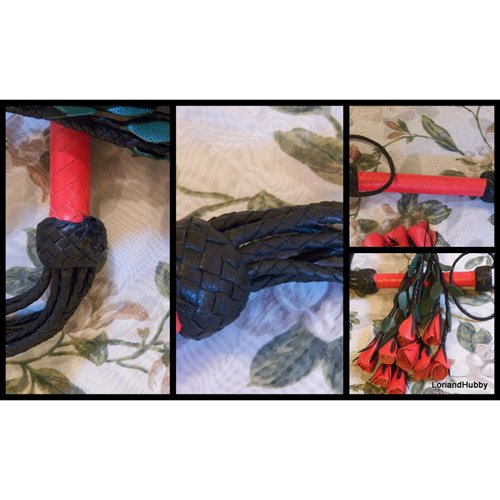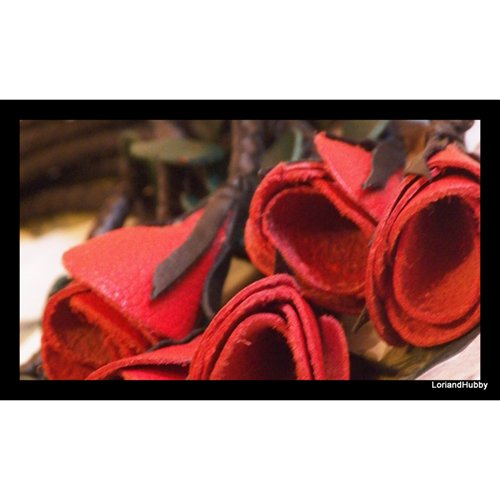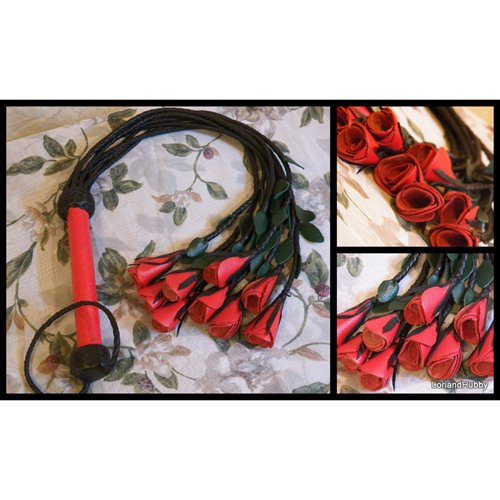 Experience
Flogging is one of my favorite play-time activities. Sensual flogging is erotic and exciting for me. A key to this is the tools we use. When I saw the Rose Flogger I could not wait to get my hands on one.

I was excited to receive my flogger and ran out to meet the mail man the day it arrived. Upon opening the box, I found the most exquisite piece I had ever seen. I inspected every detail of the flogger,in awe over the design and feel of the leather.

The wheels in my head began spinning as I planned what kinds of things Hubby and I could get into latter that night.

I was cuffed to the closet door when Hubby found me. With a surprised look on his face Hubby ask, "And what do we have here?" All I could do is giggle, since I had my ball gag dangling for him from my teeth.

After blindfolding me and binding me in just the right position, Hubby began to tease me with our new toy. The roses felt thick and firm across my back. They felt different from our other whips or paddles and I loved it. As Hubby grew in confidence yielding the flogger he worked my bottom over. The thick leather roses felt firm and pleasurable against my bottom. With each thud of the thick roses my body yearned for more. It was exhilarating.

Finding that the sensations were not painful or sharp, Hubby felt assured that he could use the flogger across my back. This was the first time we had attempted this aspect of flogging. In short, it was amazing. The individual falls striking across my back, sent quivering sensations through my body. I did not want Hubby to stop. With Hubby's plan only half way over, you can imagine the rest of the night.

When our session was over and Hubby gently helped me to our bed, I was amazed that the flogging felt firm and intense without leaving red slashes across my body.

I talked to Hubby about the experience latter and he confirmed that only my bottom was slightly red. Also, he shared; it felt long and awkward in his hands. Since our room is rather cramped, there is not a lot of room to swing and the long falls. Fortunately, Hubby was able to improvise by using one hand to hold the handle and the other to control the falls.

Over all, this was the most exciting flogging session we have had. It was truly unique due to the design and style of this flogger.

I have even taken our flogger over to a dear friend's house to show off and she fell in love. We have all three decided to dress up with the flogger for a Molly Hatchet concert this summer. I can't wait. We are going to look so cute for Hubby and I's kink coming out of the closet event.
Follow-up commentary
3 months after original review
This flogger is amazing. Not only has it held up very well to heavy play, but also the leather seems to softening a bit. This makes the roses feel even better across my hot skin.

Hubby has gotten a lot better at yielding it in our confined area and we don't worry about the length anymore.

When not in use, I store it on a shelf in our bedroom. I cannot believe the positive comments I received. Even the one friend who figured out what we really use it for was impressed by the quality. In fact, she ordered one for herself.

I am more than 100% satisfied with my purchase.

This content is the opinion of the submitting contributor and is not endorsed by EdenFantasys.com

Thank you for viewing
Roses flogger
– whip review page!