He bought me roses, so I bought him some too =)
This product is well worth it. I have been 100% satisfied with it since it got here. I am very certain that it will be able to stay in place while we use it time and time again.

This rose flogger may seem expensive to you and I couldn't agree more. But as far as expensive items that I own, it is one of favorites so far.
Published:
Pros:
Great design. Well made. Different then your average whip.
Cons:
A little on the pricey side, but well worth it.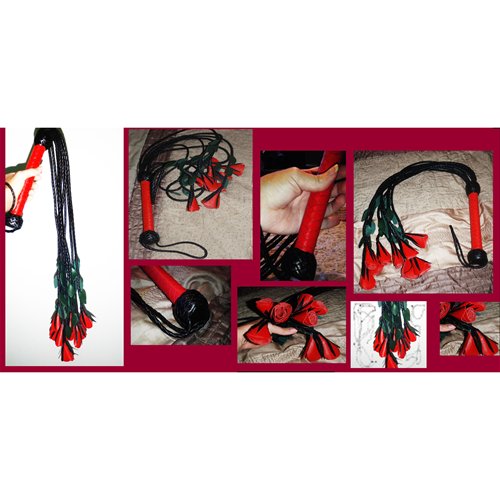 My fiancé sent me a bouquet of beautiful roses for my birthday. So I thought that I would follow suit and get him some roses too.
So I thought to myself "Eden has everything right?" So I typed in "roses" in the search and I came across this gorgeous whip. "PERFECT!" I thought to myself as I gazed upon its wonderful goodness. I was a little shocked at the expensive price, but I decided it seemed worth it anyway. After all we had been talking about getting some more bondage gear for months, so what did I have to loose? I had some points saved up. I had a discount waiting to be used. And this whip was very alluring with its stand out design. SOLD! I added it to my cart and waited for it to arrive.
Once it got here I opened up the box and took a peek inside. Lovely, this whip was exactly what I wanted. The length was perfect. The coloration matched the pictures I had seen online. And it seemed like a very sturdily made product. I was absolutely thrilled with every single thing about it!
I admit though when I was first looking at it online I was a little worried when I saw how long it was (32 inches). No way right? I got a tape measure out to see how long that really was… I pulled it out to 32 inches and thought "Wow, this whip is going to be big!"
But once I saw it in person I was actually very satisfied with the length..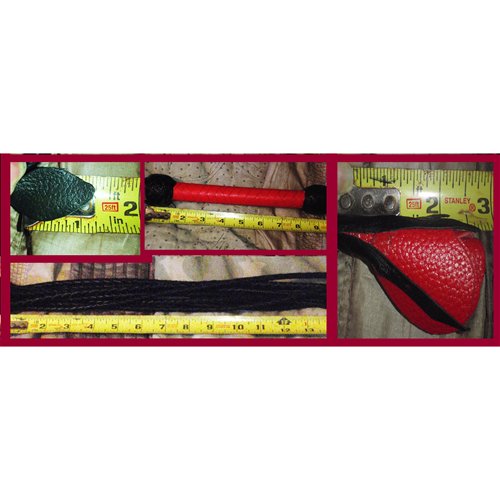 The dimensions of the rose whip go as the following
Width: 1 1/2"
Wrist holder: 6 inches long
Handle: 9 inches long
Stem of roses: 21 inches long
Roses: 2 inches long
Total length of whip: 32 inches long (this does not include the wrist holder)
With the wrist holder it is 38 inches long.
There are 9 stems total. Each stem has 3 leaves on it and one rose. This means this gorgeous whip has 9 roses and 27 leaves.
The coloration of this whip include the following: Black / Green / Red
As many of you know this whip is made out of leather. The leather used has a very nice sting to it! I find it very satisfying.
Depending on the amount of force the holder uses, it can be used for light or heavy play. So even if you aren't into heavy bondage play, this whip would still be a great choice and I would keep it in mind.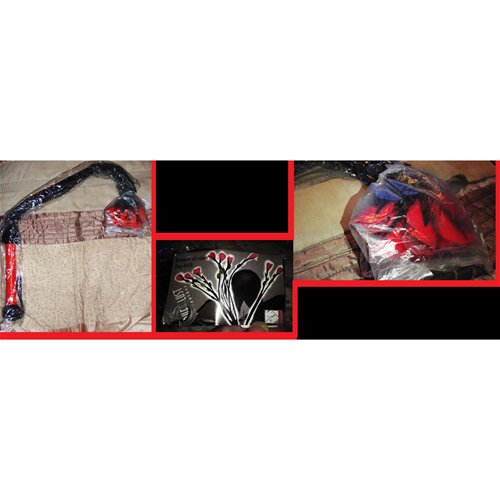 The packaging this rose whip comes in is a crinkly plastic wrap. I personally intend to keep it, so I can store my mans new whip in it for safe keeping. After all it does the job very well.
I wanted to see how sturdily made this whip really was, it looked sturdy, it smelled strong
(I don't care what you say, leather has a strong smell to it lol ). But I just wanted to be sure it wasn't going to break the first time we used it. So I tugged on the roses a little and hit my bed multiple time with it and it held up well! *Wipes off forehead* Thank goodness. I didn't want to have to come up with another birthday idea after all the ideas I had planned for this one already!
The more I thought about it, the more this gift was really a win-win for both of us. I really used good thinking this year, no more presents he doesn't really need, or want. My only worry is having to wait until July for him to see it! Whatever should I do to keep my mind off of this toy until then? This is a quite a predicament!
The more I look at this whip the more I love it. It is simply gorgeous! I cannot wait to see my fiancé's face when he opens up his birthday present this year and this baby is in it!
I think that I have definitely found him something that he will use over and over again.
Experience
In love! This whip is absolutely gorgeous!. Everything about it makes it seem better- The color, the roses, the leaves, everything!-

I cannout wait to start using it. I am sure once we start we won't ever stop. I never thought I would have a toy that seemed this amazing, but thanks to Eden we do.
This product was provided at a discounted price in exchange for an unbiased review. This review is in compliance with the FTC guidelines.

Thank you for viewing
Roses flogger
– whip review page!