~*Delicate Dragon Silk Shackles*~
These cuffs are beautiful, and perfect for restraint whether you play light or hard. Yes, they're pricey, but they're light-years beyond what's at the cheap end of the spectrum, and compared to similarly priced restraints, they come out ahead.
Published:
Pros:
+ Attractive
+ Comfortable
Cons:
- Expensive
- No tether included
Blame Canada! Blame Canada!
Quality craftsmanship and beautiful, functional design…
I didn't really want to pay $60 for a pair of cuffs, but after dipping my toe into the waters with Leatherbeaten's
Dragon Silk Whisper Blindfold
, I couldn't resist giving their matching cuffs a try.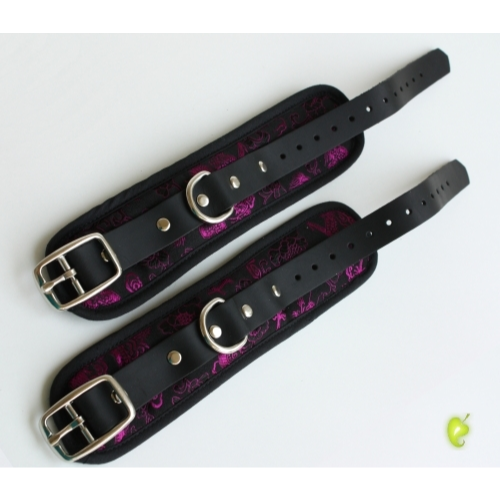 Leatherbeaten will never win an AVN award for toy
packaging
(if such a thing exists) because their items are shipped in clear ziplock bags (that have tiny stickers with the company name and "Made in Canada" proudly displayed). If I was gifting this, I'd have to make a trip to a local stationery store for a box and wrapping, but the waterproof bag is sufficient for getting the package from Eden Fantasys to me.
The Dragon Silk Wrist Restraints are made from
silk and soft leather
. Leatherbeaten says they are "
foam padded for comfort
" and they look it. These are thicker than ASLAN Leather's
Jaguar Wrist Cuffs
. The neatly trimmed straps are made from an attractive belting leather, and the rivets, buckles and D rings are made from
nickel-plated brass
.
The silk and leather part of the restraint
measures 8⅞"
. The fastener's
measure 12"
in total and have openings drilled the entire length about ½" apart. This means that these will work equally well for a thick wrist or twig-tiny ones (like mine). As befits such an elegant accessory, the D ring is small, about 1" in size. You will need to pair it with a tether that has a small clasp.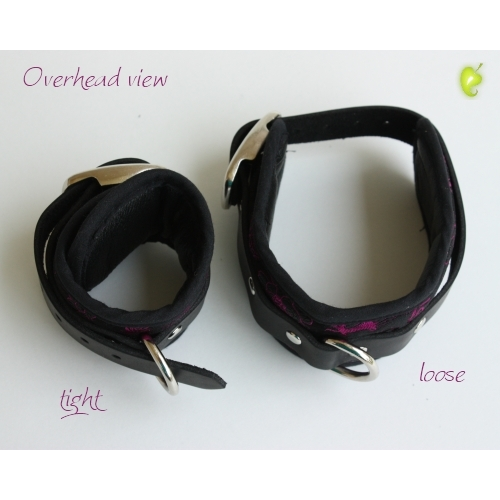 The dragon design silk is beautiful, and looks great in either of the color combinations offered on EF:
Black/Red
, or
Black/Purple
. (Sadly,
Purple/Silver
looks to be discontinued in the cuffs.)
Keeping these pretty is an effort if you play hard and/or messy. You can
clean
water-based lubricant from the silk part of the cuffs by
blotting
with cold water. The leather side is more durable, but you want to avoid petroleum-based or synthetic cleaners which can cause it to dry out, crack, or fade. Use a water-based cleaner sprayed onto a cloth, not directly onto the restraint, and wipe. For best results, use a microfiber cloth.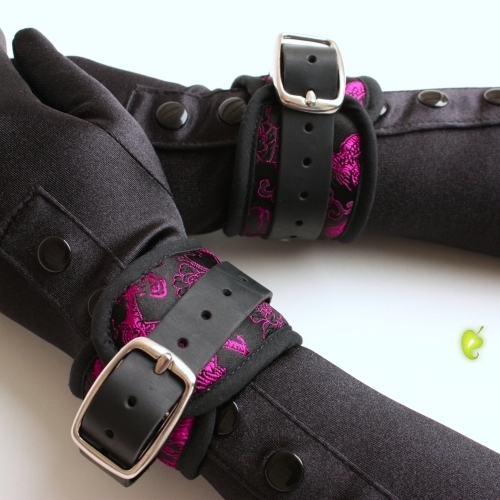 Experience
Les menottes sont somptueux!
One language is insufficient to express how gorgeous, and well-made the Dragon Silk Wrist Restraints are. The silk is eye-catchingly attractive, and the leather feels like butter, and the two are painstakingly stitched together. These cuffs should be pictured in the dictionary alongside the definition for "quality." The belt leather is firm yet supple, though it will shed a little bit in the beginning. The nickel plated fasteners are strong and shiny, but be careful if you have a sensitivity to it as the rivets on the underside will come into contact with skin.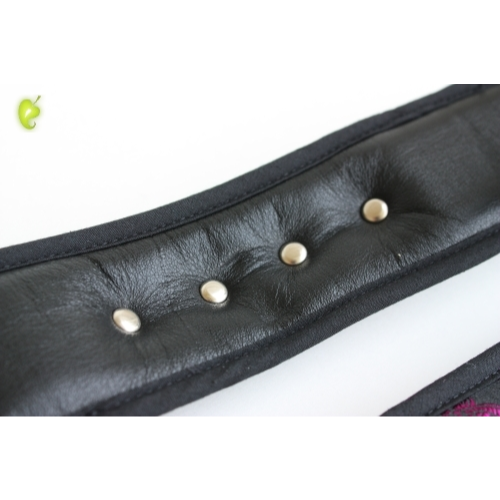 These close down small enough to securely fasten my childlike wrists, and open up large enough to secure my husband though the silk and leather barely overlap when they're fitted to him. The belt allows the cuffs to be fastened around a wrist larger than 9", but a portion of that large a wrist will be unprotected. I should mention that the official measurement for the padding is 9", but the cuffs I received were 8⅞" — that's within the realm of "normal" for a handmade item. Unless you have very large wrists, you're not going to miss that ⅛" but if the wrist restraints don't sound long enough, consider Leatherbeaten's Ankle Restraints which have an 11" pad.
These are so pretty that I'm subconsciously cautious with them. We don't play hard to begin with, but I know that I'm a great deal more fussy about not getting liquids on them, or subjecting them to extreme struggling. I wouldn't use these for suspension play ever, because they may be high-quality, but I don't consider them heavy-duty.
What the Dragon Silk Wrist Restraints do well is keep you comfortably restrained. However, in an emergency you're chances of getting them off are 50/50 depending on how you're tethered. Cuffed behind my back with a 5" tether it took me less than 30 seconds to get free from one cuff (of course, the quickest way out would be to open the clasp which takes only seconds). One-handed with my teeth to aid me, it took just over a minute to escape one cuff. With my limbs firmly separated… no such luck. Getting a buckled restraint off with one hand is not something I'm able to do just yet.
I've become a Leatherbeaten fangirl, matching ankle restraints Eden —
tout de suite!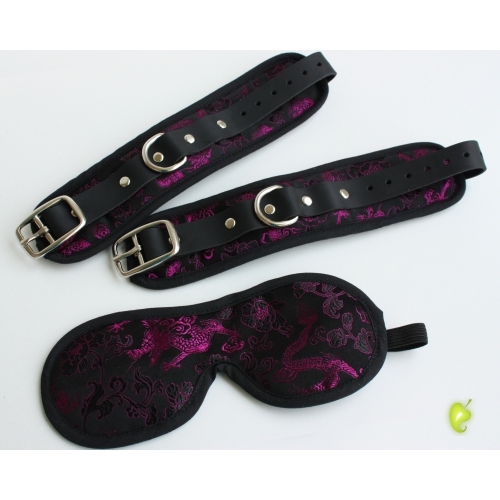 This content is the opinion of the submitting contributor and is not endorsed by EdenFantasys.com

Thank you for viewing
Dragon silk wrist restraints
– cuffs review page!