~*Sight-Stealing Delicate Dragons*~
This is a gorgeous, handmade blindfold that can be used for public shut-eye or private play. The high-end quality justifies the price.
Published:
Pros:
+ Almost 100% darkness
+ Pretty silk exterior, soft fleece interior
+ Does not restrict breathing
Cons:
- Slight pressure on eyes
- Fit cannot be customized
Leatherbeaten is a small Canadian company with a huge reputation for quality and I've been eyeing their Dragon Silk collection for a long time. With the relatively new addition of
Black/Purple
to the
color
choices I finally took the plunge.
Presentation doesn't appear to be of great concern, as the
packaging
consists of a simple, clear plastic bag. If you're looking to gift this, you're going to need to buy something to wrap it in.
The mask is made from
silk, lined with soft black fleece
, and
measures
about
8"
from end-to-end and has a height of about
3"
(except at the nose bridge). A
½" elastic strap
is sewn into both sides of the mask. I'm not taking my mask apart to confirm, but I believe the elastic is attached to a non-stretch fabric between the silk and fleece. The finishing on the stitches and steams is first-rate.
The dragon design silk is beautiful, and looks great in any of the color combinations offered on EF:
Black/Red
,
Black/Purple
or
Purple/Silver
. It is the same size as your average drugstore sleep mask, but the quality is noticeably superior, and the Silk Whisper (or
Silken Whisper
as Leatherbeaten calls it) is much better at blocking light. The black fleece lining is soft as can be, and the mask puts you in complete darkness; however, it does exert a very slight pressure on the eyes.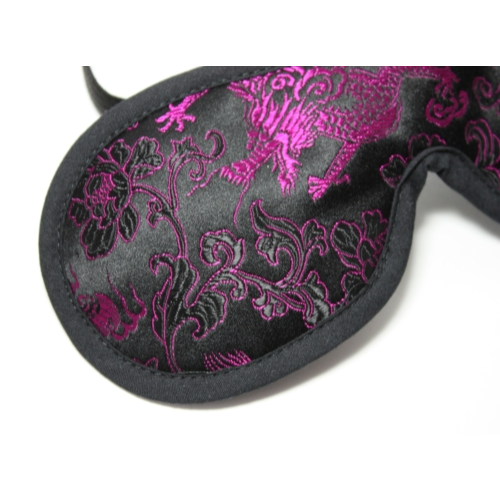 Is the Silk Whisper a "dry clean only" item?
Thankfully no
, though hot water, machine washing or tumble drying are to be avoided at all costs. If a drop of lubricant or some other stray liquid ends up on your blindfold, you can
clean
it by
blotting
with cold water. If the stain is more serious, you can gently hand-wash it in lukewarm water, using a small amount of detergent formulated for delicates.
Please keep in mind that silk loses strength when wet, and if stretched, it will remain that way.
Do not wring the blindfold!
To remove excess moisture place it between two towels and press. Also, do not place the Silk Whisper in the sun to dry as that can fade or weaken the silk. Last but not least, keep the mask in a place where insects will not be able to get to it — silk is a protein they love to snack on.
The blindfold is light and small enough to fit in a pocket or purse which makes it an excellent choice for planes, trains and automobiles (assuming you're not driving of course). The only thing the dragon design is likely to draw is a compliment, though telling a fellow passenger it's made by
Leatherbeaten
may raise the eyebrows.
Experience
Don't let the packaging fool you, this is a superior product. I was slightly dismayed to receive a blindfold in a ziplock (
again
) but since I end up throwing most packaging away — yes, even the nice stuff — I'm not going to bitch if Leatherbeaten wants to avoid useless froufrou that they will then need to charge me for.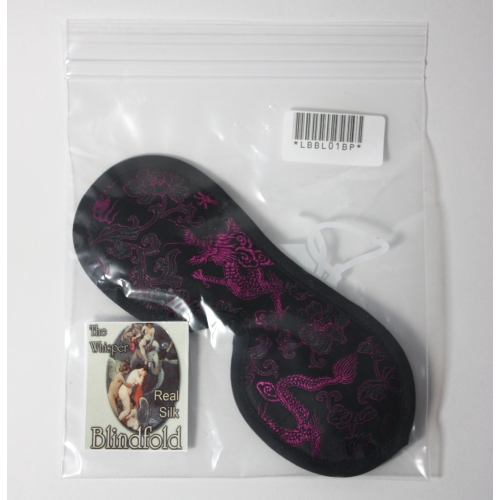 My blindfold collection is miniscule: I have a crappy drugstore cheetah-print polyester number, and
Spartacus' Extreme Blackout Blindfold which I reviewed almost a year ago
. Two masks at opposite ends of the spectrum in every way: quality, durability, price, etc. I thought it was high time I added to my collection and purposely went looking for something in between:
effective for sensory play, but polite enough for public travel
. The Silk Whisper looked like the perfect choice.
I didn't have high hopes for its light blocking abilities since it looked less severe than the Extreme Blackout Blindfold, however the minute I put it on I could tell it was serious business. Unlike the Spartacus blindfold, the Silk Whisper didn't compress my nasal passages, however it molded to my face perfectly, blocking off 99% of the light. There was a sliver of light around my nose, but believe me, I could see
nothing
. I was ecstatic.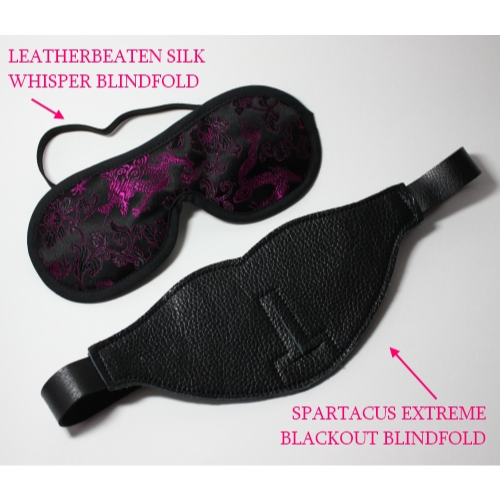 The one downside to the mask is that elastic has a limited lifespan. I can't (
won't!
) share this with my husband since our heads are different sizes, and I don't want to over-stretch the elastic. It will happen eventually, that's the nature of the material, but let's see how long it lasts with a little TLC… When the time comes I'll either whip out my sewing kit or just buy a new one.
One last thing I'll mention is that there was an issue with the first mask shipped to me, but
Bill Ditchburn
, Owner & President of Leatherbeaten, was positively wonderful and resolved it. His customer service is as phenomenal as his product.
The Silk Whisper Blindfold is more public-friendly than many of the blindfolds offered here on Eden Fantasys, and beautifully made — it's an easy recommendation for anyone looking for a blindfold.
This product was provided at a discounted price in exchange for an unbiased review. This review is in compliance with the FTC guidelines.

Thank you for viewing
Silk whisper
– sex toy review page!