Yes!
I love this blindfold! It is so comfy and I absolutely adore everything about it. The design is very different then you usually see. And it matches the wrist restraints I got perfectly.

I highly recommend both of these products.
Published:
Pros:
Gorgeous pattern. Nice fit. Stretchy elastic back. Comfortable.
Cons:
A little expenive. But well worth it!
I got this mask to match my "Dragon silk wrist restraints" and of course, they matched perfectly! I am so happy to have a beautiful set that matches like this!
The mask is made out of silk and it has an elastic band in the back that makes it easy to wear. This set is great for all sizes, including those of us who have smaller heads. Smaller head.. Larger head… it simply doesn't matter!
This is something I was a little worried about at first, when I ordered it. I have a tiny head and have had masks that have not fit me before. And since for a mask, this one is fairly expensive… I was hoping and praying that, that wouldn't be the case. And thankfully, it wasn't *few*
This set has not only a gorgeous floral/dragon embroidered design on it that makes it very appealing to the eye. But the soft luxurious fleece backing makes it very appealing to want to put over the eyes as well.
(Which is always a good thing in this particular situation, correct?)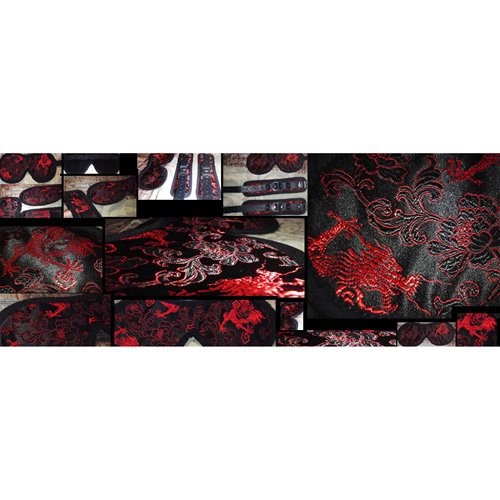 I am so in love with this mask/blindfold that I am thinking about getting it in the purple as well.(I plan on getting a full purple bondage set that includes a mask, a paddle, a whip and wrist/ankle restraints) Everything EXCEPT the mask has been picked out until now. And since I have received this gorgeous mask, I am pretty sure that, the tedious task of looking for the mask is no more!
Everything about this set is very satisfactory. Leatherbeaten has definitely done their job in high-craftsmanship this time! This mask is very, very high quality. And when I wear it, I feel like $100 bucks… and to think that feeling only cost me $20 dollars this time. Ah, pure bliss.
This blindfold is good for even more then sensory-play, it is also great at keeping out bright light, for those who want to sleep in late… It is also great for those who have to go on late flights and are bothered by others watching TV (I know it bugs me when I want to sleep on a plain and I can't block out that television)
As you can see this mask has multiple uses. I would say that this set is definitely worth the price. The mask is soft, sexy and satisfying. I can't wait until I get to use it next(= Tonight, when I go to bed =)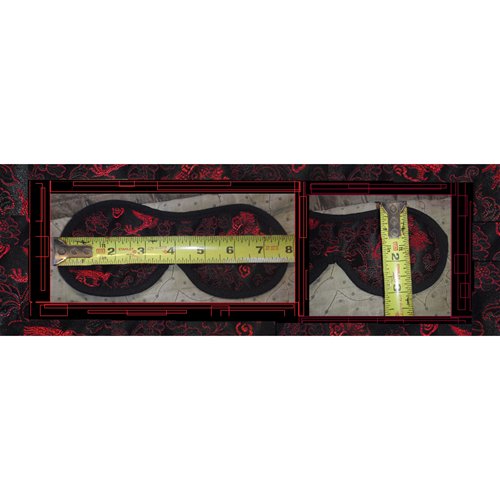 Dimensions
This mask is 8" inches from side to side
and
3" inches from top to bottom
Packaging
This mask comes packaged in a zip-lock baggie styled plastic container. On the outside of the baggie there is a sticker(that is easily removable) of multiple naked people with wings. These angels certainly aren't as thin as the Victorias Secret ones and thankfully there wings aren't quite as over-done =p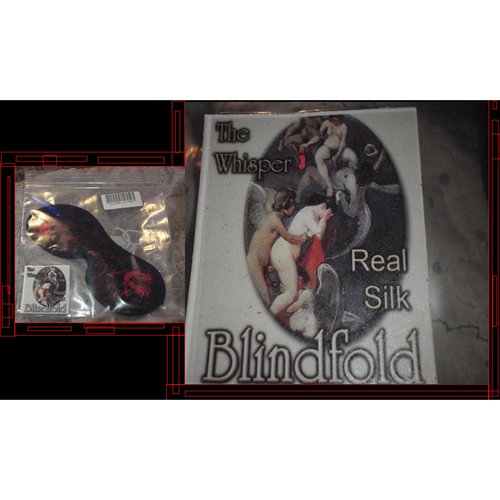 Experience
Great! I love this mask! I plan on using it for when I want to sleep and not wake up until the sun has already been up for a while. Though I am sure my fiancé will have other sneeky plans for it, as soon as he see's that I won't see him comming, I'm sure he will make his move(typical man for you) Yes, I can see this quite clearly. Maybe I should keep this blindfold a secret for a while ;)
This product was provided at a discounted price in exchange for an unbiased review. This review is in compliance with the FTC guidelines.

Thank you for viewing
Silk whisper
– blindfold review page!