Fun, but not quite knotty.
If you are just trying to figure out what materials, lengths, and widths of rope you like, this is a nice basis of comparison. However, if you are interested in doing elaborate rope work or even intricate knots, this is way too short.
Published:
Pros:
Silky feeling
Braided instead of twisted
Cons:
Too short to do much with
We are beginners when it comes to shibari/rope bondage, whether it be decorative or true restraint. That being said, we didn't know what we wanted or what we would like. We picked up Sex & Mischief's Black Silky Rope as one of several types to try to figure out what lengths, thicknesses, and materials we would like.
First things first. Let's talk about the packaging. The rope comes in a cardboard box with a noir theme. Black and white photos with black, grey, and silver text. Usually, I love or hate toy packaging, but this one was kind of meh. I don't feel one way or another about it. What you do need to know, however, is the packaging is most certainly not discreet, so be aware of this if you intend on opening your box from Eden in front of someone.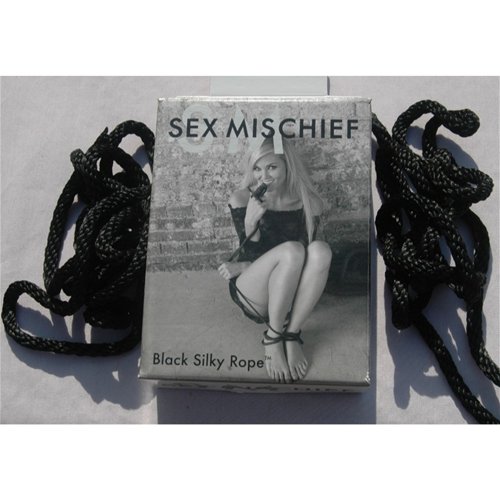 And now on to the contents. Inside the box are two lengths of rope that are each six feet long, giving you a total of 12 feet. The rope itself is about an inch in circumference and the fibers are braided, not twisted. The ends are melted to a blunt point and are mildly scratchy. If you are wondering, there is no scent to the rope except a vague sort of new fiber smell that you can only detect if you put your nose on the rope.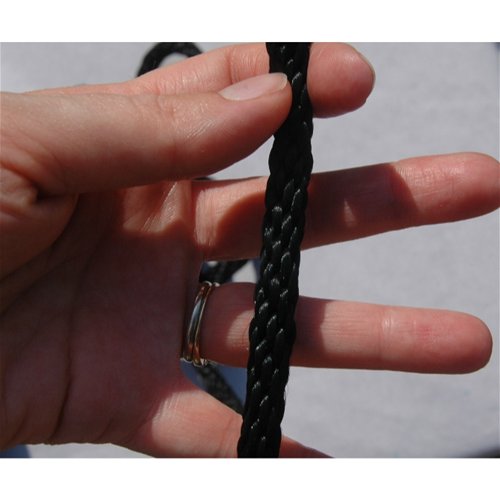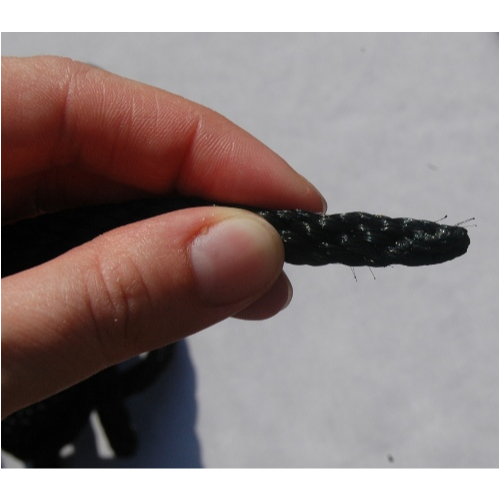 At this point I need to note that this rope is
silky
, not silk. It's made of polyester fibers, so be aware of that if you were looking for silk. Being polyester, the ropes are washable. The package doesn't give any care instructions, so I intend on following the advice in the book
Two Knotty Boys Showing You the Ropes
for care, which suggests chain braiding rope, putting it in a lingerie bag or pillow case, and washing it on the delicate cycle without liquid soap.
Experience
But what you really want to know is how this rope performed. It holds knots relatively well, but knots are sometimes hard to tie due to how thin and flexible it is. Once on, the rope is fairly comfortable. It's not scratchy against the skin and actually feels nice. However, it needs to be noted that the shortness of these ropes is a huge drawback. Two lengths of 6 feet each may seem like a lot of rope to someone who is new to rope, but it's actually very short. In practice, you can't really do a whole lot with that. You may be able to tie a wrist to a bedpost, but that's about it. This is where I'm seeing a problem. The ropes are so short that you can really only do ankles or wrists, and to get the most out of the rope, I worry that people will make the ropes too tight, which if you know your rope safety is a bad, bad thing. This is where I get conflicted in how to rate it. The ropes are too short to do anything even slightly elaborate, but the box didn't lie to me. It told me exactly how much rope was in the box. I just didn't know starting out that it wouldn't be enough. So honestly, I only have two complaints about this rope that I would love to see get fixed: ropes need to be longer for more elaborate work, and slightly thicker so more complicate knots are easier to tie and it is more comfortable on the skin due to the larger surface area of the ropes.
Follow-up commentary
2 months after original review
We continue to use these, but like I've said before, they aren't long enough to do a whole lot with. If you are looking to do full body binding then you will need something much, much longer. However, we do use them for breast, hand, and ankle binding. They are just barely long enough. Depending on your unique size and body shape, they may not even be long enough for that on you.

Even though I still like these ropes and they've held up well, I would suggest getting a longer rope and cutting it down in size if necessary unless you know for a fact that you really need a shorter rope.
This product was provided at a discounted price in exchange for an unbiased review. This review is in compliance with the FTC guidelines.

Thank you for viewing
Beginner's silk rope kit
review page!