Gag Me Baby!
Petite and erotic, this breathable ball gag is a perfect piece to experiment with during your play time. With a comfortable the design you can breathe easily while experiencing the feeling of having your mouth stuffed and being muffled. Sturdy and adjustable PipeDreams brings a quality gag that is sure to rock your world
Published:
Pros:
Sexy, Dainty, Plush Straps, Flexible Ball, and Comfortable.
Cons:
Head strap can stretch allowing the wearer to push the ball out of their mouth if desired.
Are you curious about using gags during your playtime? The Breathable Ball Gag by PipeDream is an excellent place to start. This gag is comfortably designed with a wiffle ball style gag which allows you to breath with ease while having your mouth stuffed full.
This gag is made with a fully adjustable head strap which is softly lined. In addition, the gags overall design is petite on your face making it less intimidating. In fact, I find it looks sexy and erotic when you wear it. The breathable ball also allows you to stay sexy during your playtime since you won't encounter droll running down your chin. It is easy to put on and comfortable in your mouth. Also, as you are over taken with ecstasy, you can bite down hard on the ball and it will give but not be damaged.
Here's the Facts:
Material and Cleaning:
Ball gag –
Rubber
. This ball is bendable when you bite into it. Also, since it is porous, you should not share it with those you don't wish swap saliva with. Since the ball cannot be taken off of the strap, it can be cleaned with a cloth dipped in sudsy water. Since rubber is porous and may retain the soap taste, be sure not to use too much and to rinse the ball. Since I am the only one who uses the gag, I simply clean it with a damp cloth before and after each use.
5 ¼ inch in diameter.
Ball strap –
Leather
. This is a thin strap held on to the d-rings by a rivet. It measures 4 inches in length and ½ of an inch in width. Also, it is 1 millimeter thick.
Hardware –
Metal
. The ball strap is attached to the head strap with a 1 inch o-ring. The head strap buckle is square in design and 1 ¼ square inches. Also, the rivets can be covered with clear nail polish to protect from rust or tarnishing.
Head strap – Unfortunately, the box does not specify what type of material this is made from. It appears to be a
faux leather
layer on top of standard gray foam and lined with a soft fabric. The buckle side of the strap is 8 ½ inches and the other side is 13 ½ inches with 10 adjustment holes. I assume to clean it, you can wipe the straps down with a soft damp cloth.
When I received my gag there was no distinct odor. I wiped down the ball and it still had no noticeable rubbery smell. Also, it has no taste and very little drag when you run your tongue across it.
It has a seam which has been filed down.
Made in China and assembled in the USA. Package printed in China.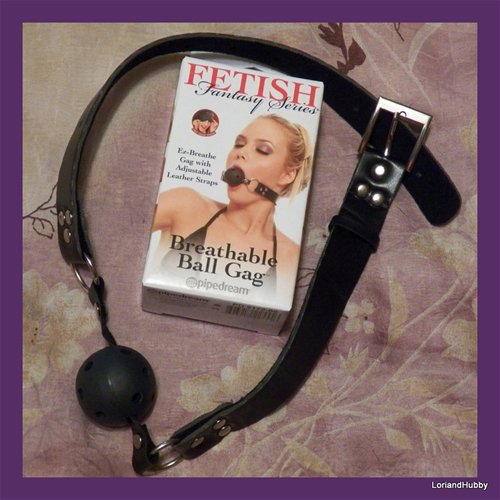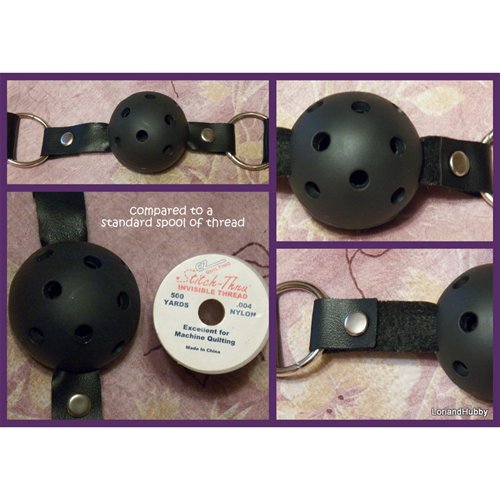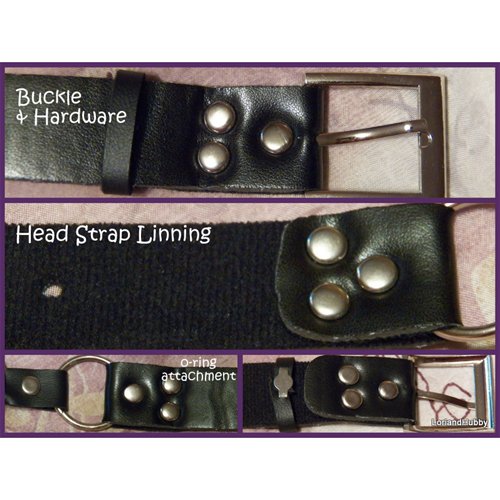 Experience
One night when Hubby stuffed my mouth with his undies; and ever since, I have been intrigued at the idea of a gag. Unfortunately, most that I have seen appear large on the face and quite frankly, kind of intimidate me. Not to mention, I have concerns about having my mouth stretched too wide. Hubby, on the other hand, liked the idea of me having some sort of gag to help muffle my sounds at night.
After considering which gag to try out for a week, I decided to try this breathable gag by Pipedream. It appeared less intimating than some of the other gags and for the price I thought it would be great to use as an experiment. I am glad I gave this type of item a try, because it was comfortable, erotic, and quite enjoyable.
The first time I tried wearing the gag was while Hubby used our new
Smart Wand
on me. Knowing the effects of our other wand on me and how loud I tend to get, I was happy to try out the gag. Hubby placed the ball in my mouth and it was a bit on the larger side so I positioned the ball with my tongue where I could bite down slightly to hold my mouth comfortable. When he buckled the strap around my head it was snug but not too tight on the smallest hole. To my surprise, the gag felt comfortable and petite on my face.
I really enjoyed the feeling of the gag in my mouth. I don't think the gag kept my sounds muffled as much as it prompted me to keep my ecstasy at a lower tone. Having the ball gag in my mouth I could bite down sort of like a bit as my body quivered climaxing under my wand. The whole experience was very intense and utterly enjoyable.
I had no issue at all breathing normally and did not feel smothered. Rather, I felt erotically controlled and silenced. The strap was not too tight around my neck and did not restrict my movements at all. Although, I did find, the ball can be pushed out of my mouth with my tongue if I should desire to take it out.
Over all for the price this is a great ball gag to introduce into your bondage play. Priced for those on a budget while maintaining quality, I can't think of a better piece to experiment with. In fact, I enjoy this gag so much I'm excited to get another sturdier ball gag. Stayed tuned for more from our journey down the rabbit hole of bdsm play.
Follow-up commentary
2 months after original review
This is a great gag for those who are curious about mouth gags. I used it several times before having the confidence to upgrade to a more expensive gag. Even after upgrading, I continued to use ball on the other gag's mouth strap until I had the courage to try out the solid silicone ball.


This gag really helped me build my confidence and advance in our play. For this reason, I could not be happier with my purchase.

This content is the opinion of the submitting contributor and is not endorsed by EdenFantasys.com

Thank you for viewing
Breathable rubber ball gag
– mouth gag review page!