It's leather? I don't think so!
While this ball gag may be suitable to those who have never owned one before and would like to experiment without investing a lot of money, for most it will be a disappointment. It is cheaply made and I'm not sure how they get away with referring to felt as leather. There are a lot of better options out there.
Published:
Pros:
Lightweight, comfortable
Cons:
Cheap felt material, ball not removable
The Breathable Ball Gag by Pipedream is "leather" and plastic. This item measures 28" from tip to tip. It can be buckled to fit between 16" to 25" at 1" intervals. Both my male partner and I were easily able to fit this to a proper size for wear. The straps are 1" wide and 1/8" thick. The ball has a diameter of 1.5" and there are holes drilled into it to make breathing easier during use. This, along with the smaller size, makes it especially suitable for beginners. Since the ball is made of plastic, it has no adverse scent or taste to it. It is also easily cleaned with antibacterial soap or toy cleaner. However, the ball is not removable for cleaning so be careful not to get a lot of water on the straps. To clean the straps just use a damp cloth.
Here is my biggest issue with this product. This ball gag is advertised as leather but this is a gross misrepresentation. The straps are actually a grey foam material with black felt adhered underneath and only the thinnest little layer of leather adhered to the top. I have never seen so little actual leather on an item being advertised as leather before. The first time I saw it, I was floored. I have taken pictures of this below so you can see for yourself. Now to be fair, the whole felt/foam combination does make the straps comfortable and lightweight. Yet, for me, there just is still no comparison to the supple feel of soft genuine leather. While the straps of this gag did not irritate my skin, they did not feel especially good or sexy either. They are also quite flimsy and show signs of wear immediately. The pictures I took where the gag is laid out flat shows that there are already crease marks in several places just from me trying it on.
Additionally, the metal hardware, while being sturdy enough to suit the purposes of this item, also has a very cheap feel. I am not sure exactly what type of metal was used, but it certainly isn't stainless steel. The only aspect of this item that I have no issues with was the ball portion of the gag. There is a seam in it (going right down the middle), but it was not bothersome. I found the size to be very easy to slip in my mouth and breathing with it in was quite easy as well. In fact, I plan to cut the ball portion free and save it for when I purchase a better quality gag that allows for interchangeable pieces.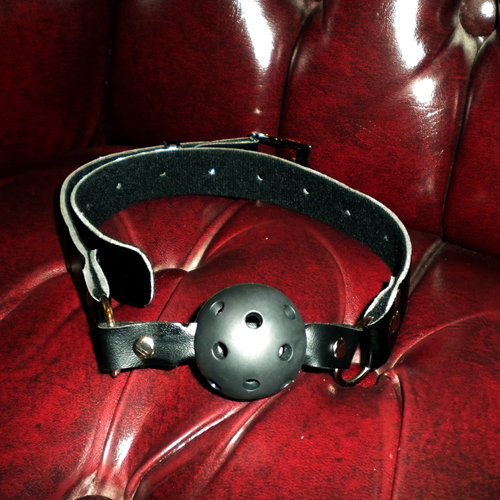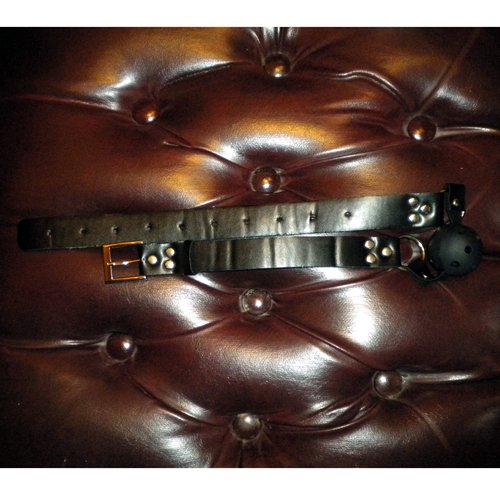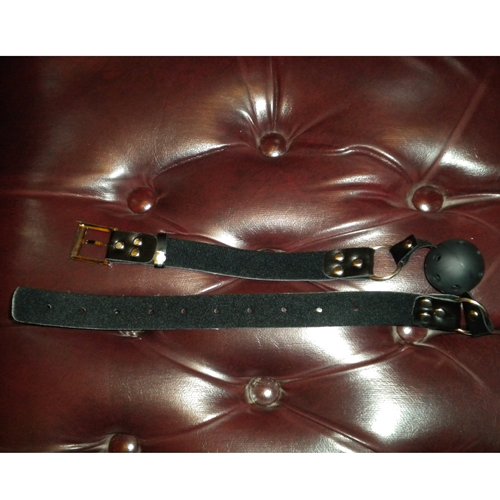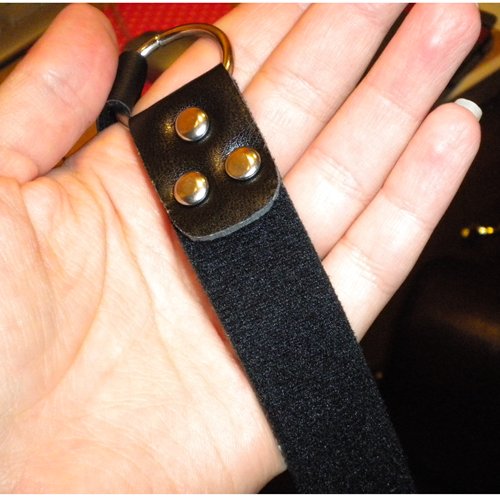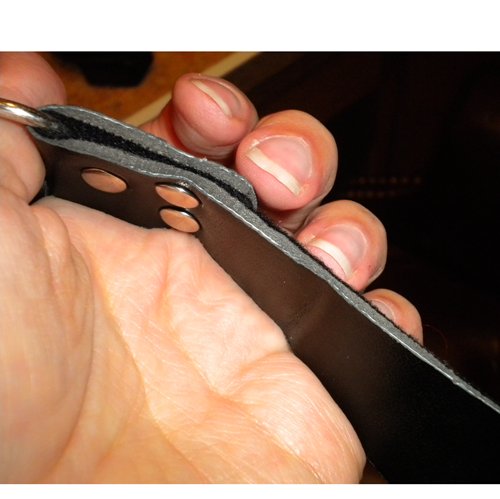 Experience
I was so excited to use this. This is only my second ball gag, and the appeal of the item being black and leather really got me worked up. Yet as soon as I actually got the item into my hands, the disappointment started. While this ball gag is enough to get the job done, for those of us who have a deeper appreciation for quality sex toys, this one misses the boat. Yes, it fits. Yes, it stays in. Yes, it's comfortable. It meets all the basic requirements. However, when I buy something labeled as leather, that's what I expect to receive. I like higher quality items that I know will withstand repeated use, look great, and feel great too. This item was only adequate. 1. It has a cheap feel and look to it. 2. I certainly wouldn't place any bets on it standing up to much wear and tear. Now for some, this economy item may be the perfect choice and maybe I'm just a toy snob, but for me these things were a turn-off. Next time I see leather for $10.99 I'll know it's too good to be true.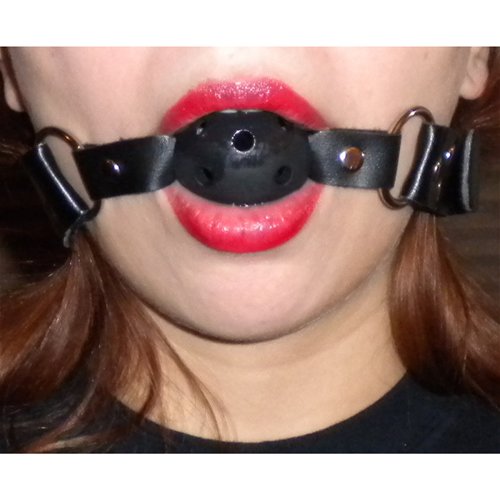 Follow-up commentary
5 months after original review
I ended up throwing this out since it was so cheaply made. At least it didn't cost a lot. I am now using the
Aslan Silicone Ball Gag
, which is an excellent product!
This content is the opinion of the submitting contributor and is not endorsed by EdenFantasys.com

Thank you for viewing
Breathable rubber ball gag
– mouth gag review page!