Rubber and... felt?
I wanted to love this gag. I've never owned one before, but I've wanted one for a while, and this one looked like it would be tons of sexy fun! But I should've known that it was too good to be true at this price. The rubber tasted bad, the straps chafed, the "leather" was actually vinyl, and it was a little too big for my head. Overall, this one was a fail for me.
Published:
Pros:
Inexpensive, ball is a good size, will fit most heads, looks sexy when on (if you don't mind drool)
Cons:
Cheap materials, not leather, ball tastes/smells bad, straps chafe, won't fit some, hard to clean
When I ordered this gag, I guess I had been looking at the page of the Sex and Mischief breathable gag too much, because I thought the ball was going to made out of plastic. What an unpleasant surprise I had when I opened the box and found it to be rubber.
The rubber is really only smelly if you go and sniff it, but it's pretty bad tasting when it's in your mouth. I ended up avoiding breathing through my mouth at all so I could avoid really having to taste the ball, which kind of defeated the purpose of it being breathable. There's also a seam along the ball that I didn't really notice when it was in my mouth, mostly because I was so concerned with the taste. The ball cannot be removed from the straps, so in order to clean it, I just ran it under some hot water and left it out to dry. The rubber became malleable when I put it under hot water, and it even started to go soft in my mouth after a while.
The ball is about an inch and a half in diameter, and fit into my mouth pretty well, which was a big concern for me since I have a very sensitive jaw. The whole gag, ball and straps included, is a total of 28 inches long, and can be sized down to fit a head of 18 inches in circumference. My head is 17 inches in circumference, and while it still fit alright, I could pop the gag out if I wanted to.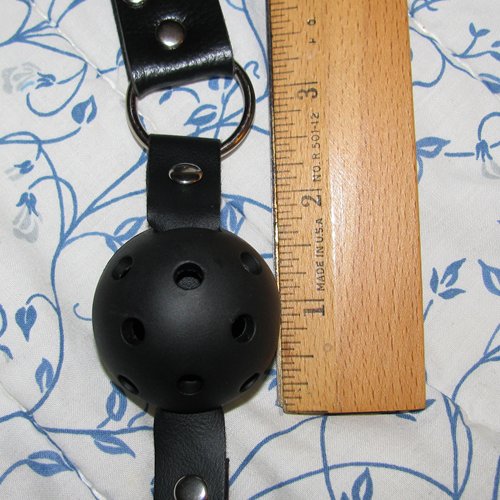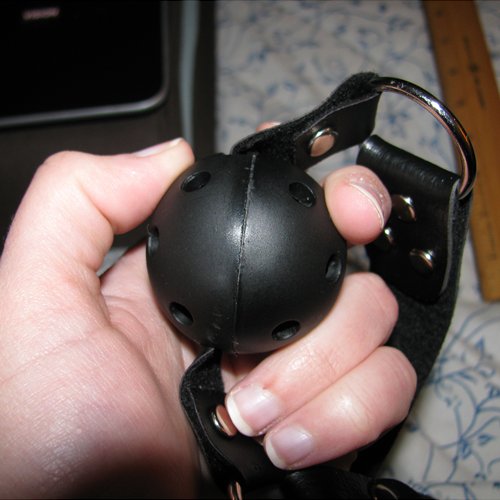 The packaging the gag comes in is a small cardboard box with pictures of a scantily clad woman wearing the product on all sides. The back has a little blurb about the ball gag, but no information on how to clean it. There's also a free mask inside, which wasn't really anything special. It did obstruct my vision when I put it on, but it was easy to peek out the bottom.
The gag is advertised on Eden as being rubber and leather, but the straps are definitely not leather. The bottom of the package states that is made of vinyl. There is a thin layer of leather-like vinyl on the outside of the strap, a middle layer of foam, and then a layer of what seems to be felt on the back. The felt caused the corners of my mouth to chafe, which was sort of the straw that broke the camel's back for me.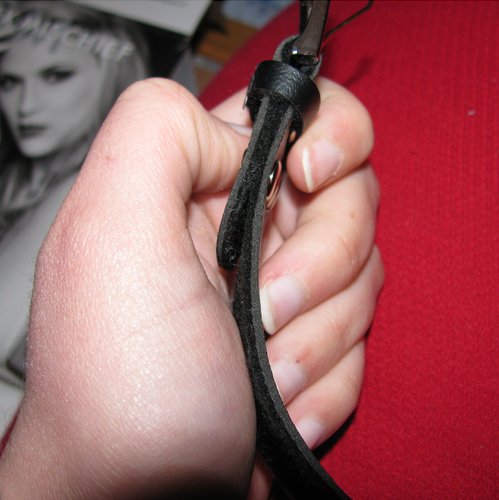 Overall, I would not recommend this gag to anybody. Maybe for a Halloween costume or a "gag" gift (heh) or something, but that's about it.
Experience
I really wanted to love this gag, but it let me down. Between the taste, the fake leather, and the chafing, I feel like this wasn't worth it, despite the low price. But hey, I guess you get what you pay for.
I'm going to be returning it, but at least I got some nice pictures of me in it!
This content is the opinion of the submitting contributor and is not endorsed by EdenFantasys.com

Thank you for viewing
Breathable rubber ball gag
– mouth gag review page!