Gag me up, baby!
If you like bondage, sensory play, or just want to try something new, the Fetish Fantasy Elite small open-mouth gag and mask could be the solution to all of your needs!
Published:
Pros:
100% medical grade silicone, comfortable gag, adjustable straps
Cons:
Gag may be too big for some and some with larger heads may find the set too tight
The
Fetish Fantasy Elite open-mouth gag and mask
set is, as the title would prove, part of the
Fetish Fantasy Series
by
Pipedream
.
What you get
:
With this set comes a gag and a blindfold. This was given to me by a friend who was unable to fit the gag into his mouth, so I do not have the packaging intact, however, the box that the set comes in was not discreet at all. It listed the product and company information as per usual on the front, along with a photo of how the set will look when worn. On the back of the box are the informational pieces about the products inside.
About the mask
:
The mask is solid black aside from clear clips. The mask in length was about 9" from one eye piece to the other, and unclasped at the loosest setting it measured 18.5". The mask is adjustable, and there are almost 4" to play with. At its widest point, the mask was 2 3/4" which is in the middle of the eye pieces. This fully covers my eyes and does not allow any light to shine through. At the bridge of the nose, the mask is 1.5". My head measures 22" along the area where the mask would be in place, so of course, this did fit me with just a couple inches to spare.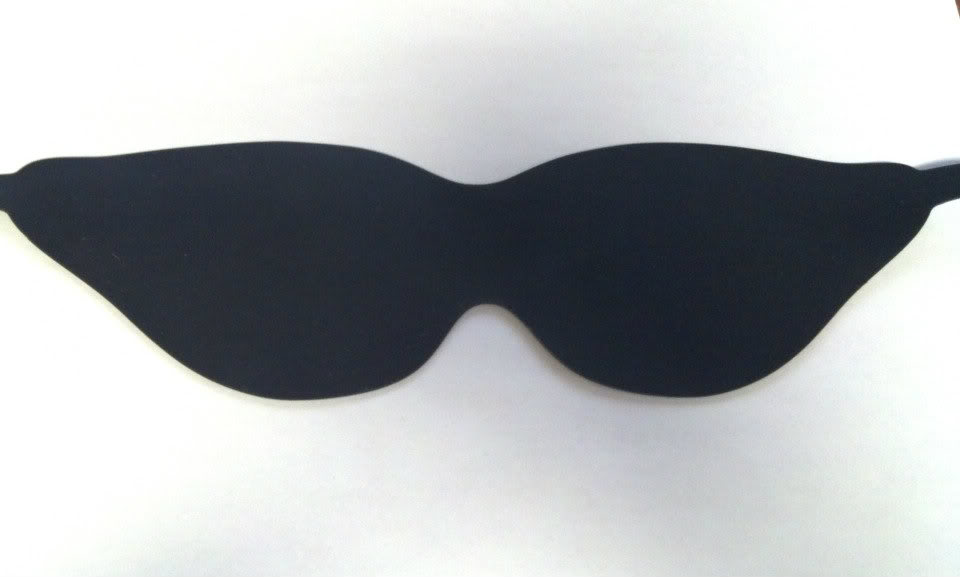 About the gag
:
The gag is also solid black, clear clips to hold it together as well. The entire length was about 18.5" at the loosest setting with 7" to play with if you need to tighten it. The O ring is 5" around, and 1.5" in diameter (if you measured straight across the O). The material is smooth, aside from one seam that reaches around the entire exterior and interior of the O ring, where it connects down the middle. This is not uncomfortable during use, however, may need extra attention during cleaning. I managed to fit it into my mouth fairly easily, and it was comfortable for 30 minute sessions or shorter. I tend to drool a bit, since the O is, of course, donut shaped.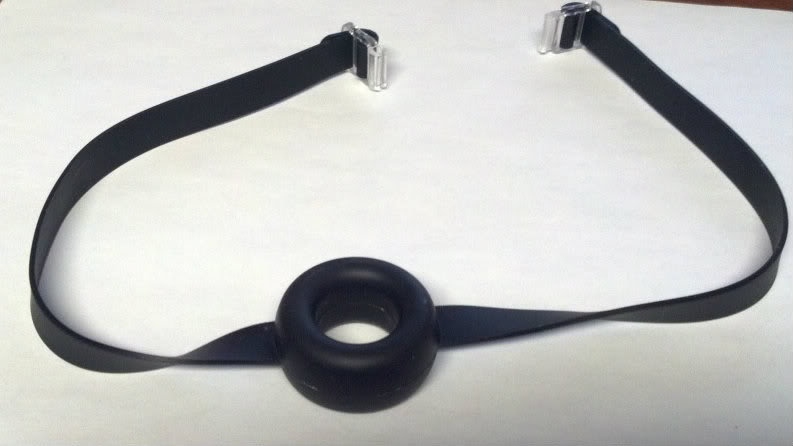 How they are best used
:
This set is excellent when combined with one another, and possibly some other bondage gear! Since this set can work with light bondage and some heavier play as well, with this combo, anything goes! The mask is great for sensory play, as it blocks out all light and the wearer is left to only their other senses such as touch, smell, auditory or taste depending on the type of play. The gag can create a more submissive scene, or prevent loud sex noises, for those who have this issue. Both are comfortable to wear, though possibly not for extended periods of time for some.
About the material
:
Both the mask and gag are made of 100% medical grade
silicone
, which rates a 10 out of 10 on Eden's safety scale. This is because silicone can be sterilized and is non-porous, which helps aid in preventing bacteria growth. This material is also latex-free, which is excellent since so many have latex allergies! The clips are made of clear plastic and just slide together to connect. There are grooves in one side of the plastic and a tab on the other side, which allow the two ends to lock into place.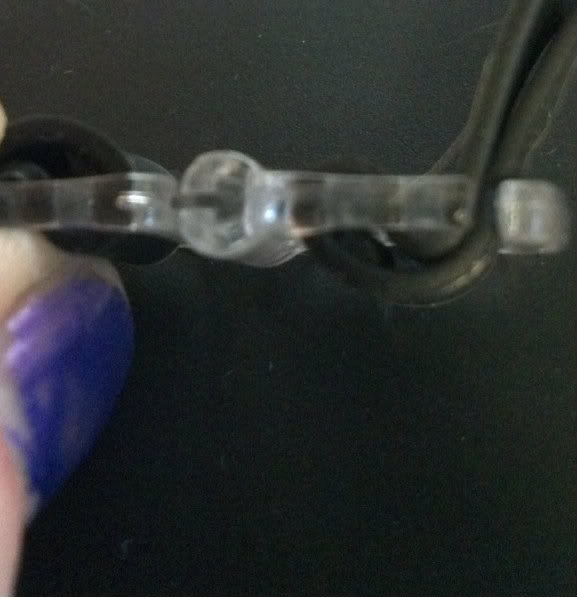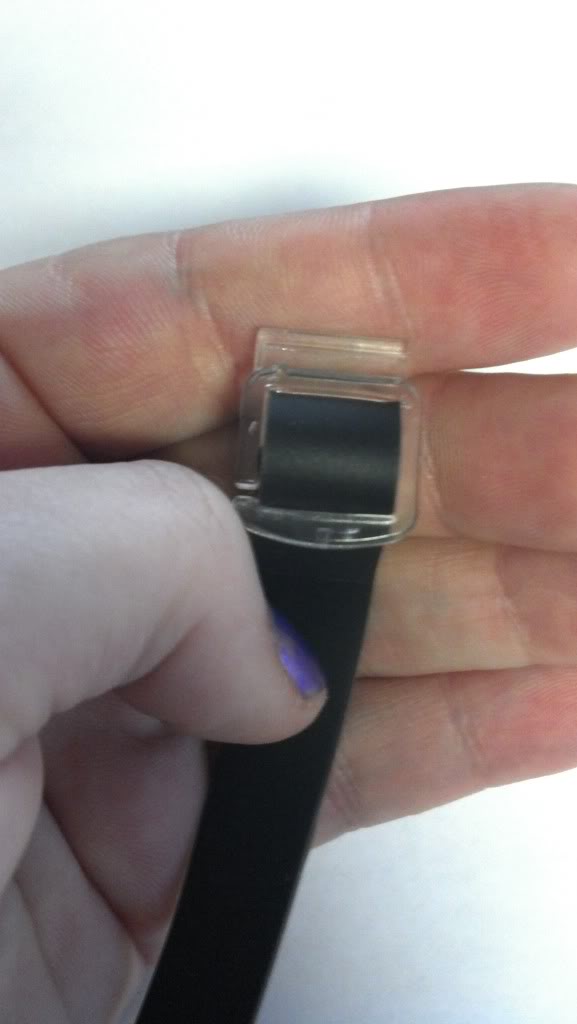 Cleaning/Maintenance/Storage
:
Because the mask and gag are made of silicone, they are very easy to clean. They have smooth surfaces, making it easier to clean out. The only area you will want to focus on is the seam which extends around the outside of the gag. You may use regular warm water and antibacterial soap, isopropyl alcohol, toy cleaner or toy wipes. If you choose to sterilize the set, you may use a 10% bleach solution or boil the silicone parts
only
for a few minutes. You will want to avoid this extreme heat for the plastic pieces, as they may melt or warp. If you choose to boil to sterilize, the easiest thing to do would be to remove the clips, if you are able to figure out how to put them back on! It is very easy, though, and ensures that everything is bacteria free!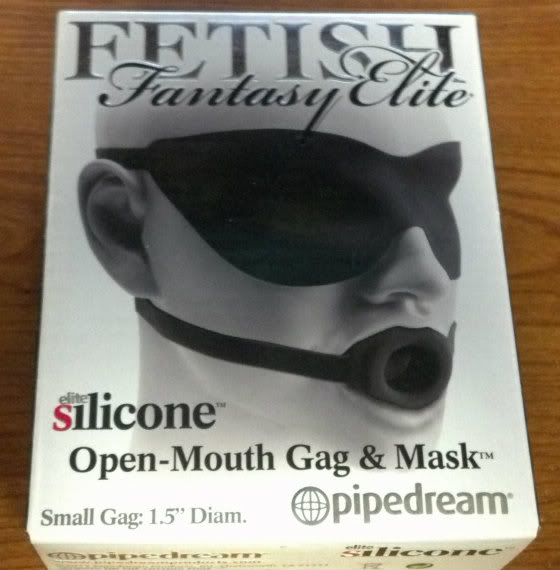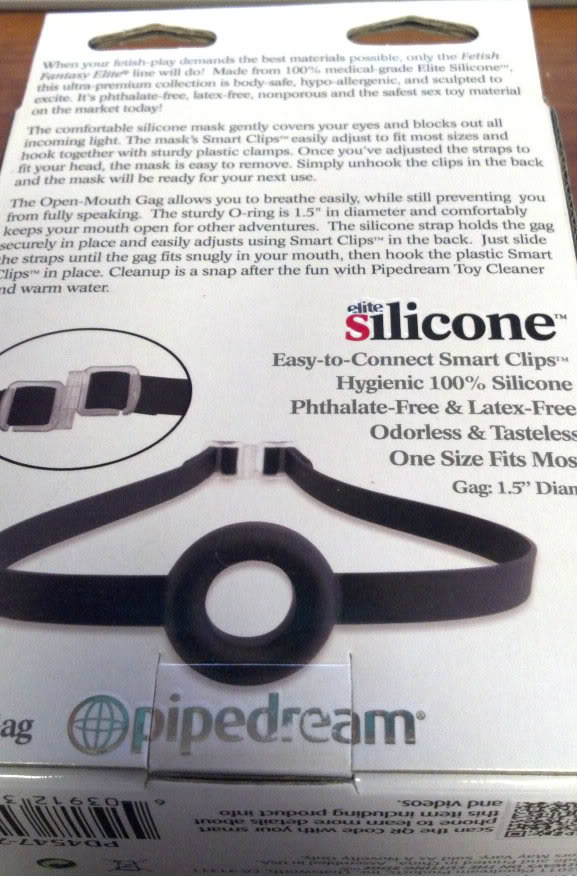 To store, I simply put each piece in a separate ziploc bag. While this is safe to store with other 100% silicone items, you may want to avoid this if you are unsure of the quality of your other silicone items.
Experience
My favorite part of this set was the gag. I have a
blindfold
that I use for sleeping in, and while this mask is comfortable short-term, I prefer something for longer wear. The material not only begins to make the skin around my eyes sweat, but I did notice that over time, even on its loosest adjustment, it still put a bit of pressure on my head over time. Another inch would've fixed that, but this could be simply because too much pressure around my head is generally uncomfortable.
The gag fit into my mouth perfectly, though! I could wear the gag a bit longer than the mask without any discomfort, but unless I was laying on my back or sitting more upright, I eventually would have to take it out to swallow my saliva, or I'd drool on the comforter on our bed.
Overall I love this set and I am so glad that my friend ended up not being able to enjoy it, because I certainly will!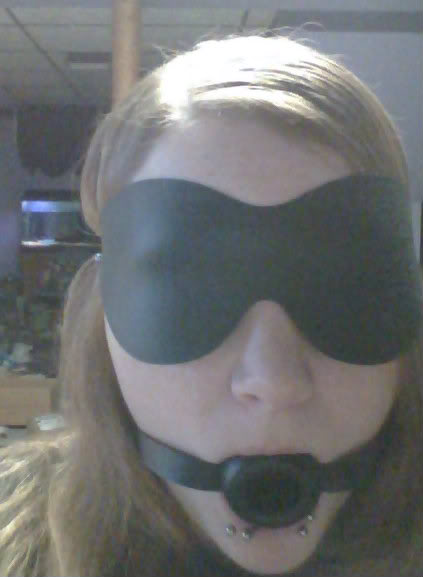 Follow-up commentary
11 months after original review
I gave my initial review of the product 5 stars, and I still stick by my stars, however, the strap to the blindfold did begin to tear a little, and at one point, broke completely. While this wasn't too much of an issue for me, since I already had a blindfold that I liked more, for those who don't have a second option, this may be a bad thing. However, I don't blame the product, as it was due to not taking care of it during storage, which is why I did not suggest my rating should change, nor the fact that I do still like it.

Overall, it has lasted me quite a while and I still enjoy using the gag! I just have to use a different blindfold.
This content is the opinion of the submitting contributor and is not endorsed by EdenFantasys.com

Thank you for viewing
Fetish Fantasy Elite open-mouth gag and mask
– headgear review page!