Give Me That Ball!
Aslan Leather presents its silicone ball gag. With this mouth gag you are sure to feel comfortable with looking sexy. In addition, its detachable straps allow you to customize the ball to your desired size. This gag is a quality product that is sure to have a long life in your toy box.
Published:
Pros:
Petite, Sexy, Stylish, Leather, and Silicone Ball.
Cons:
Not a thing we can find.
Mouth gags are now sexy with Aslan Leather's Silicone Ball Gag. Crafted with a white soft leather strap and a pink ball, your lover is sure to look erotic in this sexy gag.
Gags are used for different reasons during playtime. The most common reason is hinder speech and muffle sounds from your partner. Another reason is to subvert control over your Sub. during BDSM play.
This ball gag is designed to be comfortable with its slender straps at the mouth area. Fully adjustable with the leather neck straps and square buckle, you can be sure your partner will not be able to spit this gag out. Nor would they want to. The gag is comfortable to wear. Also, unless you try to talk, drooling is almost nonexistent.
In addition, with its conveniently placed snaps, the ball can be interchanged with different sizes and styles.
If you are looking for a quality ball gag that is sure to have a long life your toy box, look no further. Creating quality leather BDSM great since 1991, Alsan is a brand you can trust for all your leather goods. The Alsan Leather's Ball Gag is a durable gag designed to appeal to all level of users.
Here's The Facts:
Silicone ball and genuine finished leather straps, this gag is truly a sexy and comfortable piece to wear. Also, with its quality design, this ball gag is easy to use.
The white leather straps are soft and subtle against your skin. Also, with the smaller mouth strap section, the gag is comfortably worn and does not cut into the corners of your mouth.
The ball is made from pure silicone. This material has a firm yet rubbery feel. Therefore, you are able to bite down on the ball without the fear of harming the ball. It does, however, have a seam running the middle. Although, I do not notice the seam on my tongue, those with seam sensitivity may find this irritating. When I received the gag, it did not have any sort of smell or taste.
EdenFantasys currently offers this gag in two colors; Pink/White and solid Black.
Care and Cleaning:
Your ball gag straps will inevitably get damp. After using your gag, it is best to wipe any moisture from the straps. Including, removing the ball and also drying around the snap enclosures. This will ensure that the leather does not begin to mildew.
Although the ball is silicone and can be boiled for 10 minutes to sterilize, the leather cannot be sterilized effectively. Due to the possibility of spreading body fluids, it is best that mouth gags remain a one person item.
Should your leather straps happen to need cleaning, you can wipe them with a damp soft cloth. Be sure to completely dry the leather afterwards. If your leather needs deeper cleaning, saddle soap can be used. Also in cases where the leather dries out, leather conditioner maybe used. It is important not to over condition your leather because it will become too soft.
When storing your mouth gag, it is best to not keep it in a dark damp place. But rather, it is best to keep your leather products stored in such a fashion that allows air to circulate easily around it. We simply toss our gag into a whicker toy basket.
For more information on cleaning your leathers these links are helpful…
Basic Leather Care For Toys
How to clean leather.
Measurements:
This gag is made up of four individual parts. Three leather straps with hardware and a silicone ball. These straps are completely detachable from each other and the ball is removable. I especially like this feature since the ball can be interchanged with smaller options or even the wiffle ball style gags.
Total Length – 23 ½ inches.
Mouth area strap- 6 inches in length and ½ of an inch wide.
Neck straps – 7 ½ inches for short strap with the square buckle. 9 ½ inches for the adjustment strap. The adjustment strap has 8 pre-punched holes with plenty of room to punch more holes. These straps allow the gag to adjust to a min. size of 17 inches and a max. size of 22 inches. Also, these straps are ¾ of an inch wide.
In addition, the neck straps connect to the mouth strap with two small d-rings. The enclosure hardware is a sturdy square buckle which measures one inch square.
Helpful links about using mouth gags..
Wikapedia article about mouth gags.
Wipi article about ball gags.
The entire look of this gag is petite on your face.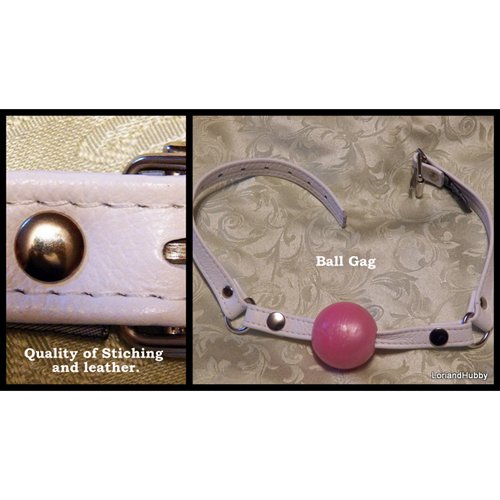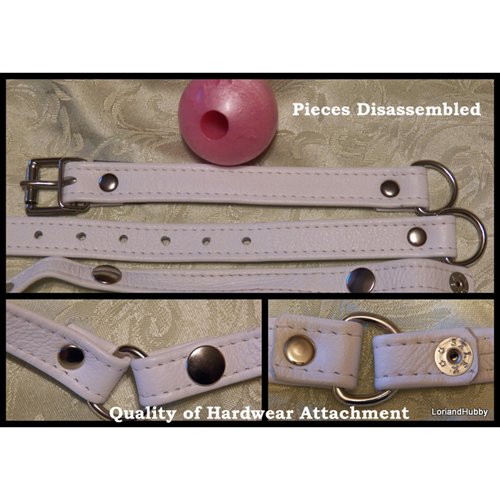 Experience
Gags are a very new part of our playtime. Ever since grandpa heard us playing one night, being muffled has become a must in our home. Unfortunately, most mouth gags not only look large and uncomfortable but for muffling sound they are not always the most effective.

After long debating over how to elevate our problem, I broke down and ordered a mouth gag. The first option we tried was the Fetish Fantasy Series Breathable Ball Gag. This gag was nice and comfortable. It was easy to breath and I enjoyed wearing it. Unfortunately, the straps are not the best quality and I feared they would deteriorate after prolonged use. So the search began to find a gag that I felt look non-intimating, comfortable, and sturdy.

Aslan Leather's ball gag appeared to have all the important points so I ordered it. Now that I have used both gags, I am thrilled with my purchase. The gag is truly comfortable in my mouth and around my neck. The soft leather straps are subtle against my skin and do not cut or dig into my skin. Best of all, I do not experience drool running down my chin. Thank goodness, there is nothing sexy about drooling all over yourself.

Although it does not muffle the sound, this gag is extremely effective for us. Simply wearing the gag seams to remind me to keep the sound down. Also with the ability to bite down on the ball instead of being loud, no one is the wiser that things are very intense in during our play. It is simply amazing biting down on the ball instead of making sound. Considering this feeling, I look forward to finding a small bit gag in the near future.

I am not disappointed in the least with my purchase. Although, this gag is a bit pricy the quality and style are well worth it. If you are curious about gags or looking to add some color to your tool box, Aslan's mouth gag is a perfect choice. I am sure you will not be disappointed.
Follow-up commentary
3 months after original review
I love my gag. This is my go to gag for our playtimes. It is comfortable and durable. I tend to bit down on it a lot and it has not indentions or chips missing out of it. It is easy to clean and simple to store. All in all, I am very pleased with our purchase.
This content is the opinion of the submitting contributor and is not endorsed by EdenFantasys.com

Thank you for viewing
Aslan ball gag
– sex toy review page!