It's Pretty To Look At...
Long story short: unless you're brand loyal and want a pretty silk blindfold to say you have a pretty silk blindfold, there are other things that are going to work much much better. It's very nice to look at, and great if you just want something that's more like a pretty bow rather than actual wrapping, as it more encourages you to play along and keep your eyes shut rather than actually removing all of the light.
Published:
Pros:
Gorgeous color, Feels very nice
Cons:
Won't fit larger heads, Expensive for what you get
Why are you telling me about this?
A long time ago I bought the Siri and Intima Christmas kit, and this blindfold came in it. Of course you can purchase it on it's own, and why you're reading this review here now.
What is it made out of, and how do I clean it?
The blindfold itself is made of a wonderfully nice silk that feels very soft to the touch. If you're wearing makeup you'll probably end up with some on the inside of the blindfold so you'll want to keep that in mind. If you do get anything on your blindfold you can hand wash it in cold water and let it air dry.
Cool, can you tell me more about the material and what it looks like?
Sure! The outside layer is a solid red (or black or purple, depending on which color you choose). It's smooth and shiny, like silk or satin would be. The underside has a very subtle pattern to it, almost like a floral lace but not quite. Here's a picture of it: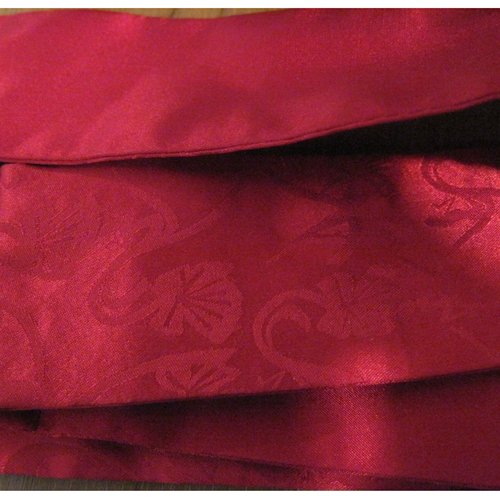 What's the quality like?
Nice, although not as nice as one might expect for a $50 blindfold. There are a few threads that have popped out and while they aren't necessarily loose, they are out and waving around. Aside from some of those though, it feels like it should last a long time with moderate use.
How is it designed, and who will it fit?
Like a very simple blindfold. The section that covers your eyes is about 7" wide, 2 1/4" tall at the eyes, and 2" tall at the bridge of the nose. From there on either side you have a panel about 6 1/4" long and 1 3/4" tall that wraps around the side of the head and meets an elastic band wrapped in silk. That band will stretch from 3 1/2" to 6". On either side of the elastic band there are silk ties about 22" long. My head is about 21" around where I would wear this, and I don't have to tie the ties to keep it in place. However if your head is any bigger than about 22 1/2" around it will probably be tight and uncomfortable. You can very carefully cut a hole in the seam of the elastic band cover and then cut through the elastic band and sew the hole back up to get yourself a little more slack, but not everybody is going to want to do that.
Ok, but how well does it work?
Well enough, but not fantastically. It encourages keeping your eyes closed rather than just blocking out all light. It's very easy to sneak peeks out of the bottom of the mask.
Would you recommend it to me?
Maybe. If you're very loyal to LELO and want a silk blindfold that isn't any kind of hardcore, this is a good choice. It's well made enough to last for a while but it's much more like a pretty bow than actual wrapping, so it's not a good choice if you're looking for something that will completely remove vision.
Experience
I love the idea of this blindfold, but it just doesn't live up. The material is really nice, but that's about it. It will function as a blindfold, but only if you play along and keep your eyes shut.
This content is the opinion of the submitting contributor and is not endorsed by EdenFantasys.com

Thank you for viewing
Intima silk blindfold
– sex toy review page!