No headboard??! No problem!
This Fetish Fantasy Series bed restraint bondage kit is an all-around good product, especially for beginners. It will not break your bank or your bed!
Published:
Pros:
Low Maintenance
Easy to hide
Not expensive
For beginners
Cons:
Not for advanced BDSM users
After looking at all the bondage and tether kits, I finally made my choice: the Fetish Fantasy Series bed restraint bondage kit – under bed strap kit. It has all the factors I was looking for as a beginner, new to the BDSM world. The best part is there's no need for a headboard!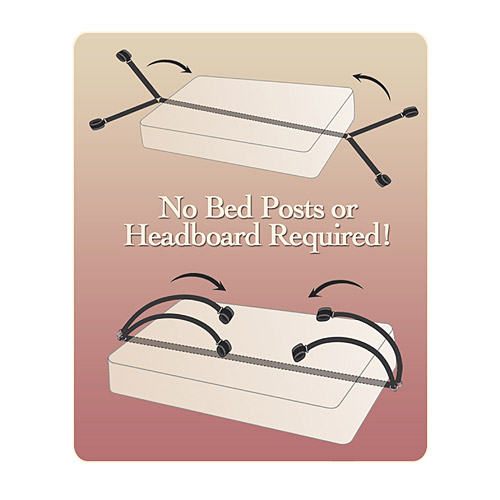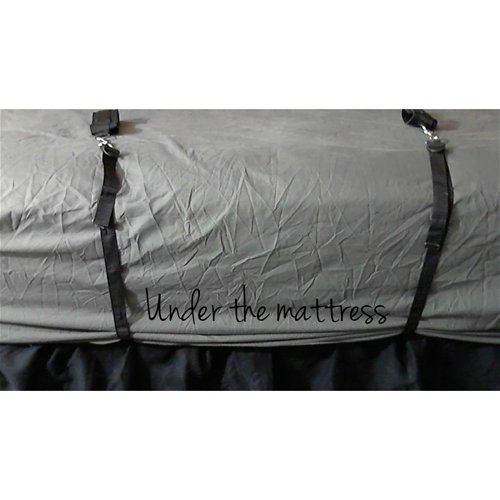 This kit comes with two Velcro wrist cuffs, and two Velcro ankle cuffs. These cuffs are made of Neoprene. Neoprene has a foam feeling to it. The tether system that lies under the bed is made of durable nylon (like a backpack strap) and has four tethers that reach to your wrist and ankles. It has clips on each of the cuffs attached by an "O" key ring.
After inspecting the Fetish Fantasy restraint bondage kit with enthusiasm, I noticed that the adjustable tethers, if pulled to their max length, would slide right out of the plastic piece that moves for tightening/loosening the five adjustable tethers. My first thought was, "If one of these where to slip out during play, a hand could fly up at the wrong moment!" Being the crafty person I am, I just rolled the ends and used a hot glue gun to stop the tether from completely pulling out.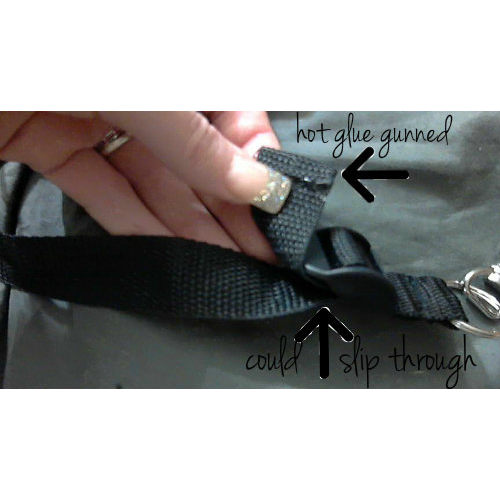 I also took the clips off the cuffs themselves and attached them to the "O" key ring on the ends of the four tethers. This way you can change cuffs at any time without messing around with the clasp issue.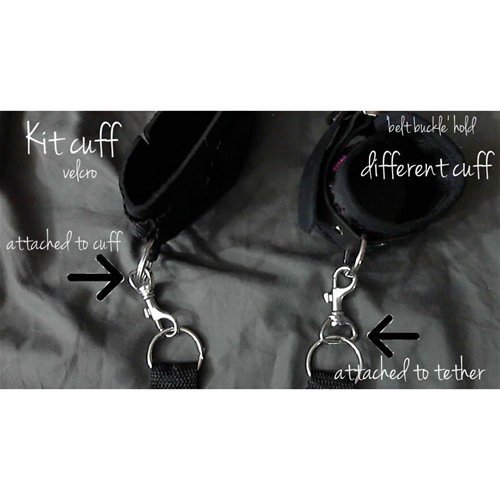 I would definitely suggest this to beginners because you can get out of the Velcro cuffs if you pull hard enough. I would suggest that after trying out the cuffs that came with this kit, you can easily change to a belt buckle-type cuff that will hold your wrists and ankles, and that you cannot pull out of. You can adjust these tethers to be tightly held down to the bed, or if you want to add a positioning pillow like a Liberator piece into play, they can be adjusted and re-tightened very simply.
The maximum the center tether can adjust to is 49". The maximum size for each arm/leg tether is 48". The Neoprene part of the cuffs is 10 ¾" long and 2 ¼" wide. The attached Velcro is 1" wide and about 7" long. I have a queen bed, and it fits perfectly. This tether system is made to fit all mattresses; with every tether being adjustable, there's no problem fitting this under any bed.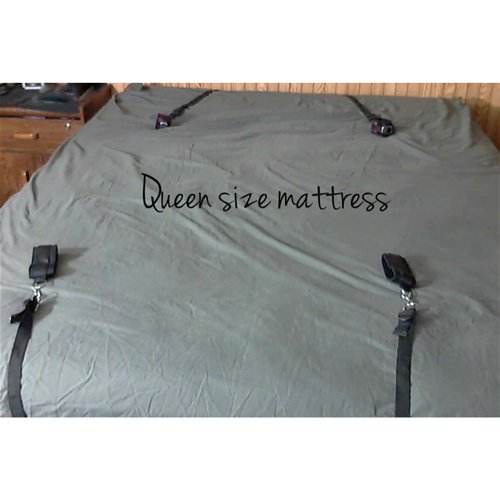 This is an easy to hide product! When you're not in play, just slip the ends under the mattress, which is how I hide them, and every time I go grab them to pull them back out, they are always in the same spot. Nobody would ever know you have bondage straps under your bed; the tethers lay flat and are thin so that nobody can feel them. Your secret is safely hidden under your bed.
This content is the opinion of the submitting contributor and is not endorsed by EdenFantasys.com

Thank you for viewing
Fetish Fantasy bed restraint bondage kit
– under bed strap kit review page!