Perfect For Endurance and the Inexperienced
The Fresh Jaws Nipple Clamps are adorable pink or blue clamps that are perfect for beginners, sensitive nipples, or endurance training. While they do have a little bite, they aren't the most painful nipple clamps available. The clover clamp style is lovely and easy to use and does not require adjustments. The little rubber padding on the clamps provide a level of comfort to the painful experiences possible.
Published:
Pros:
* Clover-style is very easy to use.
* Great for beginners/sensitive nipples.
* Lightweight.
Cons:
* May bore more experienced users.
Design/Material
These clamps are made of metal and have a 9/10 safety rating. The clamps themselves are very lightweight and are connected by a heavier metal chain. The full length of the clamps and chain from end to end is about 20".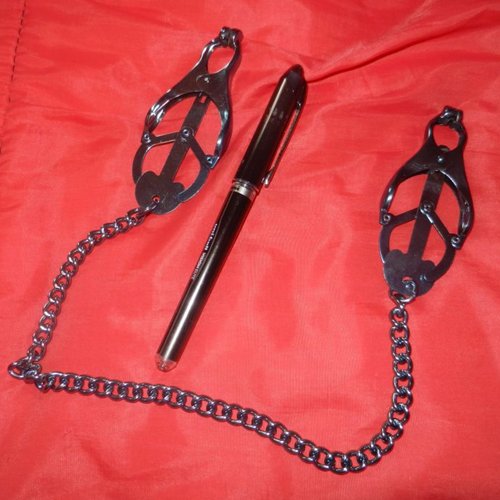 The actual clamps are clover-style and are larger than other styles. They work by pinching the outside of the clamps, and the top bits that are protected by rubber padding are applied to the nipples (or any other area). While the clamps are slowly released, they pinch down on the area until they are pressed together again and the top of the clamps open up.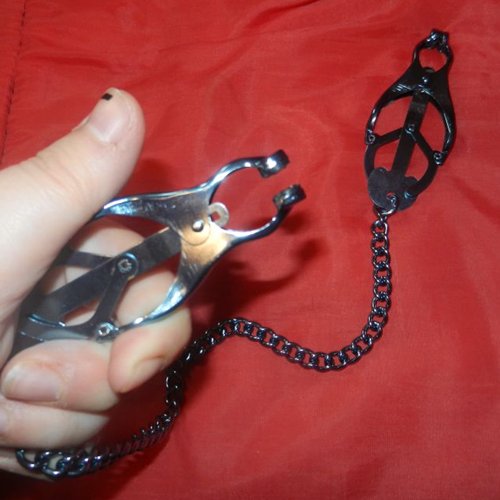 Use
While these clamps can be used on any body part, they are best used on nipples and the clitoris. Beginners will love these, as they aren't the tightest pinch, but still provide a good sensation. More experienced users will find these useful as endurance clamps, seeing how long one can wear them until taking them off.
*Keep in mind that nipple clamps often hurt more when taking off, as the blood rushes back to the area.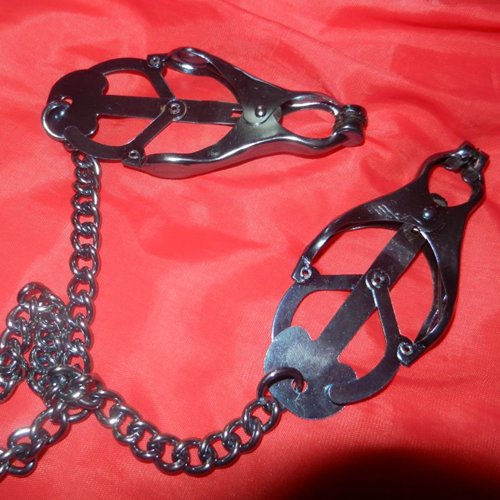 These clamps can be worn carefully under clothes or around the house if desired. The chain can also be tugged on or put in the mouth for an extra level of intensity. These will come off if you tug on them hard, but light tugging on the right area should not be a problem in that area. I have found these to stay on rather well, personally, and I really like that as I have had many problems with other clamps.
Packaging & Care
The packaging for Fresh products is usually bright and cheerful. This is no exception to that. Although the packaging seems to be standard for multiple nipple clamps, it is adorable. On the back, there is a listing of various other clamps they offer, with the one purchased checked off.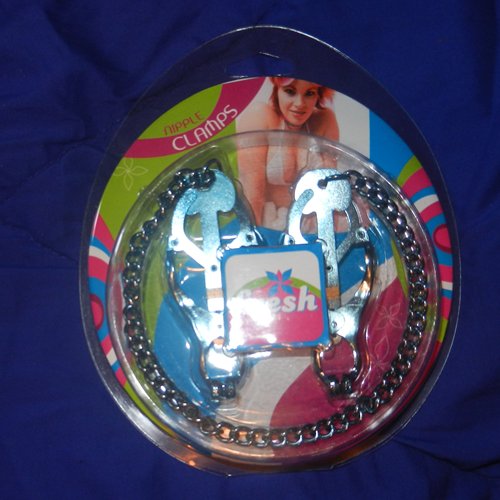 The clamps are secured in a plastic molding within the package, which can be thrown away or kept for storage. I personally threw the packaging away and store these in a toy box for smaller BDSM toys. Wherever you decide to store these make sure they won't be scratched, as the paint can chip in areas and ruin the pretty look of these.
As for cleaning these, I would say it isn't necessary to do so unless you are sharing with/between partners or unless they are exposed to bodily fluids. Since they are metal, you can use hot water to clean the clamps, as well as a mild soap if desired. Be sure to air dry these completely before storing.
Follow-up commentary
2 months after original review
These are still my favourite nipple clamps. The coloring has not faded yet, but I will surely report back if it begins to.
This product was provided at a discounted price in exchange for an unbiased review. This review is in compliance with the FTC guidelines.

Thank you for viewing
Fresh jaws nipple clamps
– bdsm toy review page!