More for novelty rather then use
Unlikely that I will ever actually use a flavored condom myself, however these are easy to use and take with you, I think they would be of better use if you don't like to do oral because you might dislike the taste of semen.
Published:
Pros:
Price, 7 flavors to choose from, easy to use
Cons:
Only 3 in a pack
Trustex flavored male condom by Line One Laboratories Inc. Comes in 7 different flavors; Chocolate, Banana, Grape, Cola, Strawberry, Vanilla and Mint. At $2.99 for a pack of three. Made from latex.
I am not one for flavored condoms. I don't use them for the help of oral like some like to, I bought them for more novelty purposes.
The front and back. The box is small enough to take with you or in your purse.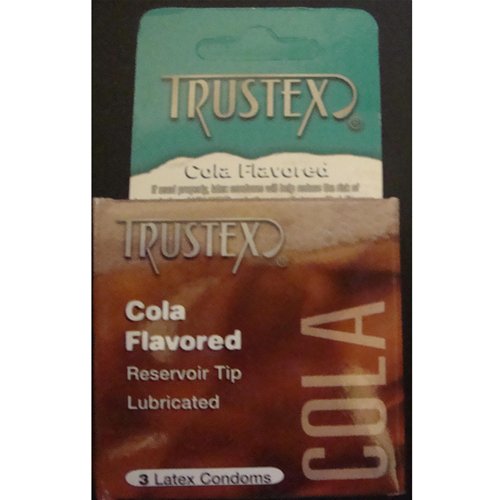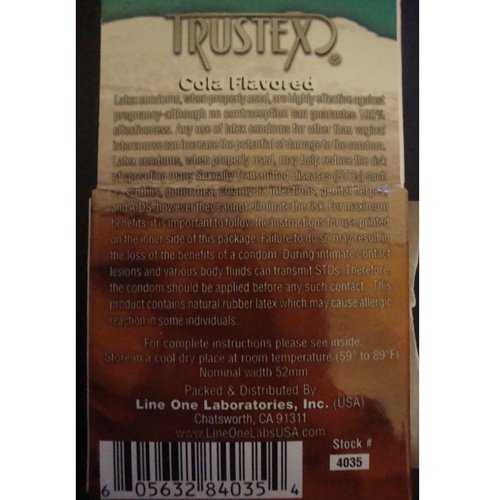 A closer look.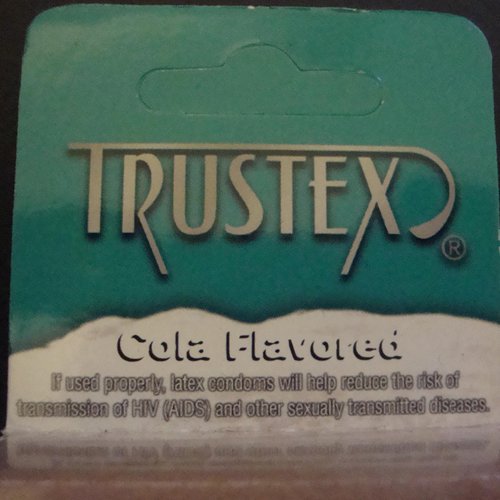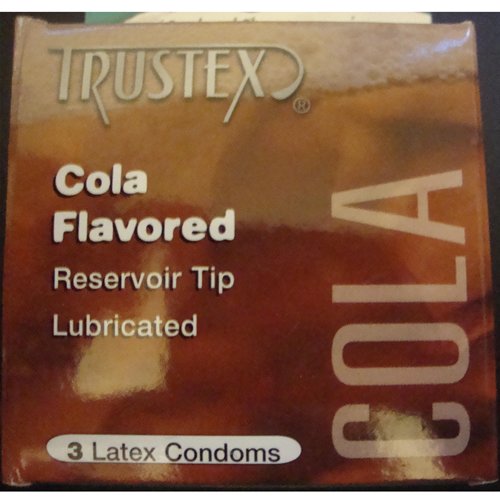 Three condoms come within the pack.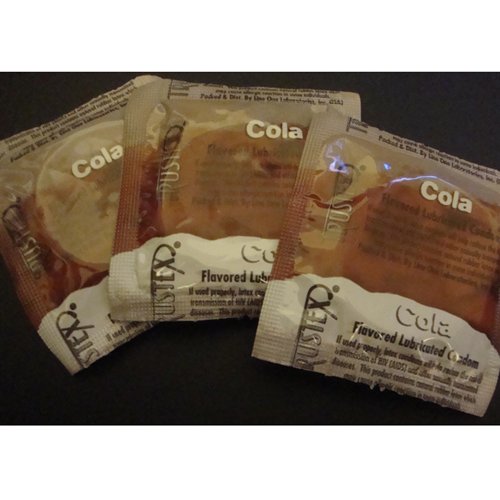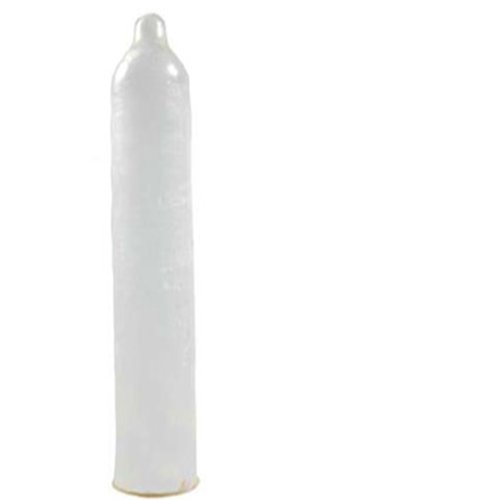 Head Width: 1.75"
Shaft Width: 1.75"
Base Width: 1.75"
Length: 7.5"
Thickness: 0.0024"
Lubrication: Water Based
Special Features: Reservoir Tip
The properties are:
Condom size: Regular
Sensitivity: Regular
Lubrication: Lubricated
Texture: Smooth
Pack: 3
Brand: Trustex®
Material: Latex
Material safety
Color: Multi-color
Weight: 0.1 lb
Special Features: Disposable
I highly however do not recommend such condoms for intercourse. However condoms are very important to help reduce the spread of sexually transmitted diseases. These diseases include HIV (the virus that causes AIDS), chlamydia, genital herpers, genital warts, gonorrhea, hepatitis B, and syphilis. You can get them through having sex -- vaginal, anal, or oral.
The surest way to avoid these diseases is to not have sex altogether (abstinence). Another way is to limit sex to one partner who also limits his or her sex in the same way (monogamy). Condoms are not 100% safe, but if used properly, will reduce the risk of sexually transmitted diseases, including AIDS. Protecting yourself against the AIDS virus is of special concern becuase this disease is fatal and has no cure.
About two-thirds of the people with AIDS in the United States got the disease during sexual intercourse with an infected partner. Experts believe that many of these people could have avoided the disease by using condoms.
Condoms are used for both birth control and reducing the risk of disease. That's why some people think that other forms of birth control -- such as the IUD, diaphragm, cervical cap or pill -- will protect them against diseases, too. But that's not true. So if you use any other form of birth control, you still need a condom in addition to reduce the risk of getting sexually transmitted diseases.
A condom is especially important when an uninfected pregnant woman has sex, because it can also help protect her and her unborn child from a sexually transmitted disease.
Note well: Condoms are not 100% safe, but if used properly, will reduce the risk of sexually transmitted diseases, including AIDS.
Follow-up commentary
2 days after original review
Some might wounder why I don't explain the flavor or why I say I don't recommend these for intercourse, and its really because I dont feel like I can trust them. I might just be paranoid because they are flavored.
This content is the opinion of the submitting contributor and is not endorsed by EdenFantasys.com

Thank you for viewing
Trustex flavored condoms
– male condom review page!