There Isn't Enough Lube in the World...
If you're a size queen or able to stretch more easily, this is a great product with the best quality you can ask for! If you can't handle large sizes, DO NOT begin with this one! However, you can find a great conversation piece or gag gift with this as well.
Published:
Pros:
-Great Quality
-Great Gag Gift
-Made in America (It's gotta be with those dimensions!)
Cons:
-Sticky
-Too Big for Most
EF asked me to review this, so I figured I'd give it a shot. When I first saw it I laughed my ass off but was curious if it was something I'd actually want. When it came in the mail my jaw dropped to the floor. You never really think something is as big as they say till you see it. WOW!
PACKAGING
This arrives in a very big box for a very big toy in a decorated cardboard box. The box shows an image of the product in full size on the front, so you may not want to use this to store your Hung in. The box is also not sturdy enough for long time use carrying this product around in because the product itself weighs almost five pounds!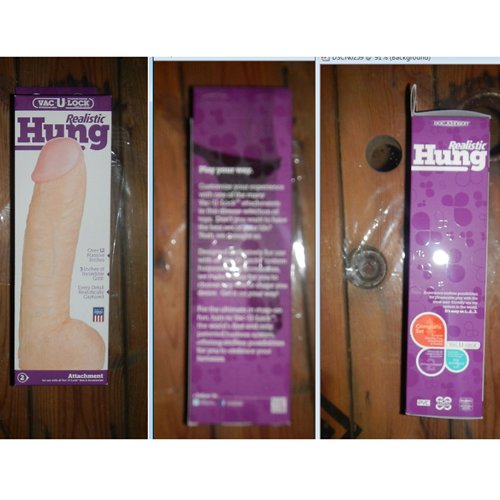 When I opened the box and saw what was sitting inside, I almost feinted. I knew it was going to be big, but damn! Hung is sitting in another protective barrier in the form of a plastic bag. The bag isn't sealed on the bottom so be careful not to drop the product or you will have some fun cleaning it. I left the plastic bag on while I took pictures because this WILL attract every piece of lint you have sitting around.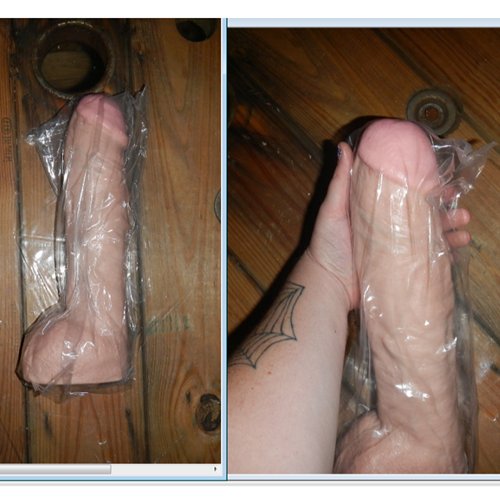 Inside the box you will also find a pamphlet. On one side it shows other Doc Johnson products that you can use with your Vac-U-Lock, and the other includes directions. This is all very straightforward so there is no need to worry you won't be able to do it properly.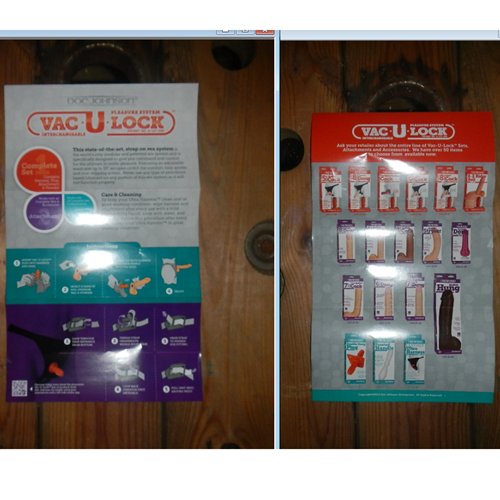 Doc Johnson's Hung
This is a newer addition to the vac-u-lock line which is made to attach from a vac-u-lock harness. There are over fifty different parts you can interchange on this system. This product is for JUST the Hung attachment. You can also use this with an O-ring harness from what I've heard. You will need to stabilize yourself or machine to make sure you or it doesn't topple over from the weight of this mammoth!
This is made from Non-Phthalate PVC and says it is anti-bacterial. That being said, it WILL need to be sterilized if you plan on sharing this. Not only does is it porous, but EVERYTHING sticks to this! It has a strong rubber scent that I expect will wear off the more you use it. Since I have NOT been able to actually use it, I can't say for sure the scent will disappear. However, it isn't too much of a turn off.
Cleaning is an issue only because of the size. However, since it doesn't have any electrical parts you can wash this under the sink. If you plan on using a spray or wipe, be prepared to go through a lot. If you plan on sharing this, plan on cleaning taking a fair amount of time. I would recommend getting a toy chest for JUST this to place once it's clean and dry to keep it away from anything that may get lint on it.
Size
12" Total Length
9 1/2" Insertable Length
4 1/2" Base (under balls)
3" Diameter at Widest Point (mostly head)
2 1/2" Diameter at Smallest Point (Hung is a bit uneven)
Hung is VERY well made! The color (mine is in natural) was perfect. There are veins that are colored and textured very nicely along with the look and feel of the head. The balls are a bit odd, but seeing as this part is squished to the attaching base, I feel it's best. The material is very sticky, but also soft and pliable. It has enough stiffness to it but also the perfect amount of bend. I was really impressed with the overall construction of this.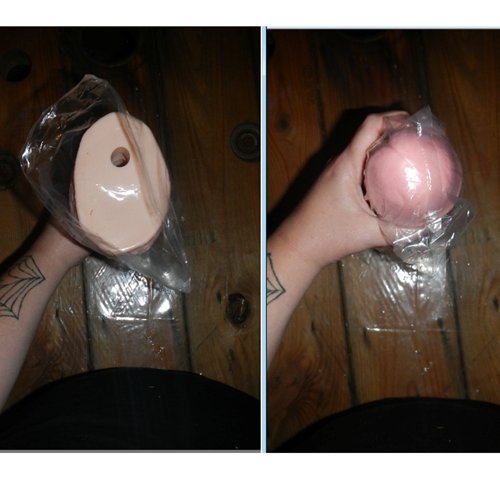 Experience
I still haven't picked up my jaw. I'm in awe of people who can actually use this! Although I knew it wouldn't work for me, I love EF and reviewing things so figured I'd try my best for the most informative review I could do on this.

As you can see, I couldn't even get my hands all the way around this. I tried getting my mouth around it too with a little more luck, but very uncomfortably. I feel sorry for any guys this size! I should note that I didn't notice any bad taste or aftertaste. I lubed both myself AND the head and tried to get it in without making any progress. I then lubed up even more and had my man try getting in. Nope. When we finished our giggle fits, we realized this wasn't going to even breach my lips, let alone go inside.

It does have enough stiffness to get in holes that can stretch enough, but a little more stiffness wouldn't hurt. Well, it WOULD hurt, but you know what I mean. You may wonder why I would give this five stars when I couldn't use it myself. Well, you can't deny the great quality of this piece. Plus, it HAS to work for someone or they wouldn't make it, right? I figure size queens and those with wider hips, more stretch, and high pain tolerances can find a lot of joy out of this.I won't discriminate this product because it's no more than a display piece for me. I can see this working great as a gag gift as well or a display for love chambers!
Follow-up commentary
2 months after original review
Although this would be a great item for someone, it just isn't an item I can use. It's become a joke in my house now. Sometimes we string it up and use it as a door knocker when we have certain friends over. Otherwise it sits in a box in my closet. This IS a greatly made item though!
This product was provided free of charge to the reviewer. This review is in compliance with the FTC guidelines.

Thank you for viewing
Hung vac-u-lock
– realistic dildo review page!