Beautiful Bloom
Royal Blossom is a truly beautiful piece of art! This glass toy is designed to work in a variety of ways and provides great stimulation without being too overwhelming for those that don't care for a lot of texture. It's easy to care for, but do be careful that it doesn't get dropped since it could break. This is a great piece of glass to add to anyone collection, whether you're a beginner or are more advanced!
Published:
Pros:
- Multiple Uses
- Easy to Clean/Care For
- Beautiful Design
Cons:
- Could Break
- Might Not Work With Everyone's Anatomy
Use - Design / Shape / Size
Royal Blossom by SSA Glass is a beautiful dildo designed to help stimulate some of the most sensitive areas of the body, and can be used in a variety of ways.
Great for G-spot stimulation, the Royal Blossom has a curve to the top part of the blue shaft, and ends in a bulbous head. The head of the glass features a beautiful green, orange, and yellow flower encased in the clear glass and creates a slight popping sensation that's very stimulating. On the curved area is a raised spiral pattern. While in use, it feels like the top part of the shaft has thick ribs to it, which also creates some nice friction.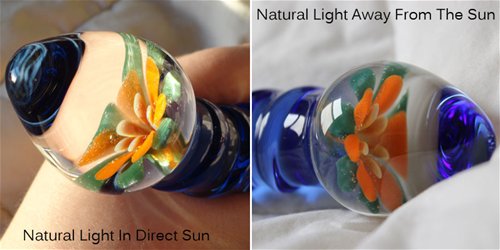 Aside from vaginal use, this toy can also be safely used for anal play. At the bottom of the toy is a flat base that is wider than the rest of the shaft. This prevents the toy from slipping inside your body and creating a scary, and embarrassing trip to the ER. Just like the curve to this toy might work for a woman's G-spot, it might also work in a similar way for a man's P-spot.
This glass toy is wonderful for temperature play, and can really enhance both vaginal and anal sex. Fill a bowl or sink with warm or cold water and place the toy inside the water for at least 5 minutes. The glass warms up or cools off and holds the temperature fairly well during play. Always make sure to test the temperature of the toy before insertion to make sure it's suitable for your needs. Heating the toy up in the microwave or cooling off in the freezer is highly discouraged since it could cause serious damage to your body.
While this is great for solo use, it can also be used with a partner either during mutual masturbation, or by having your partner use it on you. Because the material is so rigid, you do need to use caution with thrusting since it could cause discomfort if thrust too hard.
The shape of this piece is designed to stimulate all the right places, but it's all going to depend on your anatomy. There is a light texture to the upper area on the shaft, but it's minimal and should only bother someone very sensitive to textures.
Beginners can appreciate this toy since it's more simple than not, and has a very modest girth to it. The head of the toy is the largest area, the rest of the shaft is very easy to handle. Size queens may feel that this piece is lacking, but do keep in mind that since it's made from glass, there's no give to it at all.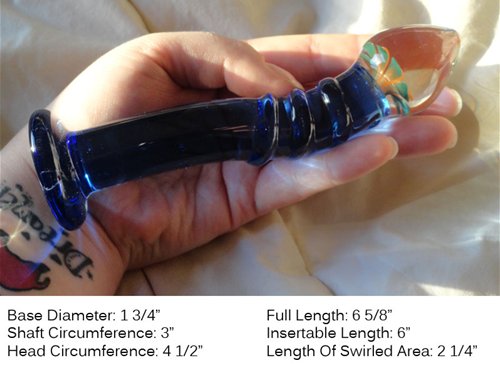 The size is acceptable for travel, but make sure that the toy is well padded and won't be dropped or have something heavy put on top of it. While the glass feels very solid, that doesn't mean that improper use won't cause damage to your toy.
The look of this toy is very discreet. Since the bottom is totally flat, it can stand on its own and would look beautiful displayed on a shelf. It would be much more unassuming if displayed, but if someone were to see it in the pouch they might know what it is and what it's used for.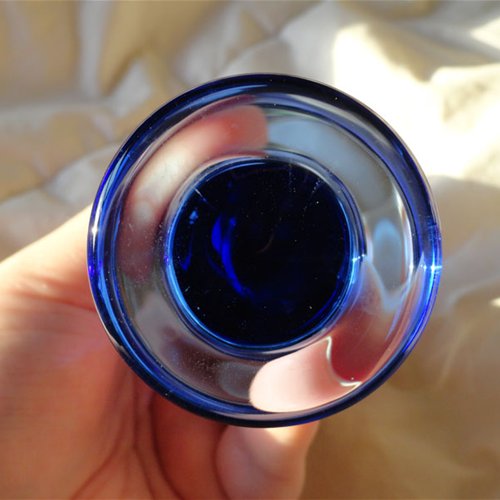 Material / Texture
Royal Blossom is made out of
Borosilicate Glass
which has an Eden Material Safety rating of 10/10 for being made from food-grade material, being hypo-allergenic, latex free, non-porous, and phthalates free. This material is less dense than regular glass which makes it less likely to break and even less likely to shatter. Should something ever happen to your glass toy, it will break into large pieces rather than splintering little shards.
The surface of the toy is totally smooth other than the spiraled area around the upper part of the shaft. The swirl pattern goes around the shaft three times, and the top and bottom don't connect to anything. They're raised approximately between 1/16" and 1/8" from the rest of the toy. It's not an overwhelming amount of texture, but it can be felt during use. If you're very sensitive to textures, this might bother you, but otherwise, it's a nice little touch to help make the toy that much more stimulating.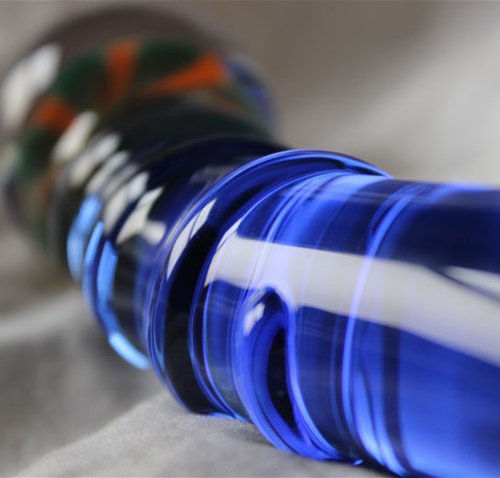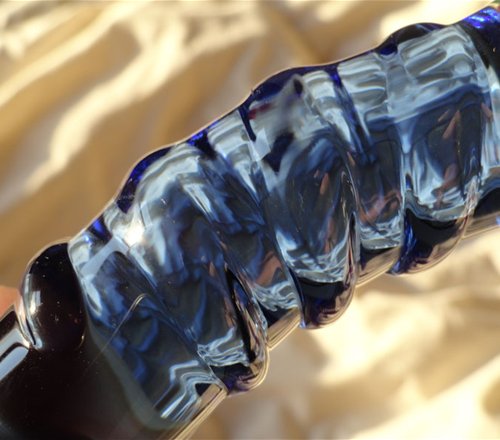 Experience
Performance
The way this toy works for you will depend on your anatomy and preference. The glass hold its temperature very well and should work for most people.
The curve in the glass makes it fairly easy to find the G-spot. I was able to find mine without an issue, and though I wasn't able to orgasm from that stimulation alone, when paired with a clitoral vibrator it made my orgasms much more intense. It didn't catch on my pubic bone when I was thrusting, but I did find that a back and forth motion worked much better for me than when I thrust.
Care and Maintenance
Glass is pretty easy to care for. For regular clean up, you can use antibacterial soap and warm water or your favorite toy cleaner. Make sure you clean well in between the little swirls as well. They aren't difficult to clean, but do have some tighter spaces that need a little extra attention. For a deeper clean, this toy can be wiped down with a 10% bleach solution, isopropyl alcohol, or can be put on the top rack of your dishwasher. Boiling is discouraged since extreme temperature changes could potentially cause your glass toy to snap or break.
Because of the material type, this toy is compatible with water-, silicone-, and oil-based lubricants. There's no concern about any type causing an issue with the surface of the toy.
This toy is best stored in the included red pouch, but could be store in a different pouch, a sock, or something similar. It's best to keep it away from harder toys and always surrounded by something soft; you don't want to leave it in an area where any type of debris could cause surface scratches.
Even if nothing has happened to compromise the quality of your toy, always fully inspect it before use.
Packaging
When this toy first arrives, it has bubble wrap around it and is tucked inside a soft, red pouch. The pouch has no padding to it and closes with a simple black drawstring. Though the pouch is great for storing the toy, you still need to be careful that it doesn't clank against another piece of glass or hard object.
There's no odd smell to the glass or pouch.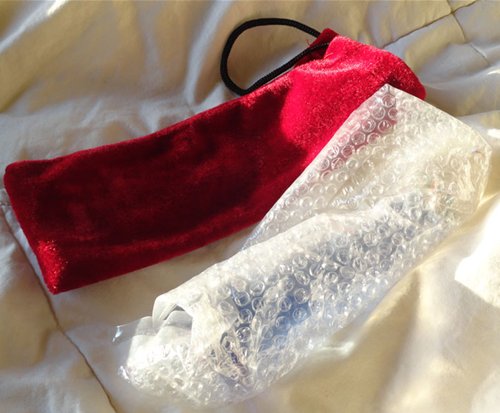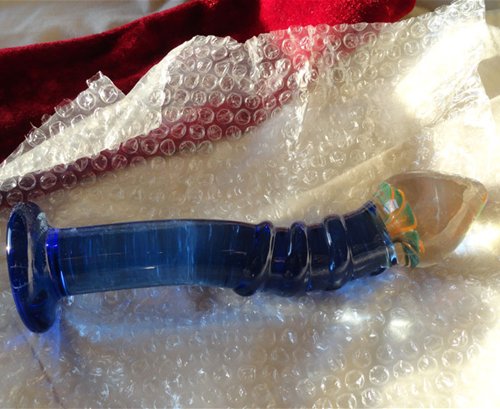 Follow-up commentary
2 months after original review
This toy is amazingly beautiful and preforms just as well as it looks. While it doesn't stimulate my G-spot like I had hoped, it might be just the toy to take you over the edge!
This content is the opinion of the submitting contributor and is not endorsed by EdenFantasys.com

Thank you for viewing
Royal blossom
– sex toy review page!