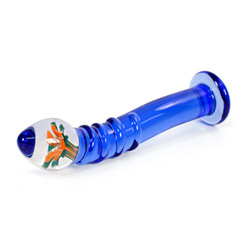 Royal blossom
Glass G-spot dildo
by EdenFantasys
Beautiful in Bloom
This beautiful toy is great for a beginner to glass dildos or the experienced glass lover. Its curved shaft and gentle texture create a very pleasurable experience, especially when heated. Stimulate your G-spot or simply go exploring for it. Just be aware that the head adds a pop upon entry that may need a little warming up to for comfort. All in all, this toy won't disappoint.
Published:
Pros:
Beautiful, Nice texture, Flared base makes it easier to grip, Great for heating up or cooling down
Cons:
Head can be a little jarring at first, Has to be warmed before use if you don't like cold toys
I adore the look of glass toys and this one is no exception. It is seven curved inches of curved, blue beauty. An orange and teal glass flower blooms in the middle of the clear bulbed head which caps the three rings swirled around the shaft. Really, this toy is beautiful to look at, but enough about looks!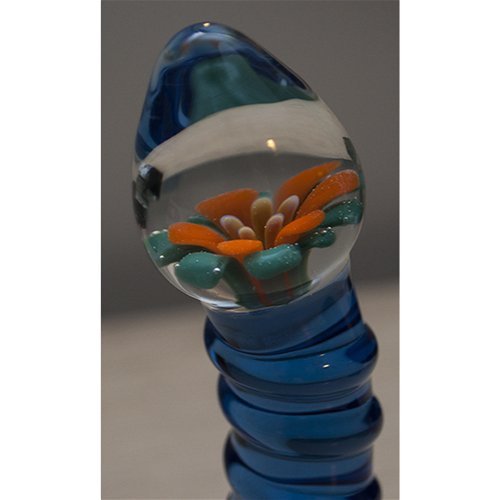 Recorded Measurements -
Total Length (not taking into account the curve): 6.75"
Useable Length: 6.5"
Circumference at Narrowest (untextured shaft): 3.625"
Circumference at Widest (bulbed head): 4.5"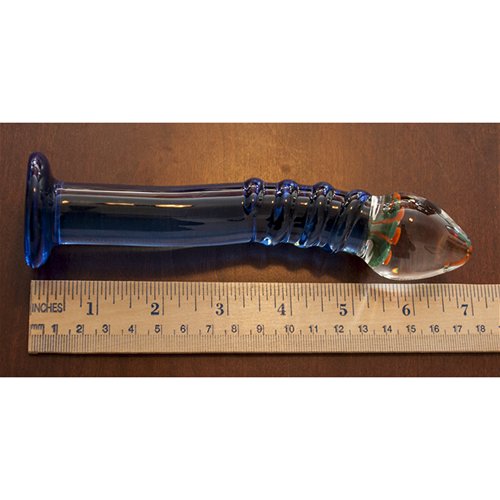 While this isn't the largest toy on the market, it is a completely solid one. It has absolutely no give (or smell or taste) being made from borosilicate glass (the same stuff Pyrex bowls are made of and a 10 on the Eden safety scale!). This means the toy can tend to feel bigger than it is. A softer toy with more give allows you to squish it to accommodate varying sizes; the Royal Blossom offers no such squish. This is not a bad thing, but it is important to keep in mind. If you do not like hard toys turn back now.
Let's talk texture. The bulbed head offers a nice pop upon insertion. The bulb is tapered which makes it easy to get started, however, it has a bit of girth at the base of its bulb (4.5" around). Normally, I don't find that to be a challenge, but since the Royal Blossom is such a hard toy I take it more carefully. After the pop of the head there is a swirl of raised glass that creates three rings. Honestly, with the head being fairly wide it took me a moment to realize the swirls were there. They are very smooth, but they are noticeable. They create a bit of a grabbing sensation during thrusting. It's not painful grabbing, just a nice drag that gives you something to focus on/feel. The rest of the shaft, which is completely smooth, ends in a nicely flared base.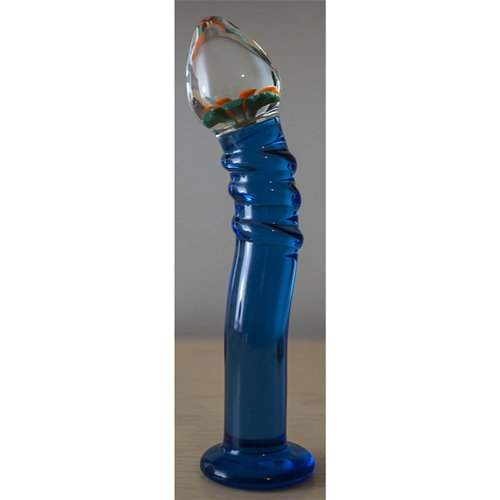 This toy has some great features. It is great for temperature play. Sink it in some warm water for a few minutes and it'll stay nice and toasty while you play. You can also stick it in the refrigerator (or under some cold water) and it'll do the same. Thanks to body heat it's a bit better at holding in warmth than cold, but it'll give you plenty of cool internal play time (I got about 10 minutes before my body ate all the cold) and external stimulation (20-25 minutes just rolling it around my body). The head and weight of the toy makes this a fun one to use externally during foreplay. It's even decent at working knots out of muscles. The gentle curve and heft of the toy make the Royal Blossom great for stimulating or finding your G-Spot; however, once it's inside there is no indication of which way the curve is facing so you do have to keep a firm grip on the shaft or end. The base is flared making the toy anal safe, though it should be noted the flare is not the widest so some caution should be taken.
Lubrication! The Royal Blossom barely needs any for a smooth ride, but any kind of lubricant works on this borosilicate glass toy. Silicone and water based lubricants are both safe to use, just be careful as the toy likes to slip around after being lubed up. The RB doesn't eat lube like some silicone toys can tend to do.
Cleaning is very simple. It is dishwasher safe (no dishwashing liquid please) or can just be washed with antibacterial soap and warm water. You can boil it, just be careful it doesn't bounce on the bottom of the pot. It is sterilizable and non-porous so it can be shared if you choose, just sanitize it properly before doing so.
Safety first. Always check your glass toys for nicks, scratches, or pieces missing before use. Bubbles from manufacturing are okay as long as they are inside (use commonsense), but any external flaw is a problem. Should you find any issues with a glass toy throw it away, it's not safe anymore. $40 down the drain sucks, but lacerations on your insides suck more. The Royal Blossom is made of borosilicate glass which makes it very resilient to drops and general bumps, but it is still glass. Always check it out first.
Just to wrap up (TL; DR):
-The Royal Blossom is made of borosilicate glass, a 10 on the Eden Safety Scale
-It is safe to use with any kind of lubricant: water, silicone, or hybrid
-It has a flared base
-It is great for temperature play
-Easy clean up with soap/water and completely sterilizable
Experience
It's really cold outside so I opted to warm my Royal Blossom up before use. I cleaned my sink, filled it with really hot water, and in went the RB. I let it soak a bit while I found all my accoutrements; by the time I finished it was nice and toasty. While glass doesn't really need any lube if you're wet, I really like a slick ride so I dripped on some Sliquid H2O. I was a little less relaxed than I should've been so the popping of the head caught me off guard at first. After the initial pop the rest slid in easily. It took me a moment before I realized I was feeling the swirled rings below the head. They're nice and fairly gentle, even when thrusting, but do provide an internal dragging sensation. I tend to like this sort of stimulation so I found it quite nice. I didn't find the swirls intense, sharp, or rough on my innards, just nicely stimulating. I am still having trouble locating my own G-spot, but this toy has helped me better explore that area. It has a nice weight to it that I can use to apply pressure to anywhere inside, and the curve feels really nice when I rock it instead of thrust. It is a completely solid toy so I made sure I was careful when thrusting as to avoid cervix bumping (I'm not a fan). I'm also less apt to let my husband use this on me as he can get a little...overzealous sometimes. Not a bad thing, just a bad thing for this type of toy. I have to admit, I am a fan of the softer toys, so glass is not my favorite, but this does a great job. I couldn't finish myself with this toy, but I need to get to know it better. Overall, I found the toy offers a nice experience and would be great for someone looking to test out textures or the firmness of glass.
This product was provided free of charge to the reviewer. This review is in compliance with the FTC guidelines.

Thank you for viewing
Royal blossom
– sex toy review page!