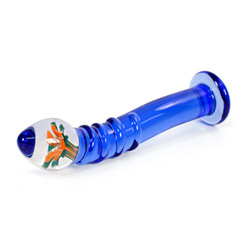 Royal blossom
Glass G-spot dildo
by EdenFantasys
Bulb In Full Bloom
With its inlayed flower design and deep royal blue shaft, the well named Royal Blossom doesn't just please aesthetically. Its bulbed teardrop head provides G-spot pressure, while the textured shaft massages and stimulates.
Published:
Pros:
Beautiful design, textured spiral on shaft massages entrance while head provides G-spot stim.
Cons:
A wider flared base would have been nice and given more options for use.
Packaging:
The Royal Blossom arrives wrapped up in a small sheet of bubble wrap within a red velvet bag, making this a wonderful item to present to someone as a gift. The red velvet bag fits the Royal Blossom perfectly, so there's no tight squeeze to slide it into the bag, but no great excess of material either. The bag has a black drawstring at the top which is easily pulled closed. I love how, other than a sheet of bubble wrap (to keep the toy safe during shipping), there is really no wasteful packaging involved with the Royal Blossom. The fact that the bag is red is a nice touch too, as it gives a more luxurious feel compared to the usual black velvet drawstring bag that you often find included with glass toys.
First Impression:
Seeing the Royal Blossom in person, it is as beautiful as you would expect from product page photos. It almost has the look of a glass ornament, and certainly wouldn't look out of place set out on a coffee table or bedside table. The teardrop, or bulb shaped head, of the Royal Blossom features a highly detailed internal flower design with yellow, orange, and green petals bursting and curling out from the centre of the bulb. Looking at it from every angle and seeing how 3D it is makes it hard to imagine how something so detailed but delicate looking could be placed inside a toy within the Blossom's modest price range.
The deep shade of the royal blue shaft really indicates where the Royal Blossom gets its title, and when mixed with the delicate flower in the toy's bulbed head, it finishes the look of the toy beautifully, giving it a mystic or wand like look while still feeling feminine.
Build/Shape/Design:
With a total length of seven inches and a shaft circumference of just 3 inches, the Royal Blossom was slightly smaller than I had imagined; the teardrop shaped head has a larger circumference of 4 1/2 inches and is angled to reach the G-spot. Along the thinner shaft is a subtle curve, which also helps angle the head forward. Just below the head is a raised spiral, which loops around the shaft three times and creates a ribbed texture. Below these three raised loops, the rest of the shaft is completely smooth and untextured.
The flared base of the toy has a diameter of just over 1 1/2 inches. It has a flattened base, which means the Blossom can stand upright or be displayed. While it would be nice to have more of a flare, it does still make it just about suitable for strap-on use if you can find a small enough O-ring to fit its modest girth.
Measurements:
Total length: 7 Inches
Insertable Length: 6 1/2 Inches
Circumference of shaft: 3 Inches
Circumference of head: 4 1/2 Inches.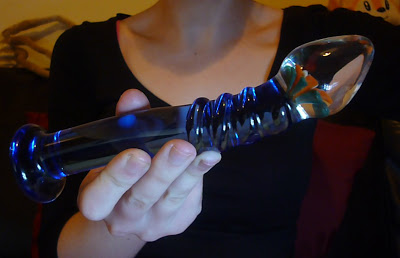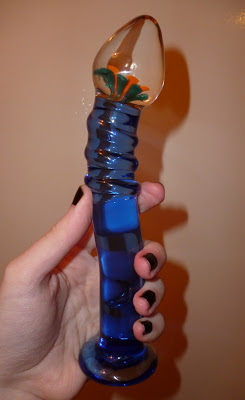 In Use/ Experience:
The teardrop shape and curved angle of the Blossom's head makes it work well for clitoral rubbing before insertion. Being made of glass, lube stays on its surface well, keeping it slippery and comfortable enough for more extended clitoral play sessions. The tapered shape of the teardrop also makes it easy to insert the bulbed head. After easing in the larger head, the shaft feels particularly slim by comparison, but the three raised loops just under the head mean that it doesn't suddenly change from a stimulating bulb to an overly smooth shaft.
With the bulb angled towards the G-spot and only roughly four inches of the Blossoms length inserted, the raised loops massage the sensitive entrance of the vagina, stimulating what now feels like a neglected area when compared to other textured glass toys. While I wouldn't usually call myself a fan of glass G-spot toys (I sometimes find solid toys a little too intense or unforgiving on my G-spot), the tapered tip and angled curve of the Blossom is enough to provide direct G-spot pressure without feeling too pokey or severe in its degree of curve.
With the thick head easily applying pressure to the G-spot with every thrust, and the three ribbed loops giving the entrance of the vagina more attention than you usually find from a textured dildo, I found myself only ever using four inches of the Blossom's length. The small flared base could definitely do with being wider if you want to use it anally or within a harness, but it is comfortable to hold on to, and the unused length makes it easier again to hold on to, as it keep your hands far enough away from any excess lube on the toy.
...
Experience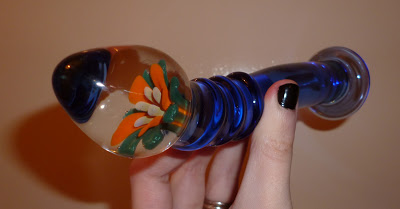 Strap-on/ Anal Use:
While I mentioned that I would have liked a wider flared base to make this more suited to anal and strap-on use, it is possible to use with an O-ring harness if you have a smaller O-ring to fit it. For anal use, I would take extra care to grip the base, and I personally wouldn't insert the full insertable length of the toy, as the width of the base isn't much larger than the shaft's diameter. With only the four or so textured inches of the toy inserted and the rest of the toys length used as a handle, it does make an effective P-spot toy, too.
Material/Care:
The Royal Blossom is made of borosilicate glass, which is similar to Pyrex glass; it is an extremely smooth and safe, non-porous material. Being non-porous and smooth, it is very easily cleaned with warm soapy water or specialized toy wipes or spray. It is non-porous, food-grade material, hypo-allergenic, and both latex free and phthalates free. Borosilicate glass is quite resistant to shattering and breaking, and if somehow a Borosilicate toy breaks, it will not shatter or splinter into tiny pieces but will snap or break in large pieces instead.
It also retains temperature very well, meaning that it is great for heating and cooling for temperature play. I found that sitting it in luke warm water just before use, or even simply warming up in the hands before use, is effective in warming it up to body temperature. For those who like the sensation of a cold toy, it can be cooled by placing it in cold water or the fridge. Silicone, water, and oil based lubricants are all safe to use with the Royal Blossom and, being made of smooth glass, surprisingly little lube will go a long way.
This product was provided free of charge to the reviewer. This review is in compliance with the FTC guidelines.
Thank you for viewing
Royal blossom
– glass g-spot dildo review page!