Royally Pleasing
A beautiful addition to any glass collection! Add in a texture challenge, bulbed head and looks to match, the Royal Blossom is a great buy for the price. My only complaint is the strange bend -- not enough to please, just enough to block the head from adequately stimulating my G-spot.
Published:
Pros:
Ridges for texture
Beautiful flower sculpture
Glass
Temperature Play
Cons:
Odd snaky curve to the shaft blocks G-spot stimulation for me
The Royal Blossom is a gorgeous glass dildo. The internal flower sculpture, the pleasurable ridges and the multiple colors make this toy from SSA glass one of the most aesthetically and practically satisfying dildos in my collection.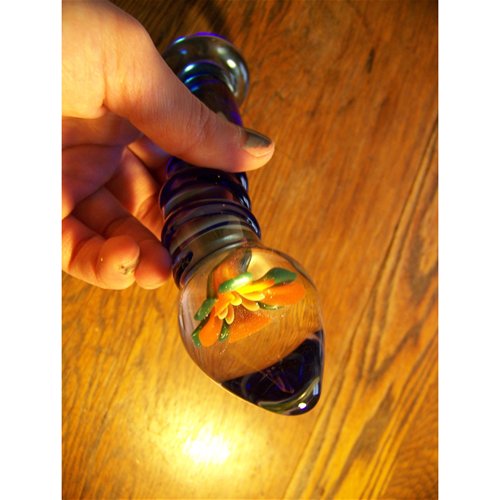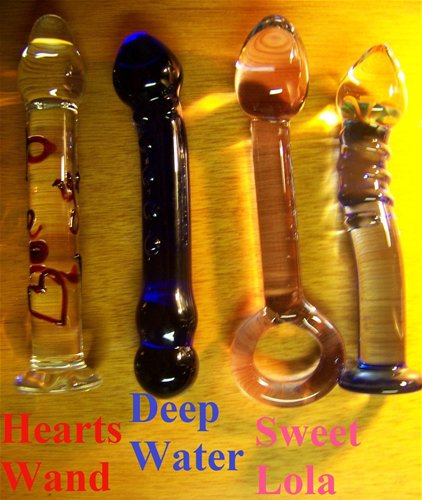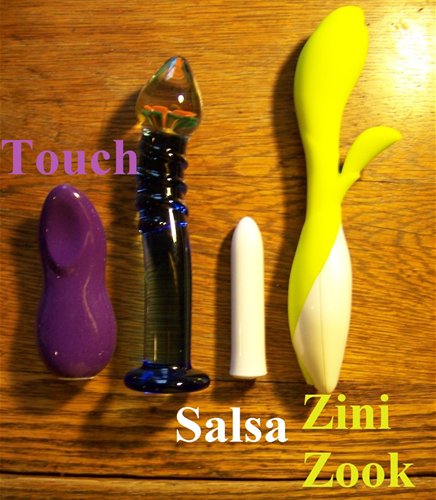 Ideas for the Royal Blossom:
1. Vaginal, G-spotter
2. Anal (male or female)
You could use the Blossom two ways: for vaginal stimulation, as the wide head provides decent G-spotting or for anal penetration as the toy is quite long and has a flared base. The slight curve may provide P-spot stimulation (according to your own anatomy, however) while the ridges feel delightful as a texture challenge. Be aware that the bulbed head is actually quite sizeable.
Size:
Measurements:
The Royal Blossom is:
Length: 7.75" long
Head diameter: 1.75" (so that's 5.5" in girth)
Shaft diameter: 1"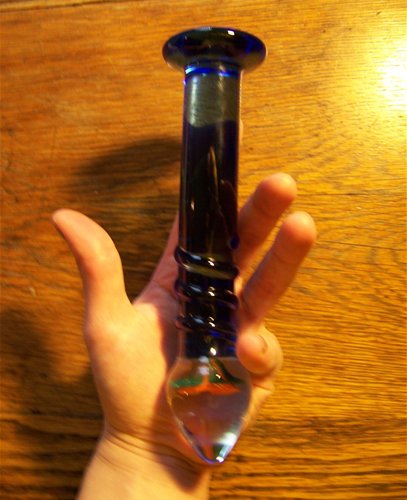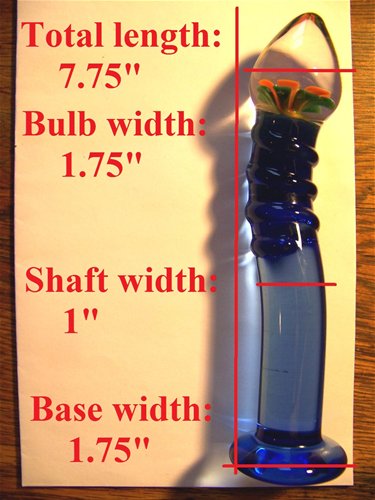 As you can see, the head is not for the shy or very small. The base is great to hold onto, for partner play. Beware that even though it has a circular base, it is not O-ring compatible, as it's material is glass (don't want metal and glass hitting each other with any force!)
The base is almost a full inch more in girth than the shaft size, which is reassuring if you're considering anal play. I am not so advanced, so I never see myself making it down that far. Use your best judgement!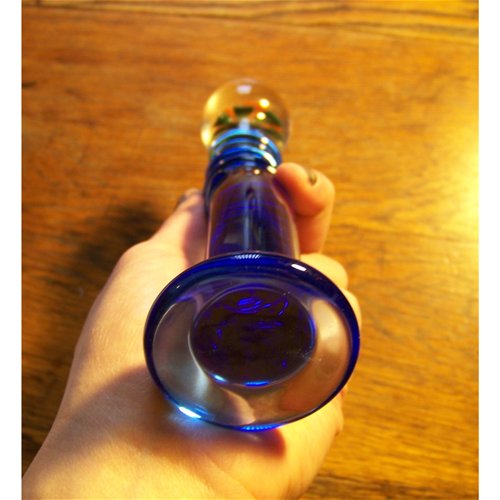 Design and Shape:
So I've mentioned the bulbed head; it's both delightful yet a bit of a pain. It provides a very filling sensation upon penetration, but the strange snaking curve just beyond the head combined with the girth of the bulb make for very poor thrusting sensations. Since this is a dildo, I absolutely need some kind of movement to stimulate myself. The odd curve also made this dildo difficult to angle in order to stimulate my G-spot. I constantly felt like I was being stretched in the wrong direction, which felt odd.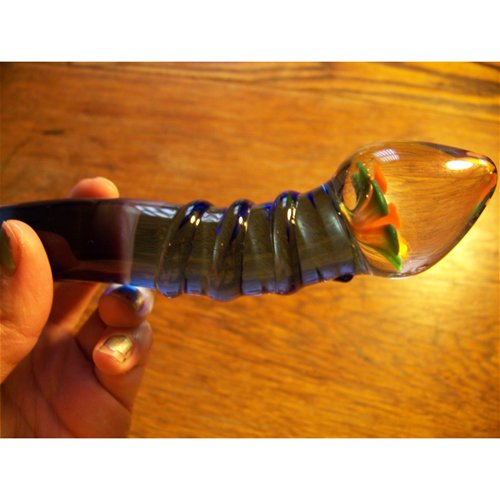 But, ridges to the rescue. The ridges are not too high, not too few -- they feel delightful inside as well as at my clitoral cuff. This is a modest textural challenge, but I found I was quite pleased by it.
The
tulip-shaped head
is quite nice for cervical stimulation. Be gentle if you're not sure you like it, of course, as glass can bruise and hurt your sensitive bits. I found the gentle tapering to a point directed force well even though I felt hampered while thrusting.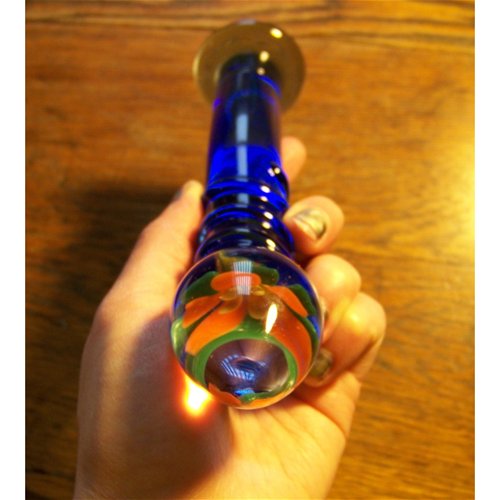 Care, Maintenance and Packaging:
I've used a few glass toys, now, and they're a breath of fresh air. I never worry about damaging their sensitive motors (they have none!) or getting water, lubes or fluid in little buttons, cracks or crevices. Glass can be boiled, bleached, shared, washed in the dishwasher or simply wiped down. Their colors will never fade with sunlight, time or dust. Love it!
You can even use any sort of lube with glass toys. Water-based is my preference, but a silicone lube plus a glass toy in the tub? That's a thought...
Temperature play is a great change from using vibrators, as well. Be sure, however, to either heat
or
cool your glass toys. Don't do both to either end, unevenly treat it, or suddenly change the temperature. This will cause your glass toy to crack.
For the Royal Blossom, I will note that you should pay attention to the area under the head and between every ridge. None of the ridges is high or narrow enough to pose a serious cleaning problem.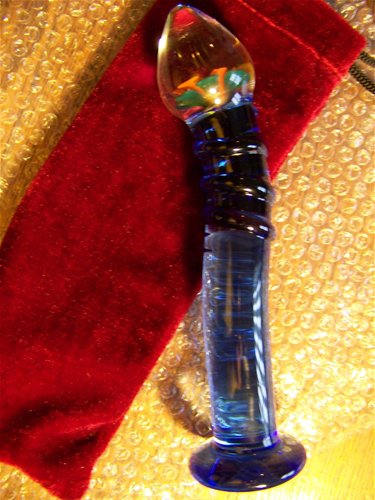 SSA provides a red velvet bag with each of their dildos. I rather like them, since I would find a box with foam inserts rather bulky and unnecessary, since heavy, shatter-resistant glass would be much more resilient in the face of impact damage than an electronic toy. As it is, I still keep the bag and the bubble wrap.
Follow-up commentary
1 month after original review
Glass toys have a lot on their side, as I noted in this review. And even more, they're true-blue, rock-steady. Generally, the impression you get of them from the beginning is what you can look forward to for the rest of the time you own the toy.

Royal Blossom is no exception. It's a constant and consistent pleaser that plays well with other toys or just solo. Glass has take a special place in my heart, with no small thanks to the Blossom. I would buy this and other glass toys in a heartbeat.
This content is the opinion of the submitting contributor and is not endorsed by EdenFantasys.com

Thank you for viewing
Royal blossom
– glass g-spot dildo review page!