Royally Awesome
The Royal Blossom by SSA Glass is truly a beautiful work of art, but not only is it pretty to look at, it's actually functional! Use this in the bath or shower, for temperature play, with or without partner, in a harness, vaginally or anally...the sky is the limit! Just keep in mind that glass toys sometimes feel larger than they really are because there's no give whatsoever to them.
Published:
Pros:
Versatile, Temp play, Waterproof, G-spot/P-spot, Gorgeous design, Flared base, Harness compatible.
Cons:
Rigid (for some), Texture (for some), May be too large for beginners to glass.
Use:
The Royal Blossom by SSA Glass is an artfully made piece of glass that's meant to be used vaginally or anally. It is perfect for men and women alike to use and it can help you find your g-spot or p-spot with its bent, pronounced head. Just be sure to cover it with a condom if you're sharing with someone who isn't fluid bonded with you, otherwise just sterilize it between uses or orifice swapping.
Beginners to glass may have some trouble inserting this comfortably but those who are used to using glass toys should have no problem with it. Size queens may get some g-spot enjoyment out of this toy but I doubt the diameter is big enough to really fill them up.
Glass is easily cleaned and sterilized due to its waterproof nature but it also means that this toy can be enjoyed in the bath tub and shower. This material also holds temperatures very well so if you're into temperature play you can warm it up or cool it down with some warm or icy water before playing with it.
Using this toy for foreplay is an option as well as using it with a partner for double penetration but I find that a lot of folks prefer to use glass toys solo. If you do choose to have your partner help you out, especially if the toy is used in a harness, be sure to discuss with them how you prefer it to be used to avoid any accidental injuries. Rough play with glass toys can cause internal bruising and lots of pain if not used carefully.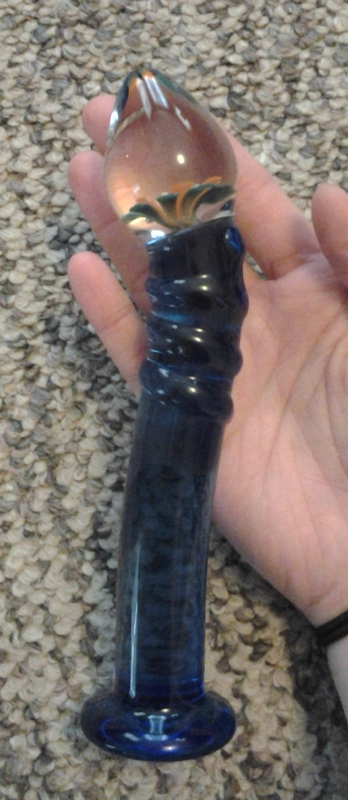 Material:
Borosilicate glass, also known as Pyrex, is what this beautiful dildo is comprised of and it earns the Royal Blossom a 10 out of 10 safety rating on the Eden materials safety scale. This means the dildo is hypoallergenic, latex and phthalate free, food-grade material and non-porous. Glass is also typically very smooth, shiny, has no odor and is cold to the touch.
This particular glass dildo comes in a gorgeous bright blue color with a clear head that contains a lovely orange, green and yellow flower inside it. The surface of the dildo is smooth with the exception of the few raised lines that swirl about halfway down the shaft; these lines add some enjoyable texture to the toy.
Glass toys can grab on skin just a little so using some lubricant is usually required. Any lubricant you wish to use would be fine since glass is compatible with it all due to its non-porous nature.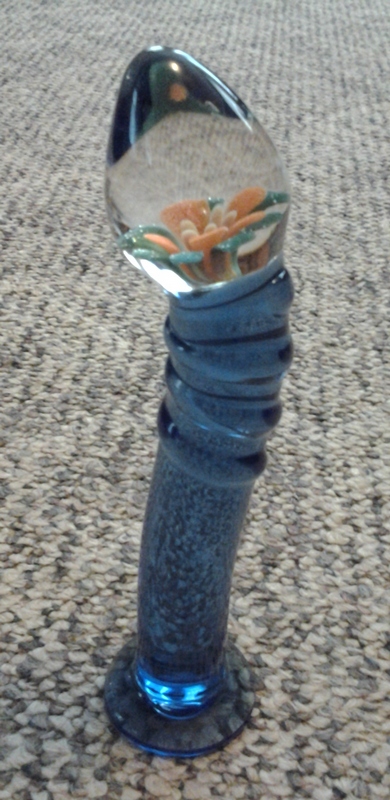 Design:
The Royal Blossom starts off with a flared base and continues up into a shaft that is straight at first and then it curves off to one side, this is where the raised swirls begin, and then it curves off in the other direction and ends with a pointed, pronounced head that contains the decorative flower.
The overall length of the Blossom is 7" with 6 1/2" of it being insertable. It has a circumference of 4 1/2", a diameter of 1 1/2" and it weighs about one pound, so it is a bit heavier than other glass toys but not so much that it will tire out your hands in use. There aren't any gaps or seams in this toy but be sure to clean it thoroughly near the swirls as they can collect bodily fluids pretty easily.
The flower in the head: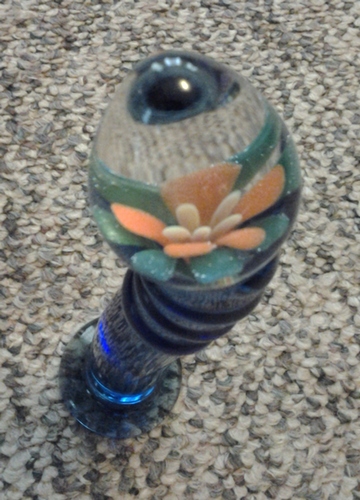 The swirls on the shaft: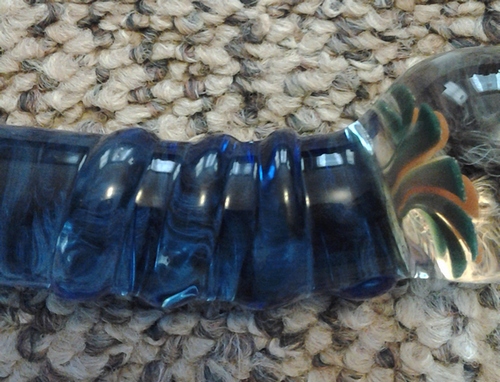 The flared base: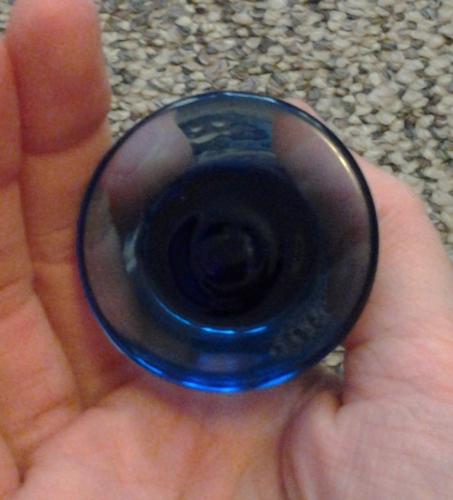 Experience
Performance:
Using the Royal Blossom isn't only fun, it's enjoyable because it's not just a pretty toy, it's a functional toy as well. The curve is perfect for working on the g-spot and the swirls add some delightful texture to an otherwise plain shaft. Being versatile because of the material makes this dildo such a great investment since it can be used in so many ways. Bath or shower play is possible as well as temperature play if you're into those sorts of things. This dildo is also able to be used anally or in a harness because it does sport a flared base. Just remember to use extra caution when using glass in a harness, internal injuries aren't any fun!
Care & Maintenance:
Cleaning the Royal Blossom is very simple; wash with warm water and antibacterial soap or toy cleaner or wipe it down with toy and body wipes. To sterilize it boil for a few minutes wrapped in a washcloth, toss it in the top rack of the dishwasher with no detergent or wipe it down with isopropyl alcohol or a 10% bleach solution. Just be sure to rinse it off thoroughly to avoid getting harsh chemicals in sensitive body areas.
Storing the Blossom is easy as long as it's properly protected. Use a padded toy pouch if possible because the packaging is minimal and doesn't really offer much protection beyond the bubble wrap. Once you protect your glass toy you can store it anywhere you keep your other toys.
This is a good option for storing your glass:
Packaging:
The Blossom comes wrapped in bubble wrap inside a red velvet drawstring pouch. The packaging is very minimal and should be swapped out for something that will protect glass toys better. It is, however, quite discreet in looks and would make a nice gift to someone. There weren't any instruction booklets or warranties included in the packaging but this dildo is pretty simple to figure out.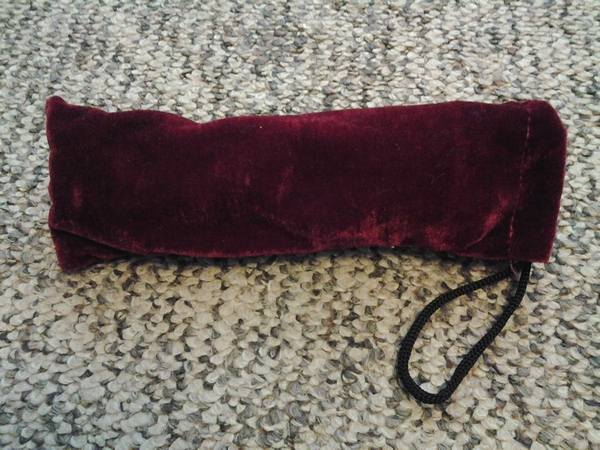 Experience:
The Royal Blossom is probably one of the prettiest dildos I own! Not only is it gorgeous to look at, it's functional and feels great in use. Using this dildo for g-spotting is so easy and it really gives the kind of pleasure that I look for in g-spot toys. I don't really prefer toys that are very bendy or squishy because I like to apply pressure when g-spotting.
I cannot vouch for the harness use of this toy since I don't engage in pegging, but I imagine it would work out just fine as long as you use caution while thrusting with it. Just remember, a dab of lubricant is usually all you need with glass toys!
This content is the opinion of the submitting contributor and is not endorsed by EdenFantasys.com

Thank you for viewing
Royal blossom
– glass g-spot dildo review page!