Blueberry Buckle
Take a Royal Adventure with this lovely glass piece! Whether you are looking for a dildo to use in a harness, for solo action, or to use with a partner, this beautiful blue chunk of glass will do the job. I enjoy abstract glass as much as the next person, but the realistic qualities of this dildo make it quite a find! It's the best of both worlds, whimsical and realistic all at the same time.
Published:
Pros
-Beautiful
-Safe Material
-Nice Amount of Texture Without Being Overwhelming
-Harness Compatible
Cons
-Occasionally Catches on Pubic Bone
Royal Adventure drew my eye right away. The color is stunning, and I'm a sucker for swirls down the shaft of glass toys.
You could use Royal Adventure for some light clitoral stimulation, if you don't need vibrations for that. I enjoy the feeling of glass toys being slid along my clitoris, and this toy does allow that. You can use the head for a bit of pinpoint pressure as well. Thanks to the nice wide base, this toy could be used anally. I'd say it's sized for intermediate to advanced users, if you choose to use it for anal play. Royal Adventure could obviously be used for vaginal stimulation as well. The head gives you an ever so slight popping sensation, which mimics a real penis. The swirled shaft provides some texture during thrusting, and feels very nice when the thrusting is slow and easy. There is a slight curve to the shaft, so Royal Adventure does a fairly nice job of reaching your G-spot or P-spot. This will vary depending on your anatomy, but I suspect most people will be able to angle this toy to get the job done. I also really like to insert Royal Adventure vaginally while I use my hand or a vibrator on my clitoris, and use it as something to climax around. The firmness of the glass and the texture of the shaft feel great when you clench down.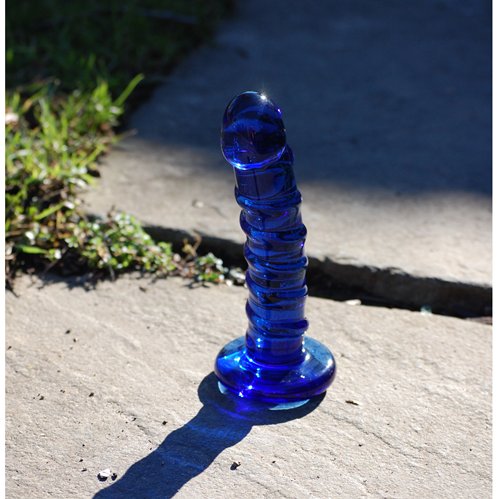 Not a lot of glass toys are realistic, and although I wouldn't say this one is entirely realistic, it comes close. It has a head shaped bulb at the tip, to mimic the head of a real penis. The head measures 1 1/4" in diameter, and is roughly 1 1/4" long. Some may find the head catches on their pubic bone a bit, but I found that if I was careful about the angles I used this wasn't an issue. The shaft has a swirl twisting the entire way from the bulb to the base, which is similar in height and frequency to the veining on many realistic dildos. The total length of the toy is 6", with 5 1/2" insertable length. The measurements listed on the product page are different than the measurements on my toy, so I assume there is quite a bit of variation. The shaft measures 1 1/8" in diameter. Royal adventure is fairly average in size, making this toy accessible to anyone interested in glass. I wouldn't let the texture scare you off, as it's a gentle raised swirl, with no abrupt knobs or bumps. As with all glass toys, you should use caution to not thrust too aggressively, to avoid bruising your cervix. The base of Royal Adventure makes it easy to hold, and allows it to be used in a harness. The base measures just shy of 2 1/2" in diameter, so it fits nicely in your palm. It isn't so large that it will be overwhelming worn in a harness, but it's large enough to ensure it will stay put.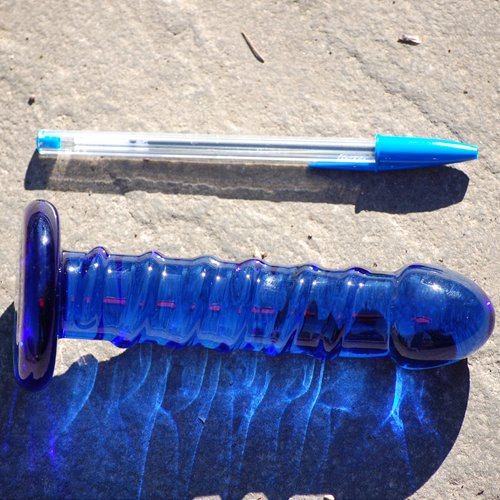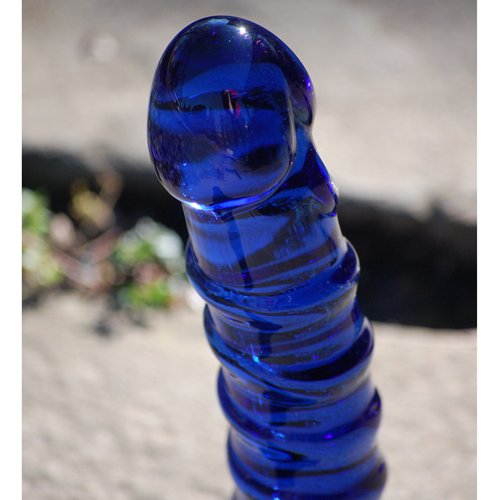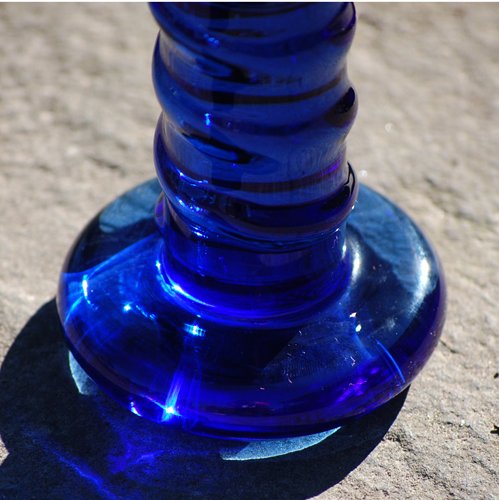 You could use this toy for some temperature play, as glass holds heat and cold well. Place the Royal Adventure in a dish of warm or cool water before using it to tease you or your partner. This toy could also be used for body massage, with a nice massage oil. Obviously, the toy is waterproof as well, so it could be used in the shower or bath.
Royal Adventure is made of borosilicate glass, which is non-porous, hypoallergenic, non-toxic, latex-free and phthalate-free. It has no smell or taste. Borosilicate glass is better known as Pyrex, the bakeware and dishes popular in kitchens the world over, and it is designed to break into large chunks instead of tiny shards if it would happen to shatter. Because it's not porous at all, it won't hold onto germs or bacteria, and could be shared with other users as long as you wash it first. Like all glass toys, you won't have an issue with this dildo holding onto odors. After a cleaning, it will be just as shiny and clean as it was before use.
Cleaning Royal Adventure is simple. You can wash the toy with soap and water, or you can use your favorite toy cleaner. It can be sterilized by placing it in boiling water for three minutes, or washing it in your dishwasher. Because it is a glass toy, you can use any lube you like. It does not tend to collect lint or hair.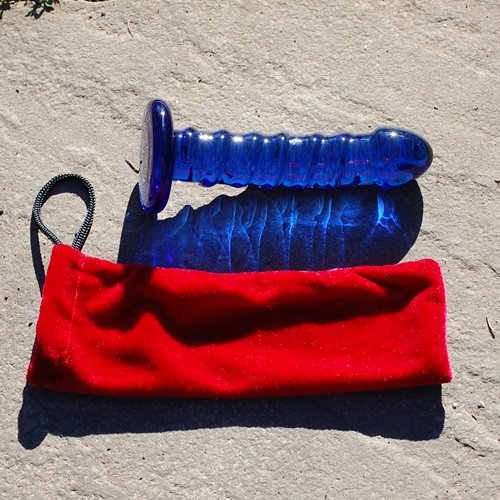 Experience
(Contd.)
Royal Adventure comes wrapped in bubble wrap, within a plain red storage pouch. The pouch is ok, but is not padded. For storage, be sure to avoid storing Royal Adventure up against other glass toys, or anywhere it might bang against anything which would break it. No instructions, care information or paperwork came with the toy. It is pretty self explanatory, but you can consult the many reviews for tips on using this toy.

EXPERIENCE--
Royal Adventure is beautiful and well designed. The other blue glass I own is very dark, so I was surprised by the bright, vibrant blue of this toy. I tried this toy in a number of ways, both personally and with a partner.

The first way I tried Royal Adventure was solo. I did some gentle warm up and then gradually inserted the Royal Adventure. I really liked the sensation it gave, and clenching and holding my Kegel muscles around it felt nice. I could close my legs and hold the base with my thighs, and I was able to cause a lot of stimulation with just minor hip movements. I left Royal Adventure there while I massaged my clitoris with my hand and a vibe. I enjoyed the whole experience. I like to orgasm around something, and the firm glass was perfect. The combination worked for me, several times over.

The second way I tried Royal Adventure was with my husband. He inserted in vaginally while he went down on me. Again, the sensation of the firm glass being slowly thrust was wonderful, and the addition of oral was great! Most of the glass we have doesn't have a defined head, so this is different in that sense. Having someone control the toy is a nice change, and the texture on the shaft really appeals to me. He was able to reach my G-spot with Royal Adventure. I commonly have multiple orgasms, and with just a minor rocking of Royal Adventure I was able to have a long string of them. The textured shaft really worked well for me, without being too much texture. Once the angles I liked were worked out, I didn't have any issues with it catching on my pubic bone.

Overall, I'm pleased with the toy. It certainly worked well for me, and delivered wave after wave of pleasure. It's beautiful to look at, and easy to care for. No complaints!
Follow-up commentary
7 months after original review
Great in a harness or hand held, the texture on this one keeps it interesting. It has held up well with no imperfections or issues arising. Still a beauty and a nice addition to your collection.
This content is the opinion of the submitting contributor and is not endorsed by EdenFantasys.com
Thank you for viewing
Royal adventure
– textured glass g-spot dildo review page!