Royally underwhelmed
The Royal Adventure is a versatile glass dildo. It can be used solo, with a partner, with a harness, vaginally, or anally. It's semi-realistic in appearance and features a light spiral along the shaft of the dildo. The size, shape, and design will please many users. However, I found it a bit too small and lightly textured for my tastes.
Published:
Pros
Safe material, lightly textured, harness compatible, anal safe, temperature play
Cons
On the smaller side, texture may be too much or not enough for some, G-spot curve is minimal
USE
The Royal Adventure is a glass dildo from SSA Glass. It does have a large, flared base so it can be used for vaginal penetration or anal penetration. If you enjoy gentle clitoral stimulation, you can rub this dildo along your clitoris and use the spirals for stimulation. The flared base does make this dildo compatible with a harness. If you're using this dildo in a harness, be sure to maintain open communication with your partner; glass is very rigid and unforgiving so you want to make sure that no one is hurt while using this dildo. The same goes with solo use, be sure to know your limits. Glass can cause internal bruising if you're overzealous in your thrusts. If you feel pain when using glass, especially during anal use, be sure to slow down or stop altogether. However, don't let my warnings deter you from using a glass dildo! They're amazing and the Royal Adventure is no exception.
The Royal Adventure, along with all glass dildos, is excellent for temperature play. Glass retains temperature well so it can be heated or cooled prior to use. You can heat the dildo by placing it in warm water or running it under warm tap water. You can cool the dildo by placing it in the refrigerator or placing it in cool water. While the dildo can handle freezing or boiling without any damage, your skin can not handle those extreme temperatures. Be sure to test the temperature of the glass on a sensitive patch of skin, like the wrist, before use to avoid any burns.
Being devoid of any motorized parts, the Royal Adventure can be used virtually anywhere. It can be used in showers or bathtubs, on beds or couches, or even in a car (as long as you're not driving; distracted driving is a no-no.)
MATERIAL
The Royal Adventure is made of borosilicate glass, which is better known as Pyrex glass. If you own any Pyrex bakeware, you'll know just how sturdy this glass is. Borosilicate glass is made to withstand stress, such as extreme temperature changes. If it is somehow broken, it will break into large pieces as opposed to small shards of glass. Glass rates as a 10 on the EdenFantasys safety scale. Glass is non-porous, hypoallergenic, latex free, body safe, and incredibly durable. It can be sterilized so it's also safe to share between partners or use in different orifices. Glass gets along well with all types of lube so feel free to use water-, silicone-, or oil-based lube with the Royal Adventure.
SIZE, DESIGN, SHAPE
The Royal Adventure is semi-realistic in appearance, save for the blue color and spirals on the shaft. It has a realistic head, complete with a frenulum and corona. Below the head there is a long, single spiral that wraps around the length of the shaft. The spiral starts below the frenulum of the dildo. The spiral isn't too intense, rather, it's just barely raised from the shaft. Those sensitive to texture may find the spiral to be too much texture, but most people should find it enjoyable. The shaft of the dildo does have a slight curve to it so it can be used for G-spot stimulation but it may require some angling in order to reach that spot.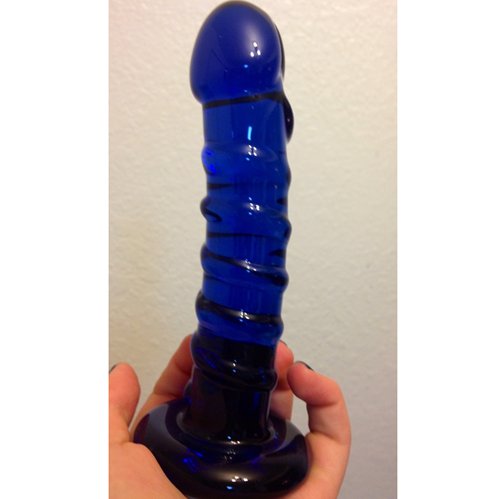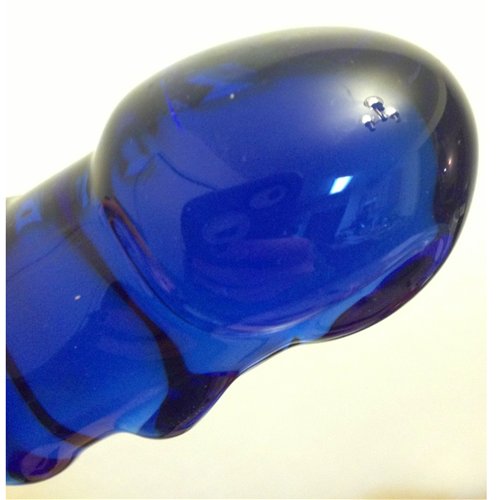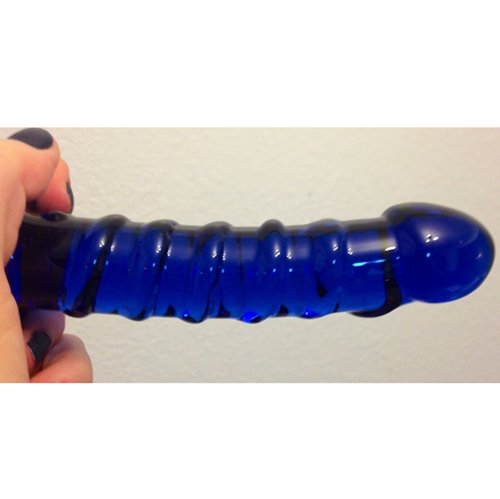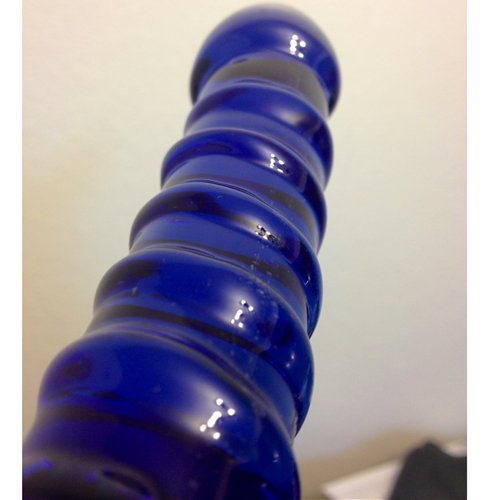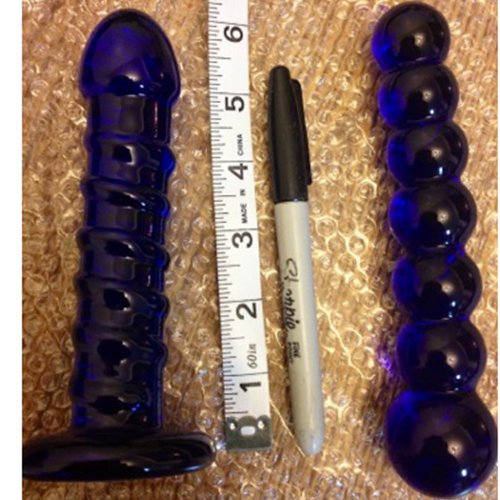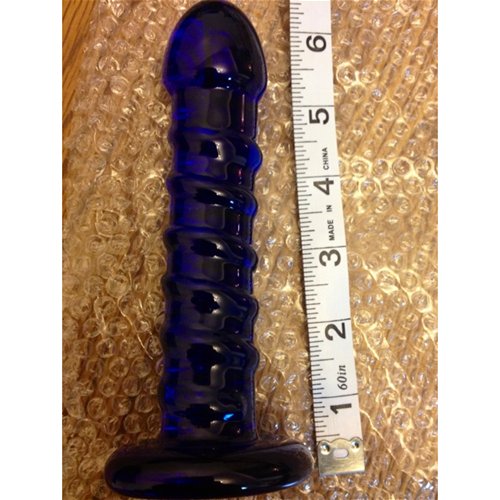 In its entirety, the Royal Adventure is 6 inches in length, 5.5 inches of which is insertable. The head is 4.5 inches in circumference and 1.25 inches in diameter. The shaft is 4 inches in circumference and about 1 inch in diameter. The spirals are roughly .5 an inch apart, meaning it swirls around the length of the dildo 6 times. The base of the dildo is 2.25 inches in diameter.
Experience
CARE
Any glass dildo, assuming it doesn't contain any electrical parts, can be cleaned with soap and water, a 10% bleach solution, or your preferred toy cleaner or toy wipe. Glass dildos can also be sanitized by boiling them in a pot of water or running them through on the top rack of a dishwasher sans soap.
When storing a glass dildo, the most important thing is to ensure it is covered to prevent scratches. Padding also helps in case it happens to fall (or get dropped, because let's face it, I'm a klutz). To store a glass dildo, such as the Royal Adventure, you can keep it in it's original packaging if it came with a storage pouch. You can also wrap it in an old t-shirt or a sock to protect it. Once it is covered, and ideally, padded, you can toss it in with your toy collection. I keep my glass dildos wrapped in bubble wrap inside of their velvet pouches.
PACKAGING
The Royal Adventure came packaged in standard SSA Glass packaging. It was wrapped in bubble wrap within the standard red velvet drawstring pouch. As usual, the drawstring does not keep the bag closed so I do tie a knot in the drawstring when I store the Royal Adventure.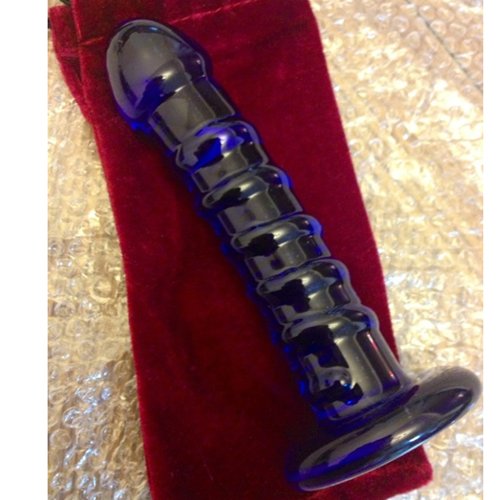 PERFORMANCE & EXPERIENCE
Overall, I personally found this dildo to be lacking. I'm really insensitive internally so the spiral on this dildo wasn't intense enough for me to really enjoy. I'm a
big
texture lover. I could still feel it but it wasn't as large as I was hoping it would be. It was also a little too small for my tastes, both in length and girth. I've never considered myself a size queen but I do like my dildos to have a bit more of a substantial size. However, I don't fault the Royal Adventure for this! It's still a great dildo, especially if you're fond of lightly textured dildos and the size seems manageable for you. The spiral can feel great internally when the dildo is inserted and twisted. It can also make a great thrusting dildo as long as you don't mind the sensation of the spiral being thrust internally. The fact that this dildo can be used with a harness is a major plus for me, even if I personally don't use it with a harness. There aren't too many harness compatible glass dildos available.
As far as G-spot stimulation, I found the angle wasn't enough for me to reach my G-spot with. This will definitely work better for those who have an easily accessible G-spot. I have not used this dildo anally or with a harness so I can not attest to its performance in those realms. The Royal Adventure is a great new addition to the SSA Glass line. It just didn't fit my personal preferences.
This content is the opinion of the submitting contributor and is not endorsed by EdenFantasys.com
Thank you for viewing
Royal adventure
– sex toy review page!