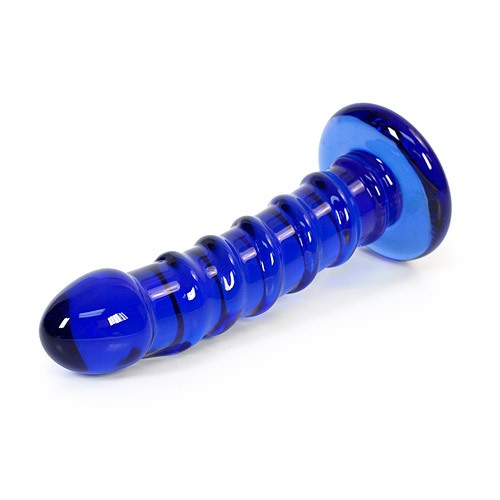 Royal adventure
Textured glass g-spot dildo
by EdenFantasys
Royally Screw Me
From the rich blue color to the alluringly spiraled shaft, this versatile glass dildo is most certainly fit for a Queen (or King). The base allows it to be used both vaginally and anally, or even in a harness. While the size will be great for most, beginners should proceed with caution. The bulbous head and ever-so-slight curve in the shaft help with gentle g-spotting or p-spotting. Beware: the texture can be intense, but is sublime with soft, slow thrusts.
Published:
Pros
Temperature play, anal safe, beautiful blue glass, gentle curve, texture.
Cons
Large head can catch pubic bone.
The Royal Adventure is a beautifully designed deep blue glass dildo. It is the perfect size and shape for anyone already familiar with glass toys. The size and texture would be manageable to beginners, but this one may not be my first to recommend.
The significant swirled texture and slight curve in the shaft provide optimal vaginal stimulation. The textures may also grant welcomed responses when rubbed against the clitoris.
The flared base allows this to be irrefutably safe to use anally. Strap-on play may be accomplished as well, if that is desired. The same slight curve that can tickle a woman's G-spot when used vaginally can provide similar sensations to a man's P-spot.
The same base that provides assurance in anal pursuits will make a great handle to grip when using the Adventure manually, either solo or with a partner. Take caution when using this on someone else, as the resistance of such a hard material can easily cause unintentional harm. The best way to avoid a bruised cervix is by communicating with your partner.
Another great use for glass is temperature play. Whether it's hot or cold sensations that are desired, glass toys should always be warmed or cooled in a bowl of water. This is the safest and preferred method. Glass has a tendency to retain temperatures, and these can be extreme if proper methods are not followed. Always check the temperature of the glass before placing it on any sensitive bits.
Material/Texture:
The Adventure is made of borosilicate glass, also known as Pyrex glass. This is the material commonly used in glass cookware. It is durable and optimal for toys, as it is completely non-porous so it won't harbor bacteria. Glass has no smell or taste, either.
Glass is a chosen material, not only for its beauty, but for its hard surface and the textures made possible. Adventure's texture is uniform along the shaft. A ridge begins on the underside just below the head and wraps around the shaft in 5 turns. This risks overwhelming the texture novice, but I doubt a beginner would be defeated by it.
Design/Shape/Size:
The head is phallic in appearance. The tip is slightly tapered, and a small groove is located on the underside of the head. A large ridge, simulating the coronal ridge, makes this head quite bulbous. Even with the artistic design, it won't be mistaken for anything other than a sex toy. For discretion, keep Adventure in its pouch and wrap it accordingly when traveling with it.
Adventure has a total length of 6", with 5 1/2" insertable. The head is 1 1/4" wide, and the shaft narrows to a 1" diameter. The ridges are raised about 1/8" from the shaft. Though not overly large, the size will indeed be good for most. Those preferring the slimmest of toys may disfavor the larger head on this one. Also keep in mind how much larger glass feels compared to other, softer materials.
There are a few small bubbles and tiny imperfections in the lines of the ridges. This is common, as each glass toy is hand-blown and consequently unique.
Performance:
While I will vouch for my experiences with it vaginally, my partner enjoyed it anally.
Though the spiraled ridges may seem a bit intense upon first glance, they are not terribly so. The texture was nice both vaginally and anally and was appreciated as a rippling sensation. However, the unforgiving material does feel larger than it is, and the ridges can become bothersome, even somewhat numbing, when thrusting with Adventure for a while.
G-spotting or P-spotting will depend on each individual's anatomy and needs. It did work well enough for both my g-spot and my partner's P-spot, though both of us agreed the stimulation was subtle. The bulbous head works well for locating the sweet spot, but it can catch on the pubic bone or be uncomfortable for the anal sphincter. We were careful to make short thrusting motions and rocking patterns to prevent this issue. The curve in the shaft is incredibly slight and almost not worth even mentioning.
Although we did not use it in our harness, Adventure will hold up well for such uses. Again, be careful when using a glass toy on someone else, especially in a harness, as it can easily hurt them.
The smooth surface did not require any lubricant for me to use vaginally. For anal use, however, a lubricant is always a must. We hold
Sliquid's Sassy Booty
in high esteem.
Experience
Care and Maintenance:
Glass toys are incredibly easy to clean. They are fully sterilizable and can be fearlessly shared. It is important to sanitize the toy before it is shared between people or orifices. Otherwise, cover it with a new condom. To sterilize, place it in boiling water for a few minutes. Let it cool before handling it. For everyday use and cleaning, a mild antibacterial soap and warm water will do. A toy cleaner or toy wipes may also be used.

Though it is more resistant than other types, borosilicate glass may crack when subjected to extreme, consecutive hot and cold circumstances. When it does crack, this type of glass tends to break into larger chunks rather than small splinters. Always check the toy before each use for any cracks or chips, however. It's best to err on the side of safety.

Glass is compatible with all lubricants, including oil, water and silicone based, so the choice is yours. It does not disagree with other materials either, so it can be stored alongside other toys.

A pouch may be the most favourable storage option to keep it from clinking against other glass pieces and acquiring any scuffs or scratches. This is made easy by the unlined velvet pouch that is included with the toy. A padded pouch may be used instead, but is not necessary.

Packaging:
Whereas most SSA glass toys are wrapped in bubble wrap before being stuffed into the red velvet pouch, this one had the bubbled wrap surrounding the outside of the toy in its bag. This difference is minor, and the bubble wrap can be preserved to wrap the toy in before putting it in the pouch for storage. It may also be discarded, but this is an individual choice.

This packaging is very simple. No instructions are included, and there is no box or other fanciful items that would make it luxurious for gifting. It is, however, discreet.

Although the pouch is unlined and rather flimsy and cheap looking, it is sized to fit and sufficient for storing the toy. The drawstring does not hold well, so a knot may be necessary to tie it shut. When the bubble wrap is kept for storage purposes, the tie is not needed as the toy will not slip out of its bag.

Personal Comments:
Never place glass in the freezer or boiling water to use it for temperature play. This can be dangerous and cause burns to the delicate skin. Glass toys should also never be microwaved to warm them up. Microwaving will cause uneven warming of the toy. Some spots may be warm, whereas other spots may be hot enough to produce serious wounds.

Overall, the Royal Adventure is a fantastic glass dildo for anyone's toy collection. The deep blue is stunning, the texture is effective, and the size is perfect for all but those preferring sizes on either extreme. In this case I'm glad to be royally screwed.
This product was provided free of charge to the reviewer. This review is in compliance with the FTC guidelines.
Thank you for viewing
Royal adventure
– textured glass g-spot dildo review page!