Your Royal Harness
The Royal Adventure by SSA Glass would be an exciting addition to anyone's toy box. The ease of use, cleaning and versatility of the toy alone are enough to warrant investing in it. Everything else aside, this toy is also very beautiful to look at, but it is obviously a sex toy so hiding it will probably be necessary.
Published:
Pros
Material, Textured, Rounded head, Flared base, Smaller diameter.
Cons
Rigid (for some), Texture (for some).
Use:
The Royal Adventure by SSA Glass is a slightly curved g-spot dildo that has some major texture to it via the raised swirl that covers its shaft. Since there is a flared base on this dildo it is safe to use anally, which makes this great for men and women alike. The base also makes this toy harness compatible but exercise extra caution while thrusting with glass, no one wants internal injuries.
Being totally waterproof means that this dildo can be used in the bath or shower and clean up is very simple. Glass also holds temperatures really well so if you like temperature play just warm it up or cool it down by placing it in warm or icy water about 15 minutes before playtime.
The diameter of the Adventure is a bit smaller than some other glass dildos so it would probably be a great toy for beginners who want to try out textured glass. Size queens will probably not get much out of this unless they're really into g-spot stimulation.
Using the Adventure for foreplay is possible as well as using it with a partner. Solo play is fun as well with this dildo and it is possible to use this in a harness. Always cover the dildo with a condom if you're sharing with someone who isn't fluid bonded with you, otherwise just sterilize it between uses or orifice swapping.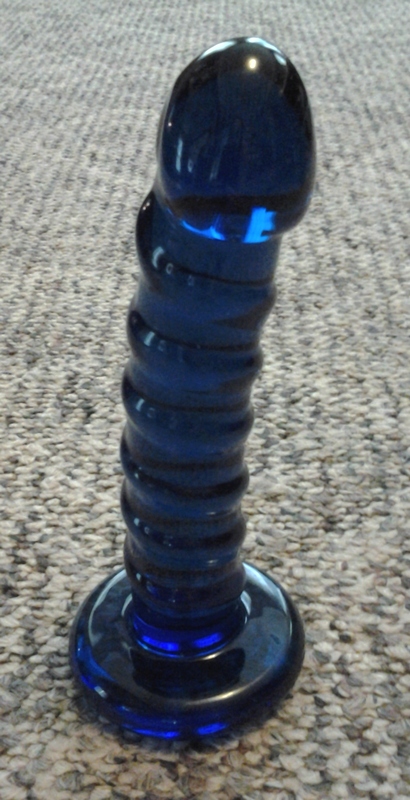 Material:
Borosilicate glass, also known as Pyrex, is what the Royal Adventure is made out of and it earns the toy a 10 out of 10 rating on the Eden materials safety scale. This means the dildo is non-porous, hypoallergenic, latex and phthalate free and food-grade material. Glass is normally chilly, smooth and shiny as well as being very rigid with no give at all.
This particular dildo comes in a beautiful, deep blue color and there were no odors at all upon opening the packaging. Glass does tend to grab a little on skin so using some lubricant will probably be required. Just grab your favorite since glass is compatible with all types but remember that you only need to use a little bit to achieve smooth gliding.
Design:
The Royal Adventure starts off with a very wide base and goes up into a mostly straight shaft that has a single raised swirl that goes up the entire length of the toy. At the top of the dildo it finishes off in a more realistic looking head complete with pronounced coronal ridge and the end of the swirl looking like its frenulum. There are no gaps or seams in the toy but always check for chips or cracks in glass toys before using them.
Measurements:
Overall length: 6 1/2"
Insertable length: 6"
Circumference: 4 1/4"
Diameter: 1 1/4"
Weight: 1 lb.
Realistic head: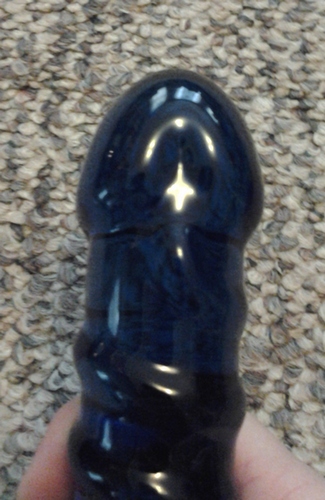 Swirled shaft: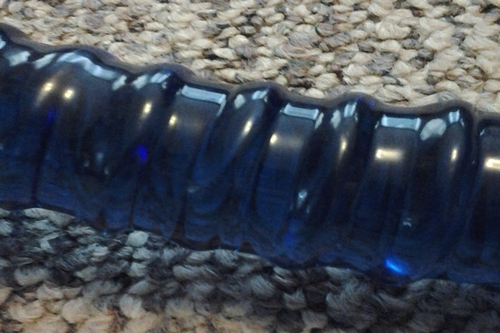 Flared base: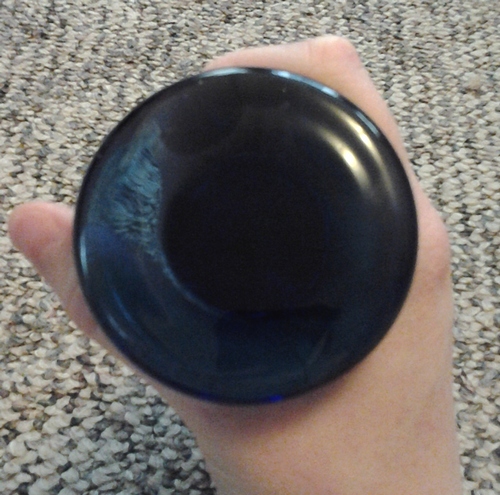 Experience
Performance:
The head of the Royal Adventure delivers a nice popping sensation when used vaginally or anally and the slight curve helps to reach your g-spot or p-spot while thrusting or gently rocking with this toy. Being made from a versatile material adds to its appeal; you can easily wash and sterilize it, use it in bath tub or shower, strap it on in a harness, insert it vaginally or anally and warm it up or cool it down for temperature play.
The only downsides to this toy for some folks may be the amount of texture and the fact that glass is a very rigid material.
Care & Maintenance:
Cleaning the Adventure is simple; wash with warm water and antibacterial soap or toy cleaner or wipe it down with toy and body wipes. To sterilize the dildo just place it in boiling water on top of a washcloth for three minutes, toss it in the top rack of the dishwasher without detergent or wipe it down with isopropyl alcohol or a 10% bleach solution. Just be sure to rinse it off thoroughly to avoid getting harsh chemicals in sensitive body areas.
Storing the toy is easy too, assuming you protect it properly before putting it away. A padded toy pouch is probably the best option for a glass toy but you could get away with an old sock or unpadded pouch if you wrap the toy in some bubble wrap first. After protecting your glass toy just place it wherever you keep your other toys stored.
Padded toy pouch: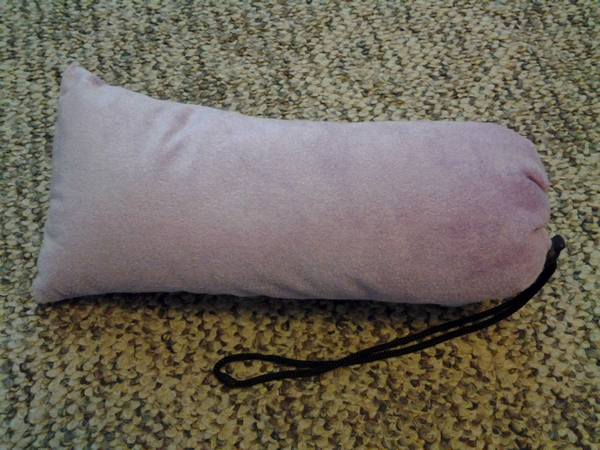 Packaging:
The Royal Adventure comes wrapped in bubble wrap inside a red velvet drawstring bag. It's very minimal and not so great for long term storage but it can be swapped out for something more padded. It is, however, discreet looking and would make a nice gift for someone. There were no instruction booklets or warranties included but it's pretty easy to figure this toy out.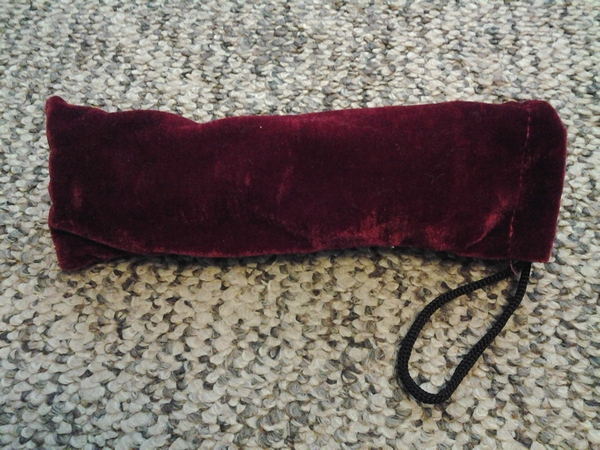 Experience:
This dildo may seem small and unassuming but it sure makes up for that in texture. When using this dildo it was easy to find my g-spot and it didn't poke or prod because it has a nice rounded, more realistic looking head. The spiral down the shaft does add some exciting texture, especially while thrusting with the toy, it was almost like a gentle vibration.
I didn't test out the harness compatibility of this dildo but I'm sure it would work out just fine as long as you use caution while thrusting with it. Lube is your friend!
This content is the opinion of the submitting contributor and is not endorsed by EdenFantasys.com
Thank you for viewing
Royal adventure
– sex toy review page!