Even better than pictured!
This toy exceeded all my hopes for how a glass toy would look and function — it's outstandingly enjoyable. It's a gorgeous and durable addition to any toy chest, at a bargain price.
Published:
Pros:
Beautiful
Thoughtful design
Great rigidity and heat-transfer
Cons:
Can be slippery
Has to be kept at the right angle
Having wanted for some time to try a glass toy, I selected this one as part of a wish list and it's been one of the loveliest toys a girl could get! The shape and textures of the Midnight Twist that I received are different from what's shown in most of the product photos. The first three product photos show a nearly-straight wand with large bumps running down the back, and pronounced ridges twisting around it. The toy I received, in contrast, looks like the final product photo, with a curved and more narrow-necked tip, smaller red bumps running down the front side, and very little texture to the swirl pattern. Since I know this toy recently came back into stock at Eden Fantasys, I'm guessing that the newer ones are like the one I tested.
Being a first-time glass toy user, I did some reading beforehand to reassure myself that the toy would not break into fragments. Everything I read confirmed that Pyrex (tempered glass) is one of the safest materials available. It might be possible to break it with extreme force (e.g. dropping from a height onto a concrete floor), but even then it would come apart into chunks, not glass chips or splinters.
Glass also has the benefit of being non-reactive. This means you don't have to worry about whether to use water, silicone or oil based lube, and you don't have to worry about it coming into contact with toys of different materials. This is a toy with a very long expected lifespan, which is a nice plus: it always seems wasteful to me to have to throw away toys that become defective. However, Pyrex cannot go into most recycling programs, since the glass is heat-resistant and can't be melted down with other glass. So if you ever tire of the Midnight Twist as a sex toy, you'll have to come up with another creative use for it (doorstop? Christmas ornament?).
Glass does heat up or cool down depending on environment. You can run the toy under cold water, for example, if you enjoy playing with cold sensations. Personally I found the way the toy heated up with body heat while in use to be one of the sexiest things about it: it went from being an beautiful but lifeless sculpture to something that collected and radiated back some hot energy!
I found the size of the Midnight Twist to be perfect, from the perspective of someone who has tried some fairly large toys but never one this rock-hard. At 1 3/8" diameter, the curved bulb end is easy to insert with a bit of lube on it. Although 6 1/2" of the toy are insertable, using it as a G-spot toy I found much less than that was necessary. The raised dots along the front actually acted as a helpful guide: I found that the toy was positioned best when one or two red dots were still visible externally.
The angle of the head was definitely enough for me to get all the G-spot stroking I needed, no additional stimulation required. Of course, for others this will depend on your own anatomy/sensitivity/preferences etc. (I've got an impossible-to-miss and loves-to be-petted spot). The raised bumps were just big enough to give a light, tickling sort of feeling. The white swirls around the toy could not be felt at all: they are really only raised as much as a thick coat of paint would be.
The only downside of glass is that it gets quite slippery when coated in lube and so the toy can be a bit difficult to hold on to, and to hold at the right angle so the tip continues to angle upwards at your G-spot instead of slipping sideways. Again I found the little red dots to be a big help here: simply keep the red dots facing straight towards you, and you can't go wrong.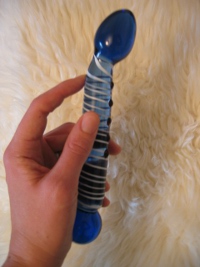 This content is the opinion of the submitting contributor and is not endorsed by EdenFantasys.com

Thank you for viewing
Midnight twist
– dildo review page!