For Her Majesty's Secret Service
This double ended, highly versatile, multi-textured glass wand is a must for anyone's toy box. If you love texture, this wand has got it; if you don't, it has that smooth option covered too. It is also very beautiful; and will service even the most demanding of Royal Majestys.
Published:
Pros:
Versatile
Temperature Play
Multi-textured
Cons:
I haven't found any yet!
The hygienic Glass Wand Massager by WHK GmbH, is a multi-textured dildo which resembles a scepter. It is made for vaginal and tentative anal penetration since it does have a hook on the end of the handle to prevent the toy from falling in and getting lost. The hook/handle is perfect for G-Spotting and P-Spotting.
I feel fortunate to have gotten this fine glass dildo at such a bargain price. I know everybody here has this toy and has done a review on it also, but I'd like to put my ideas about this nifty, uniquely shaped toy down anyway. I will start with the colors. When you shift the dildo in different positions it changes color on you. One way it is pink, another metallic orange, it looks opalescent gold yet another way and yellow when I hold it in front of me facing my computer. Beautiful fall leaf colors. It is also a mirror. I can see my reflection in all 3 of the globes prominent on this toy. This is probably why it looks so hollow and delicate. A mirror trick! When you pick it up, however it is quite heavy and solid.
This aesthetically pleasing toy is made of smooth, non-porous, food grade tempered glass. It is also non-toxic and hypo-allergenic. Even though tempered glass is extremely strong and safe to use; please remember to check your toy before each use to make sure it has no damage or breakage, especially on the textured end of the dildo commonly known as the Christmas Tree. It's not at all likely that this glass would break, but as I always say, better safe than sorry. Tempered glass has a high resistance to splintering or breaking into tiny shards. If it ever breaks at all, it will be in larger pieces, because it has been dropped very hard. Not inside you.
Here are the Glass Massager's measurements:
Length: 8 3/4"
Insertable Length: 7 3/4"
Circumference: 4 1/2" at its widest and 2 1/2" at its narrowest
Diameter: 1 3/4" at its widest and 7/8" at it narrowest
Weight: 1/2 LB
As this dildo is double ended and triple textured it has a lot of variety and potential for enjoyment, but is built only for 1 customer at a time. In other words, this is not a bicycle made for 2. On one end, which looks like the handle of the toy, there is a 7/8" diameter ball which is turned at an angle 3/4" off the main shaft, making an excellent hook to hold onto during playtime. The shaft is 2 3/4" long and 3/4" in diameter. Moving my way up the shaft, there are 3 globes sized at 4 1/2" in circumference and each globe is roughly 3" long. There are slight indentions between each globe, making each one perfectly round. Again moving upward, there is the famous Christmas Tree shaped head. This is the most textured portion of the whole dildo. There are 3 rows of 4 oblong shaped nubs here, which alternate down the sides of the head. The circumference of this tree is roughly 3". Last but not least, there is a small ball almost 1/2" in diameter. It is this ball that I am rubbing deep into my neck as I write this review. It feels truly wonderful on the back of my neck where it meets my backbone. This is a great tool to use for massage. The little ball pin points exactly the spot you are needing to massage. Reflexology comes to my mind. And who doesn't love a foot massage?
Here is a chart of the pressure points in your feet and the body parts that are affected by pin pointing them or massaging them. I tried it and it feels heavenly!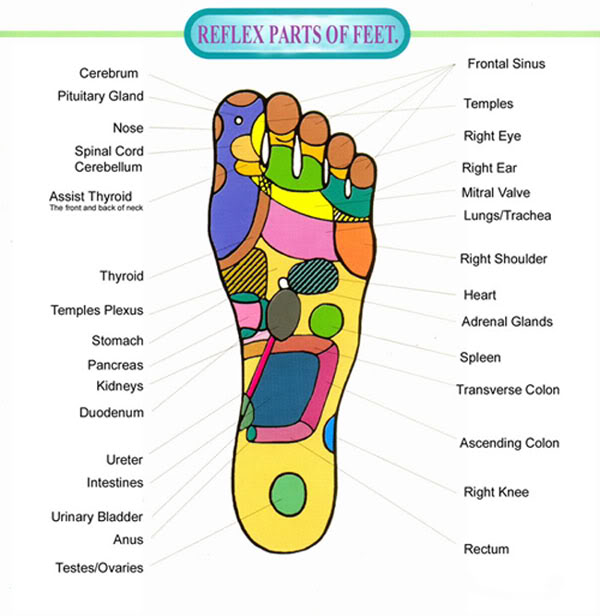 Tempered glass is naturally hygienic and easy to clean and disinfect. It can be boiled for 3 minutes, wiped with a 10% solution of bleach, wiped with Isopropyl alcohol, or simply washed with warm water and anti-bacterial soap. Make sure to clean all around the grooves and textures on this toy where debris may hide. Towel dry or air dry; and you're good to go.
Any type lube may be used with tempered glass; so use your favorite.
Storage is easy also. A padded bag is my favorite way to store glass toys. This particular toy did not come with a bag; but you can purchase them here on Edenfantasys. The box Glass Wand comes in is a safe way to store; as it provides a thick foam casing with a cut out of the toy. Your toy will be very safe snuggled in there. Glass also plays well with other toys; so you can store it with all of the precious toys in your toy box.
Experience
The Glass Wand can be heated or cooled for temperature play. To heat put toy into a bowl of warm water for a few minutes until it reaches the warmth you desire. A warm; but not hot dildo inside feels cozy and toasty, making you wetter, more comfortable and relaxed. To chill for cold temperature play; put toy into a bowl of cold water with a few ice cubes until it reaches your desired temperature. A cold dildo inside sends chills throughout your body, skin may have chill bumps, and nipples will instantly get rock hard. Temperature play is a good way to spice up an already great toy. Rotating between temperatures feels very exotic. Try it out.
Be very careful while thrusting the Glass Wand, as glass is hard and unyielding. Thrusting too fast or recklessly could result in bruising of the cervix. The wand is also very slippery when lubed up; so take it slow until you get used to the feel of this toy. The extreme texture on the head of the toy will be hard for you to deal with if your are not used to or do not like texture.
The smooth handle/hook end is better for me to play with for now; but I try to insert the textured end a little farther in each time I use this wand. I can't wait until I get to the globes portion of the wand since I love a full feeling inside.
Follow-up commentary
4 months after original review
This beautiful Glass Wand has really come in handy for Reflexology sessions on my feet. You would not believe how good the pointy end zones in on that special spot you are needing massaged! I do not use the wand much for sexual endevavers anymore; although I still could. This Glass Wand is still in tip top shape. Has not lost its heavenly color or broken at all, even through almost daily use on my feet. This unique and useful toy certainly belongs in every toy/massage lovers arsenal. It is not only great for stimulation of genitals, Reflexology on your feet, but all over body massage with some fragrant oil. Feels wonderful on your neck when tense also. I have thoroughly used and enjoyed this work of art/sensual toy. It must be the best bargain I have ever had the pleasure of buying. It is on sale at this time, so do not miss out! Get one today, you will not regret it!
This content is the opinion of the submitting contributor and is not endorsed by EdenFantasys.com

Thank you for viewing
Glass wand
– glass wands review page!