Gives me a heart-on
The #32 Heart Glass dildo, by SSA glass, is clunky, huge, ridiculous and gorgeous. I love the piece, despite it having what many people may consider to be flaws. Glass is great because you can clean it quickly and easily, you can share it with non-fluid bonded partners, once it has been cleaned, and it feels amazing hot, cold or room temperature.
Published:
Pros:
Gorgeous color, cute design, wonderful material
Cons:
Awkward shape, heavy toy.
This icicles #32 by SSA glass is a little huge, a little awkward, and a little awesome. I feel like this piece is not for beginners, or people who aren't interested in the best material ever... glass! Glass is shareable, sterilizable, coolable, and heatable. This toy is very smooth, yet the drastic swells give a lot to the masturbator.
Measurements
Color: Red
Length:9"
Insertable length:6"
Circumference:4 1/4"
Diameter:1 1/4"
Weight:10 oz
Glass properties
The best lube to use with this type of glass is water-based, silicone works well too but water based is generally the wettest and best for glass, especially texted glass. be sure to reapply this lube as soon as it begins to dry.
Heating and Cooling
Glass is great because you can heat or cool it. I find that hot temperatures are good on cold, dreary days or for fore-play, whereas, cold glass is great to play with on a hot day, or after your already turned on and super hot down below. After all the blood pumps to your vulva, it is a great sensation to cool yourself down drastically with a "frosty" glass.
Cleaning and lubing your glass
Glass is super easy to clean, as well as share. You can clean it by boiling, wiping, or dipping. To boil glass, simply place your toy in a pot of already boiling water. Leave your toy in the water for about three minutes and pull it out to polish it a few times. The only thing to watch out for is chipping your toy, so avoid dropping your toy suddenly or boiling it alongside others. You can also wipe your toy down with a Eden Wipe or a wet soapy clothe. Dipping your toy in a bleach solution is super easy and only takes a few minutes. Get a glass, or bowl, and create a 10% bleach, 90% water, solution. Make sure to air dry your toys after cleaning, and playing.
Properties of Pyrex, according to Eden-
Pyrex is a hard material with a high chemical resistance and mechanical strength. The boron in Pyrex reduces any stress caused to the material due to temperature changes. It is less dense than ordinary glass, making it much more resistant to shattering and breaking as well, if it were to break it would not shatter or splinter into tiny pieces but instead it would snap or break in large pieces. It retains temperature extremely well and requires only a little lube for a super-slippery effect.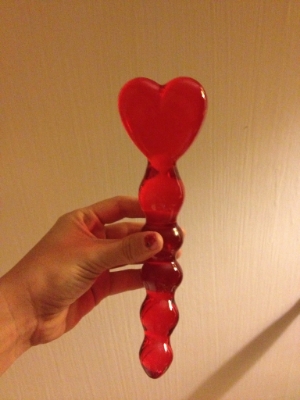 [italic|
The Glass
from a different angle. In case you haven't noticed, the extreme curve of the toy slightly mimics a wasp's curvatures. This glass truly is enormous, it isn't just my hands!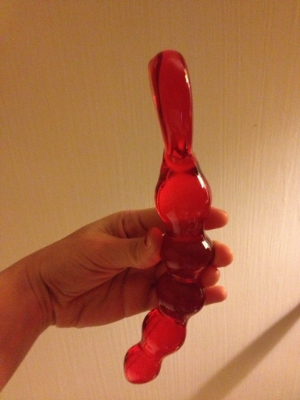 The #32 is great for size and texture queens, as you can see from the size of my hand compared to the size of the glass - this toy is a lot larger than typical SSA pieces. This is good because the large handle makes it easier for an partner to masturbate you, however, it is difficult to use such a huge piece alone. I would say that the handle, though fun, sometimes gets in the way. However, if you like the heart design and are OK with larger toys than this piece is perfect. The glass is slick and doesn't need much lube, and the contours of this are very exciting.
Travel
It is probably best to invest in a padded sleeve, if you want to travel and bring the glass with you. Slightly padded sleeves are OK, if you don't want toys to chip, but I suggest the larger bags for this glass.
Experience
This is the #32 compared to a few of my other glass pieces, the #32 obviously has more shape, a flared base, and is quite longer and wider than the more typical SSA toys. I believe that because they all run about the same (20-60 dollars) it really is worth it to add the #32 to your collection, if your deciding on what original glass piece to buy you can't go wrong with any of these. The #32 is the one at the top, if you're interested please look at my other reviews for information on the remaining glass pieces
Follow-up commentary
8 days after original review
The Icicles No. 32 is a huge, amazing beast. I love the interesting shape of the handle and the super cool way that the heart is a great design aspect, as one can hold it and also admire its aesthetics. I believe that this toy gets my stamp of approval, and will get any users undying love.
This content is the opinion of the submitting contributor and is not endorsed by EdenFantasys.com

Thank you for viewing
Icicles No. 32
– dildo review page!