Sweet Hard Candy
With its stunning candy like appearance, luxury presentation and highly stimulating, functional shape; the Icicles No. 32 proved that it is as satisfying in use as it is charming to look at.
Published:
Pros:
Looks beautiful curved for G-spot stim, stimulating texture, convenient handle.
Cons:
The colouring on its outside can be a concern.
With a few other Icicles Glass dildo in my collection, I had always been impressed by them in my experience, spotting the gorgeously shiny red appearance and tempting bumpy, curved shape of the No. 32, I was in love with its romantic look and hoped that it would deliver in terms of use and not just be one of those 'but it looked so good' toys.
Packaging:
The Icicles No. 32 arrives in the typical classy style of packaging that all Icicles toys come in. The box is black and white with lots of images of the dildo, one on each side to be exact. Covering the packagings front, back and sides, the images of the No. 32 do make it look tempting with its deep red coloring and dazzling shine.
On the back of the packaging the dildo is described as 'Elegant, upscale and hand-crafted with amazing attention to detail.'
The front of the box features a magnetically closed panel which opens to reveal the toy inside. The packaging puts an emphasis on being luxury and it is definitely one of those toys that I would love to present or have presented to me as a gift.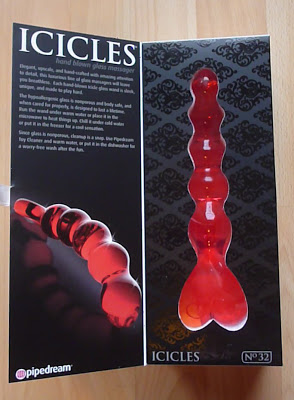 First Impression:
Inside its elegant packaging, the dildo sits safely inside a thick layer of white foam material that ensures it arrives in one piece. Removing it and inspecting it for the first time, I was impressed with its bright red coloring in person. It has the appearance of hard strawberry flavoured candy and its heart shaped handle looks like an oversized lolly.
In person it was slightly smaller and slimmer than I had expected from the product page photos. I thought its curve looked a little less pronounced in person and its length looks quite manageable. It's hard to explain the feel of its glass but it does have a less smooth or polished finish than other glass dildos. I put this down to the way it has been colored.
Overall the appearance of the 32 is as impressive as expected. I don't think I have marveled over the appearance of a toy quite as much as this in some time. I was glad that the product page photos were true to its beauty in person.
Measurements:
Total Length: 8 ¼ Inches
Insertable Length: 6 ½ Inches
Circumference: 3 ¼ to 4 ¼ Inches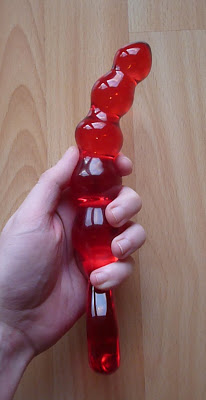 In Use/Experience:
With a slimmer tip that graduates on to thicker and thicker beads along it shaft, the 32 is gentle and comfortable enough to insert without the need for much warm up first. The tip of the toy works well for clitoral rubbing as its slim shape comfortably nuzzles between your lips without difficulty.
The glass works well with both added and natural lubrication and it is inserted with ease. While the tip is slim enough for such easy insertion, the 32 then stimulates with the ever increasing girth along its shaft.
While the girth increase is only slight to look at, the sensation of stretch mixes with its bumpy texture for a stimulating session right from the start. The curve of the 32 means that the tip of the toy presses against the front wall of the vagina massaging it and while some G-spot stimulation is there, I wouldn't call it intense G-spot stim unless it is thoughtfully angled first. The option to have either mild or stronger G-spot stimulation is something that I really appreciated about the No. 32 as I find a lot of glass dildos are uncomfortably curved. This wasn't a problem with the 32 and even its slightly pointed tip proved pleasurable but comfortable.
The stimulation from the dildos heavily bumped texture and the curved solid build is enough to really get fluids going and the 32 is one of those toys that rarely needs a reapplication of lube because of this, it warms up to body temperature quicker than other glass toys I own too, perhaps because of the red covering over the cold glass.
The heart shaped base that looks so sweet comes in handy as it fits in the hand surprisingly well and is easy to keep a hold of despite all the juices that are bound to be flowing during it use. Not only is it shaped well for gripping yourself, but the shape is great for having a partner grip when using the toy together.
...
Experience
The beaded shape of the 32 works for anal stimulation too as its slim build is manageable but its solid build and shape are highly satisfying in anal use. The only problems I've found with anal use are that the curve and slightly pointed tip can prove to be too intense if used roughly. The wide heart shaped base should mean that it is anal safe and won't be lost in use.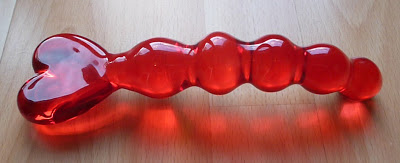 Material/Care:
The Icicles No. 32 is made of Borosilicate glass which is similar to Pyrex glass, it is an extremely smooth and safe, non-porous material. Being non-porous and smooth, it is very easily cleaned with warm soapy water or specialized toy wipes or spray.
It is food-grade material, hypo-allergenic and both Latex free and Phthalates free. Borosilicate glass is quite resistant to shattering and breaking and if somehow a Borosilicate toy breaks it will not shatter or splinter into tiny pieces but will snap or break in large pieces instead.
It also retains temperature very well meaning that it is great for heating and cooling for temperature play. I found that sitting it in luke warm water just before use or even simply warming up in the hands before use is effective in warming it up to body temperature. For those who like the sensation of a cold toy it can be cooled by placing it in cold water or the fried/freezer. Silicone, water, and oil based lubricants are all safe to use with the Icicles No. 32 and being made of smooth glass surprisingly little lube will go a long way.
The only concern I have about the No. 32 is its unusual red covering and how well it will stay put after more use, while it has kept its original condition after some thorough play sessions and washes, it does have a finish that indicates the colouring is on the toys surface so it could possibly wear away with use.
While the Icicles No. 32 does arrive in luxury packaging that can be used for long term, safe storage of the toy, I keep mine in a satin drawstring bag to save on space.
This content is the opinion of the submitting contributor and is not endorsed by EdenFantasys.com

Thank you for viewing
Icicles No. 32
– dildo sex toy review page!