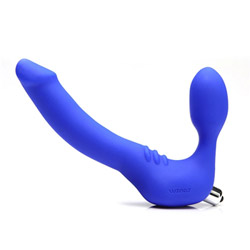 Strapless strap on slim
Double ended dildo by Tantus
I'm feelin' it!
The Feeldoe Slim is a very solid toy. It's great for beginners to strap-on play, and for couples who don't like larger dildos. And while it is plagued by a couple of poor design decisions, its cons are well out-weighed by its pros.
Published:
Pros:
Silicone, good for G- and P-spotting, ingenious design, good clitoral stimulation, not too girthy
Cons:
Lint magnet, hard to control without a harness, bullet is weak
The Feeldoe Slim has a lot going for it. Like all Tantus toys, it's made with pure silicone, which is easy to clean and very durable. This particular silicone is also very squishy and bendy, which is great for those of us who don't like a lot of girth or hardness. The design is ingenious and practical. The Feeldoe has a long shaft to penetrate the receiving partner, and a small bulb which is inserted in the giving partner. The connection between the two is very sturdy, and has three pronounced ridges that stimulate the clitoris if the bulb is inserted vaginally. But with all these silver linings come a cloud or two. The Feeldoe is a serious lint magnet, is probably
not
a strapless dildo for most people, and the bullet that comes with the toy is the sorriest excuse for a sex toy I have ever encountered. This is a solid toy with many things to recommend it, but it falls short of perfection.
The Feeldoe comes in a clear plastic package with a cardboard insert. The cardboard insert has a surprisingly tasteful picture of a woman looking enthusiastically sensual on the front, and some basic instructions and information on the back. It's one of those plastic packages that requires scissors to open. By the time you've wrestled the Feeldoe out of it, the package won't be fit for storage. I would suggest storing the toy in a plastic bag, to keep lint accrual at a minimum. If you're actually using the bullet provided (more on that later), also remember to remove the batteries to prolong their life. If you shove your nose up against the Feeldoe Slim you can just barely detect a whiff of plastic. It has no discernible taste. The Feeldoe Slim is a very arresting royal blue, and is shinier than many silicone toys. The color is constant, without any swirls or the like. The silicone is cushy but doesn't droop, and has a moderate amount of drag. Like all silicone toys, remember to use water-based lubricant. Silicone-based lube will erode the surface of the toy.
I'm a little bit in love with design of the Feeldoe Slim. The shaft curves upward from the bulb quite sharply, and is very good for G-spotting, at least on my anatomy. I imagine it would be good for prostate stimulation too. Sadly I don't have a prostate to test the this theory out on. My measurements don't match the ones given on Eden at all: The shaft is a constant circumference of 4" (1.3" diameter) up to the head. The head itself tapers quickly to a small, rounded tip. This makes it a great toy for anal. The insertable length is just about 6". The silicone is very bendy and squishy, though not at all floppy. It's a joy to be fucked with. I'm a bit of a size queen, and was somewhat doubtful that a slim silicone dildo would satisfy me. But the shape and bendiness of toy felt
wonderful
. The flexibility of the Feeldoe Slim means it curves and wiggles with your body. It gives many of the same wonderful full feelings of larger dildos without being inaccessible to tighter bodies.
The bulb has a broad, rounded tip and is 5" around (1.6" diameter) at the widest point. It's about 3" long. It joins the rest of the toy via a narrow neck (2.8" circumference, .9" diameter, ~1" long). The idea here is for the giving partner to insert the bulb either vaginally or anally, and clench their muscles around the narrow neck to keep the dildo in place. This is a wonderful theory, but in practice only works for people with very strong inner muscles, or for fairly short sessions. My partner used it with our
favorite harness
, and that worked pretty well. My partner liked the Feeldoe, and reported in a smug voice that it felt very nice inside. It is somewhat hard to control, though---especially for people who are used to the more standard strap on dildo. The other dildos in our arsenal sit directly above the pubic bone (at least with our harnesses), where a biopenis would sit. The Feeldoe Slim sits an inch or so below the pubic bone, which means it's awkward to thrust. My partner and I did eventually get the hang of it enough for slower, more intentional sex. It did slip out occasionally, but it was a very workable and pleasurable experience. Neither of has managed rough or fast thrusting, though. Rather entertainingly, Tantus's
instructional video on the Feeldoe Slim
suggests you walk around and practice with the Feeldoe before you actually get down to the sex part.
Bugger, I'm running out of room. Scroll down to the experience section, if you'd be so kind?
Experience
Now, theoretically you can insert the bulb anally. If you had a biopenis, you could use the Feeldoe for double penetration. I couldn't get this to work. I think it might be doable with a fairly skinny person as the giving partner, as it was my lovely round belly that made it not work for me.

I've saved the worst for last. The bullet. The bullet is by no means essential for the dildo, so this may fall under the category of nitpicking. But really. There's a hole at the base of the Feeldoe Slim, designed to put the bullet into. It's a pretty standard size, though, so you could swap in a better bullet. It's your standard hard plastic silver bullet, with a button at the end that turns it on and off. The vibrations are very quiet, to be sure, but they're very buzzy and weak. I couldn't feel them at all through the silicone. The bullet also fits very snugly into the Feeldoe. I had to really wrestle with it to get it out, and finally only managed it by lubing the bejeezus out of it.

The Feeldoe is pure silicone, so cleanup is very easy. I would wash the dildo and bullet separately. You can wash the dildo with warm water and mild soap, or a toy cleaner. You can also boil it for three minutes or toss it in your dishwasher to sterilize it. I'm not sure what the bullet is made of, but it appears to be hard plastic. I doubt it's waterproof. I would suggest carefully wiping it down with warm water and mild soap, or with a toy cleaner.

The Feeldoe really is a good toy. It's solidly made and---for the most part---well designed. And while I cannot recommend it with out reservation I can recommend it. If you're couple looking for double ended dildos with out the girth of most strapless strap-ons, and you either have a compatible harness or strong inner muscles, this is the toy for you.
Follow-up commentary
8 months after original review
This a good, basic toy. We use it for anal especially, since the small size works well for tight spaces. It's good quality silicone, and it still looks like new. It'll last for years, and was a very wise investment.

It's also quite a lot of fun to wank with, I must say. And great for gender play. You can put it in and pull at the shaft such that it rubs against the G-spot and clit. It feels very good, but it's also wonderfully subversive and thrilling.

You know, I'm really quite fond of my pretty blue cock.
This product was provided at a discounted price in exchange for an unbiased review. This review is in compliance with the FTC guidelines.

Thank you for viewing
Strapless strap on slim
– double ended dildo review page!