I'm literally speechless. Still.
I am absolutely in love with this toy, and it has a permanent place under my pillow. I have never been so pleased by anything, including a real cock, as I am by this. Its elegance, beauty and design make this toy a must have for all glass/texture fans.
Published:
Pros:
Wonderful detail and design, amazing texture, great temperature play.
Cons:
Nothing. Unless you like a lot of texture, this may not be for you.
Pipedream Icicles #18- gorgeous. I just can't take my eyes (or hands, or anything else for that matter) off of this beauty! It has smooth, thick glass and excellent texture. 18 can be used vaginally or anally. The shaft is curved and the heads are tapered enough that I feel it would be safe for anal, as long as you are more advanced/careful or have a partner help you.
The bulbous head has two bulbs which are wonderful for rubbing on the G or P spot, while the tapered head is better for pinpoint stimulation. It has wonderful colors and details that are crisp, clear and really stand out in the sunlight (thanks to the Glassaholics for bringing that stunning feature to my attention).
Here is a pic of 18 with some light shining on it (sorry Airen it isn't actual sunlight, not a lot of that around right now!)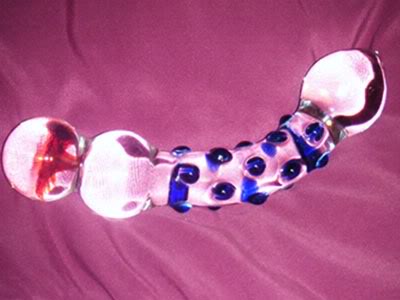 20 blue nubs are aligned simultaneously down the shaft, and make an excellent ribbed sensation in the vaginal canal. Those who don't care for texture probably won't like this because those nubs can feel a bit rough at times. The bulbous head is decorated by a beautiful 3D flower. I think it is amazing the things people can make!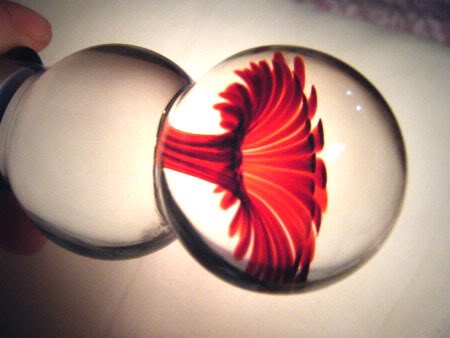 18 is made of thick Pyrex glass. It does not break very easily, and if it does it will break evenly without shattering. This makes it safe to use as a dildo. Do not use your toy if you find it has large cracks or chips in it, you may end up with glass in places you don't want.
Pyrex is non porous and can be sterilized. Condoms should still be used when sharing or switching from anally to vaginally, however. Pyrex is also a wonderful toy for temperature play. I discovered temperature play with my
first glass toy
. Pyrex can be heated or cooled to provide intense stimulation to your erogenous zones. Here is information on temperature play from my
Gold Laced G
review-
"You do NOT want to use anything completely frozen internally. Wait until it has started to melt. After removing from the freezer, run cool water over the dildo until it thaws a little (look for condensation building up on the surface of the toy). The frost of the dildo could cause it to freeze to your skin (ever see A Christmas Story? When he got his tongue stuck on the flagpole? not good lol). An easier method to cool would be to skip the freezer altogether and simply run it in ice water for a little while.

As far as heat goes, you need to be very careful when experimenting. DO NOT microwave or "cook" your toy in the oven. Microwaving can leave hot spots causing the toy to be different temperatures in different spots. you do not want to stick it somewhere only to find out that it is 100* F ... and the oven, well, that is just extreme and dangerous."
18 is just under 8 inches long, but has a decent curve to it, making it appear shorter. About 5 or 6 inches, give or take, are insertable at any given time. The curve provides excellent stimulation to the g spot and I found the best way to use this toy is in a rocking motion.
The diameter at each end is about 1 1/2 inches. The tapered head goes in a little smoother, while the bulbous head provides more of a pop upon insertion.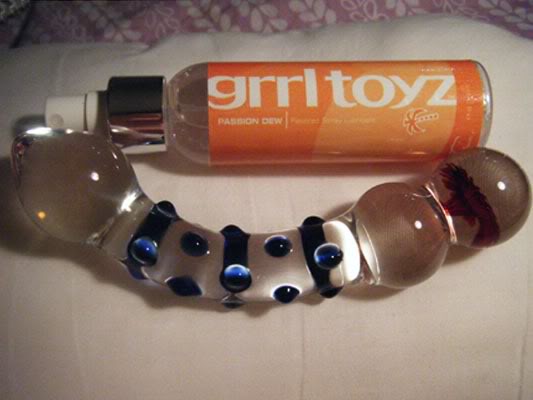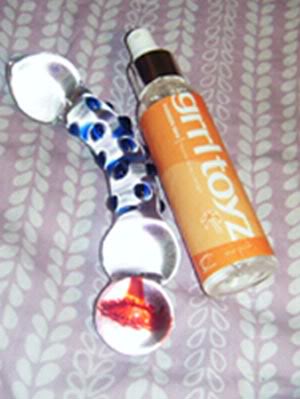 Experience
I am absolutely enthralled with this amazing piece of work. Everyone has been ranting and raving about the 24, and I will say I drooled over it for quite some time after I first saw it. However the 18 takes the cake for me. It has a permanent place under my pillow and I blissfully lull myself to sleep nine times out of ten with this frosty wonder.

The temperature play with this thing has been great. My room is about 4 or 5 degrees colder than the rest of the house (bad insulation on the corner of the building), and this toy is always cold when I pull it out. I love it because I don't have to stick it in the freezer, and it warms up real fast inside of me.

The bulbous heads are the most amazing sensation I have ever felt. Yes, they feel better than the real the thing. The ability for that double sphered end to rub and caress my g spot to full satisfaction, coupled with the curved textured shaft that ensures it will reach that sweet spot, is like finding Shangri La.
Follow-up commentary
7 months after original review
It still gets 5 stars, and it still stays under my pillow!

This is the best glass toy ever and I think everyone should have an Icicle in their life, if not this one. Some may not like this texture but the line of Icicles is wonderful and there is one for everyone out there.
This product was provided free of charge to the reviewer. This review is in compliance with the FTC guidelines.

Thank you for viewing
Icicles No. 18
– double ended dildo review page!