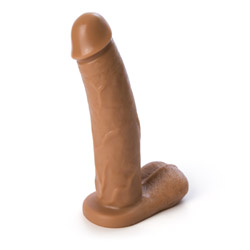 Bandit
Realistic dildo with balls
by Vixen Creations
Impressively Realistic Pleaser
With its impressively realistic look and feel, gentle outer layer, harness compatibility and smooth shaft: for us the Bandit does it all. Ideal for gender play, strap-on and pegging, it is as comfortable as it is pleasurable.
Published:
Pros:
VixSkin dual density silicone, highly detailed/realistic looking and feeling, harness compatible.
Cons:
I can't find any!
Being such a fan of my bright green Mustang and Maverick dildos by VixSkin, I decided that it was time I invested in a more realistically coloured VixSkin dildo. With such overwhelmingly positive feedback on the Bandit, it was an easy decision when it came to picking which realistic VixSkin toy to add to my collection.
Packaging:
The Bandit arrives in different packaging to the usual sturdy cylinder that VixSkin toys often arrive in. Instead it arrives in a square clear plastic box which looks like something you might get a take-out lunch in. It is easily opened and resealed and can be used for long term storage of the Bandit too as it is sturdy and re-closable.
On the back of the packaging, Vixen Creations have provided lots of helpful material and care information; mentioning that it is 100 percent premium silicone which can be boiled to sterilise and that it has the feel of 'authentic skin'.
This clear packaging gives you a good look at the Bandit from every angle before even opening it up.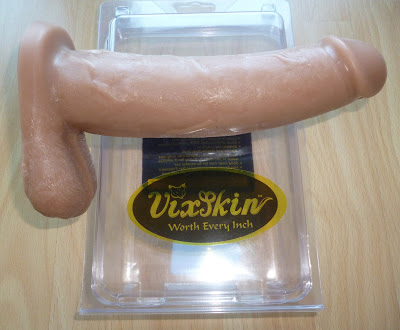 First Impression:
Seeing the Bandit in person for the first time, it looked exactly as expected. Matching the product page photos pretty perfectly, the Caramel version which I opted for has a lovely warm and realistic skin tone. The thickness of the shaft looks just as uniform in person and the finish of the silicone is highly detailed in its realistic skin like effect.
Looking closely at its lines and veins, skin folds and shaped head, it is pretty impressive to see the amount of detail that has been achieved.
Squeezing the Bandit, it has the same soft outer layer of silicone as the Mustang and Maverick. When feeling this for the first time it can actually seem unpleasant at first but having felt the Mustang and Maverick in use I now appreciate this somewhat strange feeling outer layer of soft silicone.
The much firmer core of the toy can be felt underneath and squeezing the Bandit in your hand tends to make the soft outer layer move around on top of the solid core for an even more realistic effect of skin.
Once warmed up in the hand, this can feel surprisingly real, though it really doesn't feel so convincing when cool. As delicate as the outer layer can feel as it is easily manoeuvred around the sturdier core; in my experience it is tougher than it feels and can withstand normal use and cleaning without any need to worry about tearing.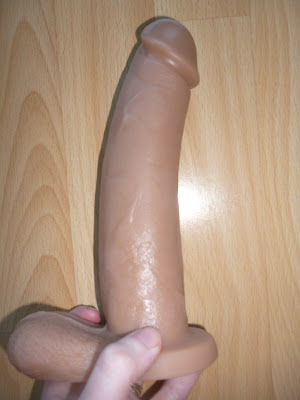 Measurements:
Total Length: 8 Inches
Insertable Length: 7 Inches
Circumference: 5 ½ Inches
Fits a 1.5 Inch O-ring
In Use:
With its average to generous size but gentler soft silicone, I found the Bandit surprisingly manageable with little warm up needed beforehand. For those who particularly enjoy the realistic look of the Bandit, its impressive appearance may well help too. The head of the Bandit has a soft and squeezable feel in the hand which translates to a very gentle insertion during use.
The uniform girth of the Bandit gives it a gentle feel despite its generous insertable length of seven inches. With the addition of water based lube, the skin like effect of the Bandit has a realistic texture which makes the smooth shape of the shaft more stimulating, though it does require regular reapplication of lube to keep this fleshy texturing comfortable.
Holding on to the base of the Bandit is easier than expected as its slightly flared base is made of a very firm silicone for easy grip. The testicles do have a soft, fleshy feel and can be gripped when they are facing forward (and even used to stimulate the clitoris) though I find the Bandit much more comfortable and pleasurable with them facing the other way.
The generous length, nice uniformly thick but manageable girth and the texture of its fleshy finish and very light veining all combine for an incredibly realistic feeling and highly pleasurable toy.
- Fleshy Skin like finish -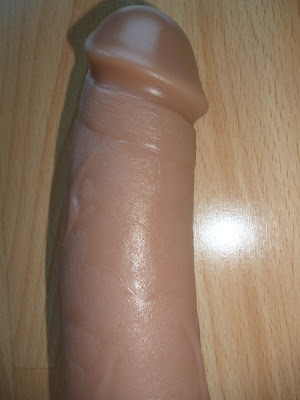 ...
Experience
When used as a strap-on dildo, the Bandit fits a 1.5 inch O-ring and looks doubly impressive when in a harness. If you are looking for a highly detailed realistic looking and feeling toy for strap-on/pegging play then I don't think you will find better. It has a slight droop in a harness as its weight pulls down the top of the shaft but it does still very much look erect.
While at first I worried about the soft outer layer maybe tearing during rough strap-on play, it has so far proven itself to be durable.
For anal play, the Bandit has a great gentle shape and firmness so despite its generous size, It makes a comfortable toy even for those who wouldn't expect such a size of toy to be ideal for them anally, though I do find re-application of lube particularly necessary for comfortable anal play with the Bandit.
- Compared with the VixSkin Maverick -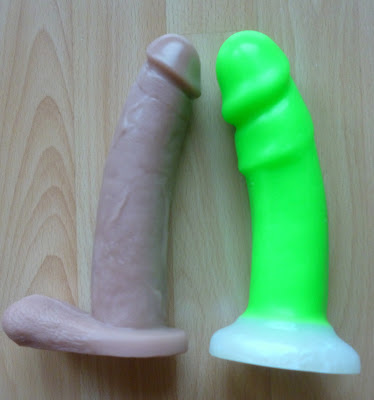 Material/ care:
In terms of care you can treat this as you would any silicone toy. This means that you can boil it in a pan to sterilise it if you want or even throw it in the top rack of the dishwasher. For normal cleaning after use I find warm water and mild antibacterial soap or specialist toy cleaner works well. Natural juices can dry on to the material but they come away really easy with a little gentle rubbing under warm running water.
Once it is clean make sure you dry it thoroughly before storing it. You can store it in the plastic box it arrives in but if space is at a premium (and with us and our 50+ dildo collection it is); we find a zip-seal sandwich bag works best for a number of reasons. It takes up no additional space and it keeps the toy free from dust/dirt and lint (which VixSkin toys collect like crazy!)
- Compared with the Tantus Pack 'N' Play No 1 -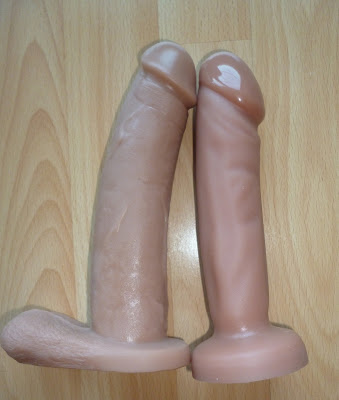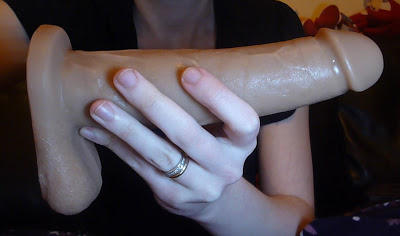 This product was provided at a discounted price in exchange for an unbiased review. This review is in compliance with the FTC guidelines.
Thank you for viewing
Bandit
– realistic dildo with balls review page!