Vixen/Vixskin Roundup #1- What a Lovely Thief
Bandit is about as fantastic as they come. Super realistic and totally pleasurable. He would be absolutely over the top if he vibrated and had a suction cup, but that's just my pie in the sky dreaming.
Published:
Pros:
Very realistic feeling. Not too girthy.
Cons:
No vibrations and no suction cup.
Welcome to the first installment of my Vixskin Roundup! Now I'll give you a warning that this review is picture heavy!
First on deck, is Bandit. Bandit is a realistic dildo made by Vixen Creations, which hand makes toys in San Francisco California. So what is Vixskin? It's a dual density Silicone that starts with a firm 100% silicone core and has a soft 100% silicone on the outside much like a real penis. One the great features about Bandit as well as all the Vixskin dildo's is they are all designed to be harness compatible. Just be sure that your harness has the right size hole or ring to accommodate Bandit. Bandit comes in a clear plastic clam shell case with no images save the Vixen Creations logo and some text explaining care and use. This container is prefect for storing Bandit.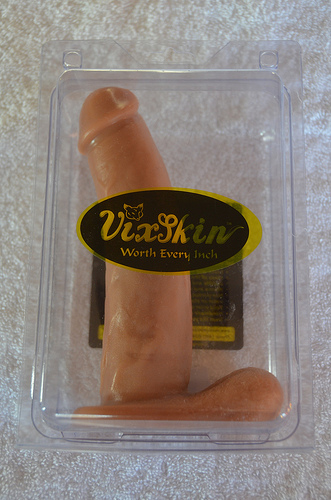 Shape & Size
They have done a fantastic job of creating a very realistic penis. They have done a magnificant job of capturing the glans/head, the frenulum, the foreskin, and the shaft, complete with veins and all. The testicles really leave something to be desired, and I have to admit the head seems a little artificially at the tip where it ridges out to the corona.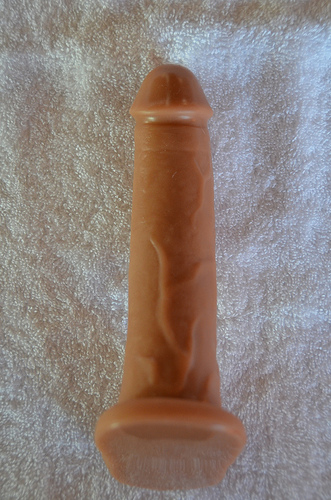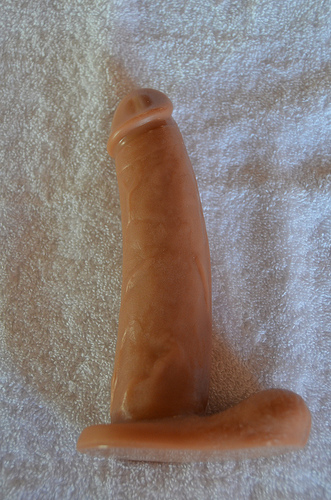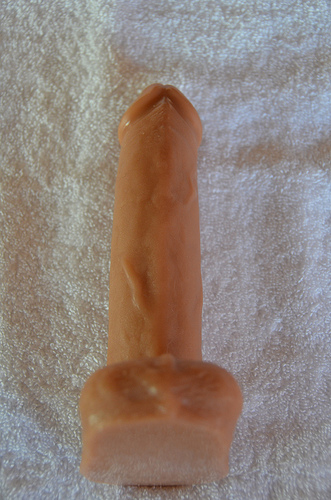 Now, bandit is almost perfect, though some might find him a little long at 7" insertable . Because they are all hand made, I have read that these can be a little off at times. So I look a look at the measurements that Eden Provides, as well as the ones that Vixen Creations has. I found a couple of inconsistencies, so I measured with a caliper and a measuring tape to be sure. Here are the results... (Note the results will look like this, Eden-Vixen-Mine)
Length - 8"- NA - 7 7/8"
Insertable Length - 7" - 7 1/4" - 7"
Diamater - 1 3/4"- 1 3/4" - 1 3/4"
Max Circumference - 5 1/2" - NA - 5 5/8
I measured Bandit with the following mesurements,
Total Length - 7 7/8"
Insertable Lenght - 7"
Circumference Head - 5"
Circumference Mid-shaft - 5 1/2"
Circumference Base - 5 5/8"
Diameter Max Head Side to Side - 1 11/16"
Diameter Max Head Top to bottom - 1 19/32"
Diameter Mid Side to Side - 1 5/8"
Diameter Mid Top to Bottom - 1 3/4"
Diameter Base Side to Side - 1 3/4"
Diameter Base Top to Bottom - 1 3/4"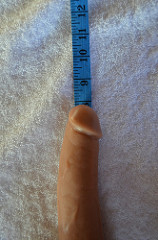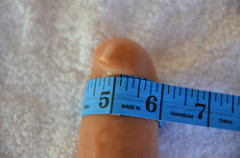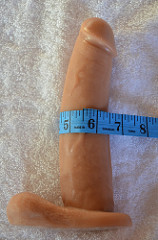 Firmness & Texture
The texture on the VixSkin products is amazing! And what is really strange is they all vary a little bit, but all feel quite life like. Now they can be a little tacky when not lubed up, but the have texture so it really feels a great deal like real skin. Bandit is not super tacky, unlike our Johnny.
One of the most intriguing things was how firm Bandit is. You can bend Bandit into a packing position, but it's a lot more difficult than other dildos. Where many other silicone toys are fairly uniformly squishy, Bandit is not, as you can see in the picture of the shaft below, his bottom side has MUCH more give than his top side. As well the very tip of the head is squishy, where the base of the head has very little give.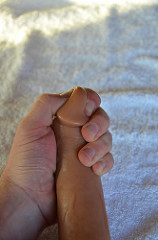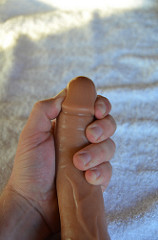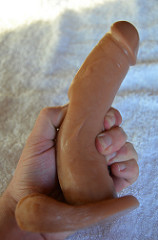 Cleaning & Care
Cleaning is easy for Bandit as well as all the Vixskin products. Because it is 100% pure silicone you can clean it just about anyway you want. You can toss the toy into a pot of boiling water for 3 minuets or you you can use warm water and soap. Vixen Creations does not mention toy cleaners or a 10% bleach solution, but I'm pretty sure those would be ok. As far as storing Bandit, we use the clamshell case, but if that is too bulky for you, I would toss him in a zip lock bag. You definitely don't want to leave him mingling with other toys, because bad reactions can occur. Also, like all silicone toys, Bandit attracts lint, dust, hair like no tomorrow, so keeping him covered is a very good idea.
Experience
We love Bandit! It's pretty much the perfect toy, at least girth wise. Length wise, he is a bit much for the misses. After I get warmed up, I have no problem taking Bandit analy. He feels soft and supple, and I am super happy we added him to our collection. We've had a great time using him with our accessories! He's worked great in our Liberator Wing, and we've also used him in our Deuce harness and though we have to flip him upside down for me to use him, that works great. Frankly, he's my favorite!
Experience
Since there is no comparison place, I am going to use the experience section to do my comparison to some other Vixen and Vixskin toys.
From left to right, Champlette, Bandit, Johnny, Lone Star, Maverick
Here are my measurement charts and how each one in the roundup matches up.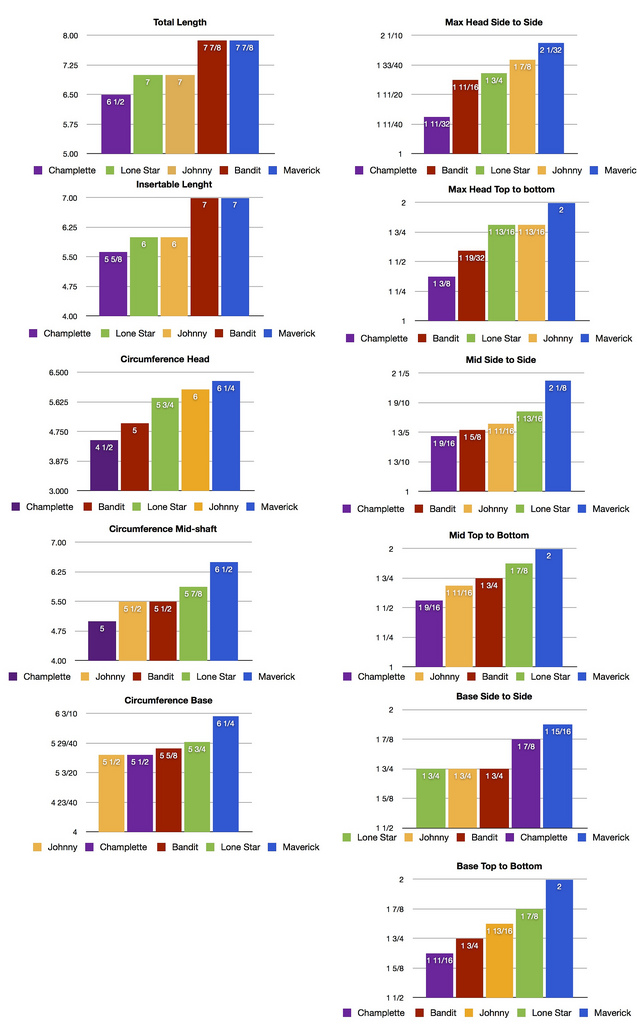 Bandit vs. Lone Star:
Bandit is much longer than Lone Star but Lone Star has Bandit beat in the girth department. The misses loves to take Lone Star when she is wanting the extra girth but Bandit tends to be more her every day size, girth wise. Lone Star doesn't have much of a taper like Bandit has, so it's a good toy to get her warmed up to take Lone Star. I've attempted to take Lone Star but have not gotten very far, but I am sure one day I will have some success!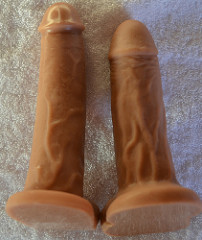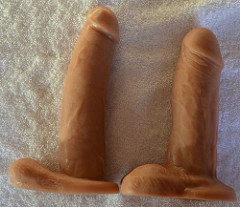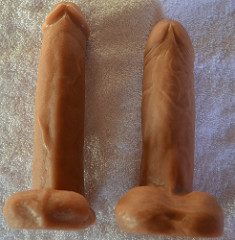 Bandit vs Vixskin Johnny:
The very surprising thing to me was that Johnny and Bandit both were about the same length after you straighten out Johnny. Johnny is a little shorter, but that seems to be because the base is raised a little farther. Unlike Bandit, Johnny has a much larger head and then tapers down to pretty much be the same girth wise where Bandit tapers out to be larger as you go down the shaft. Because of the larger head Johnny also provides a lot more of the "popping" sensation on the pelvic bone. I have not been able to take Johnny yet, due to his giant head.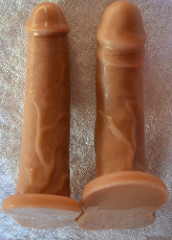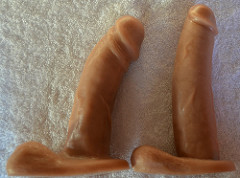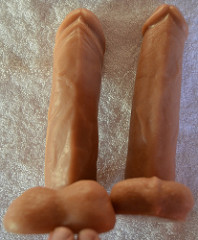 Bandit vs Maverick:
WHOA! Maverick is HUGE compared to Bandit. He is not for the faint of heart or orifice. Neither of us have been able to take Maverick and as you can see from his measurements it's a lot bigger. Maybe someday we will be able to play with him but for right now, he is just a ton of fun to touch and ogle.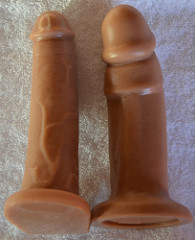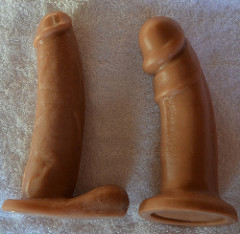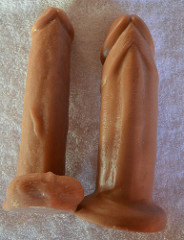 Bandit vs the Vibrating Champlette:
First, the Champlette is a 100% plain silicone vs Vixskin. As you can see, Bandit is a lot longer than the Champlette. You can also see that the Champlette is also much more tapered than Bandit is. Personally, I love the Champlette! I love that is vibrates and I love that it tapers. It's a fantastic toy to warm up anally with, and always warm up with the Champlette first before I take Bandit, which consequently makes taking Bandit fairly easy and a joy. Now the misses doesn't really care for the smoothness of the Champlette but has said a few times now, she needs to give it more of a try.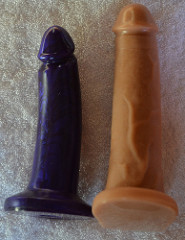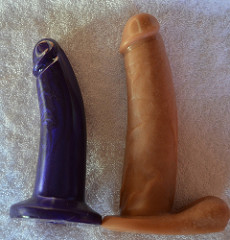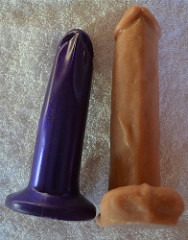 Follow-up commentary
2 months after original review
Bandit is my personal favorite dildo. It's a great easy everyday size for girth, great firmness, and super easy to clean. I would totally recommend Bandit to anyone, and if I lost it, broke it or otherwise rendered Bandit useless, I would immediately purchase another one.
This content is the opinion of the submitting contributor and is not endorsed by EdenFantasys.com

Thank you for viewing
Bandit
– sex toy review page!