The Bandit King to Rule them All!
The Bandit is one of those toys you have to get to really appreciate. No amount of words can do justice to the amount of pleasure this dildo will bring. This is a great addition to anyone's toy collection. While the price might sound steep, it's worth every penny in the long run. Only thing you might want to be careful about is that this will raise the bar on your expectations for all you future dildo purchases!
Published:
Pros:
Realistic texture and look
Firm yet pliable enough for varied movements
Easy maintenance
Size
Cons:
Cost maybe
Really can't think of anything else!
Only one word comes to mind when I think of the Bandit by Vixskin — Wow! I'm sure there are many other adjectives I could use to describe this product. But nothing in my opinion would be close doing justice to this toy than simply 'wow'.
Initially, while looking at the Bandit, we weren't sure of the cost-to-benefit ratio of such an expensive dildo. After all, we could easily purchase at least 2-3 highly rated molded penises for the same amount. So there sat Bandit in our wish list, beckoning us from time to time to give him a chance, each time his call ignored for some other item. But then finally last month we listened — and am I glad we did.
Bandit is part of the Vixskin family of super realistic and life-like silicone dildos. The most important part of that sentence for us was 'silicone'. While there are many like-like toys available on EdenFantasys, most of them share the common trait of being high maintenance and extremely porous. Those who have read some of our other reviews might be familiar with our experience with the
Wireless Power Harness 2
. We really loved the texture and feel of the dildo attachment but were torn and unable to commit including it in our regular usage line due to the material of the dildo.
Sex toys should be fun and easy to use and maintain — at least in our opinion. Materials that require too much prep before and afterwards can become cumbersome to use and will mostly get delegated to use only on special occasions.
This is where the bandit shines — well it shines in many other areas, but we will get to those shortly. The silicone makes this toy a breeze to maintain and use. This toy can easily be shared between partners and among orifices after a quick clean. Which can be accomplished simply by boiling it for 3 minutes (Make sure you let the toy cool after taking it out. Don't want to burn any thing down south!). Storage is also a lot less complicated compared to other life-like materials; no requirement to keep it dry or to sprinkle powder on it. Just wipe and store. Though there is one caveat to this — make sure that the dildo is standing and not touching any other toys as the silicone will 'melt' and change shape. This is easily prevented by simply keeping the bandit in its packaging after use. Also, silicone tends to attract dust and lint, so storing it in its box is good practice.
Also, one more important note about silicone; never use silicone or oil-based lubes with this or any other silicone product, as it will damage them. Only water-based lubes can be safely used with this material.
The Bandit ships in small box that clearly shows the dildo inside. There is nothing else inside. In all honesty we were a bit disappointed and were hoping the packaging would be slightly fancier. Not Lelo fancy, but slightly more than a transparent plastic box.
Taking it out we felt what the fuss is all about for this Vixskin line. This toy feels extremely life-like; this is achieved by having a firm silicone core with a softer silicone layer on top. This means when you press down on it, the material will give and depress. Pull or tug on bandit's skin and it will move — maybe not as much as a real penis, but enough that you will be amazed at the progress they have made in sex toys in the past decade.
Bandit stands around 8" in length with 7" being available for insertion. The circumference is approximately 5 1/2 ", there might be a slight difference in the product you receive, but I would say the difference will be of a percent or two.
This toy is O-ring harness compatible and hence has a flared base that has been fashioned into two testicles.
Bandit can be bent and squished like other Vixskin dildos, though from what we've read, he's much firmer compared to some of his other siblings, such as
Johnny
. This is actually better for us, as this means the dildo retains it shape better in a harness and does not flop down. One reason why this slight give or "squishiness' is great is because when using it, if one were to move, bend or change position, the dildo matches the users anatomy and bends appropriately — but not so much that you can't feel anything pressing down against you. Honestly, the best way to understand this would be to experience this by oneself. Basically this toy has all the positives of firm ridged and softer toys and none of their negatives.
Experience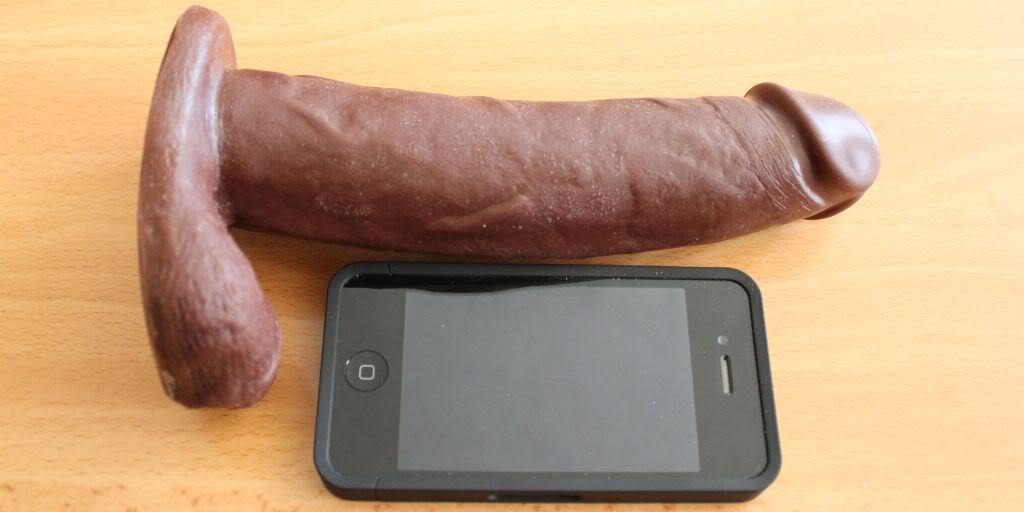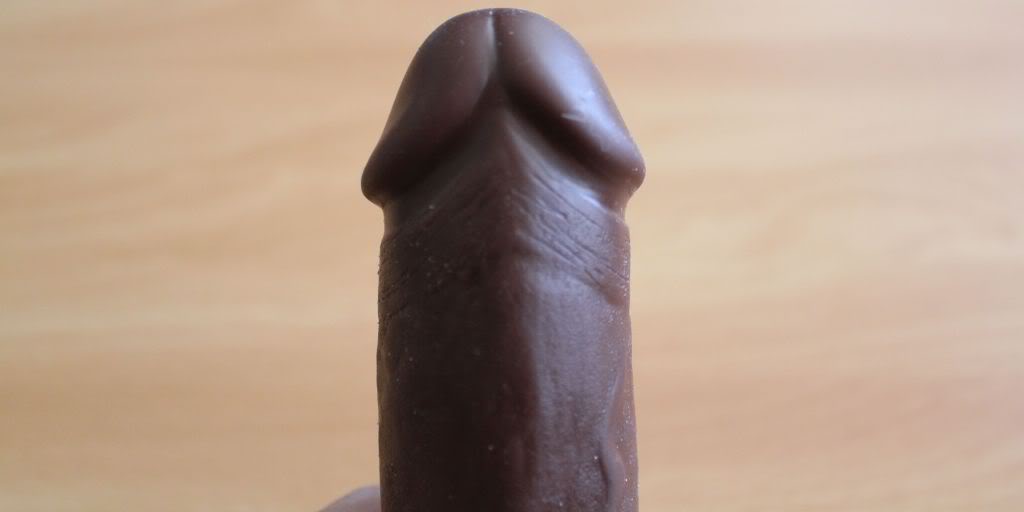 The first test run we did with the toy was using it on the
Liberator BonBon
. The flared base went in easily and held the dildo secure enough that there was no accidental movement; only part that moved was the actual dildo itself.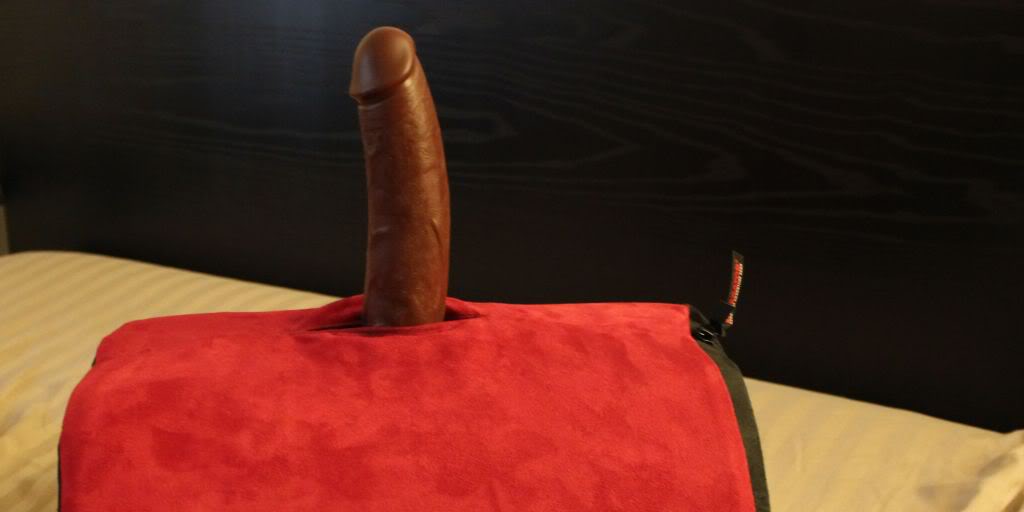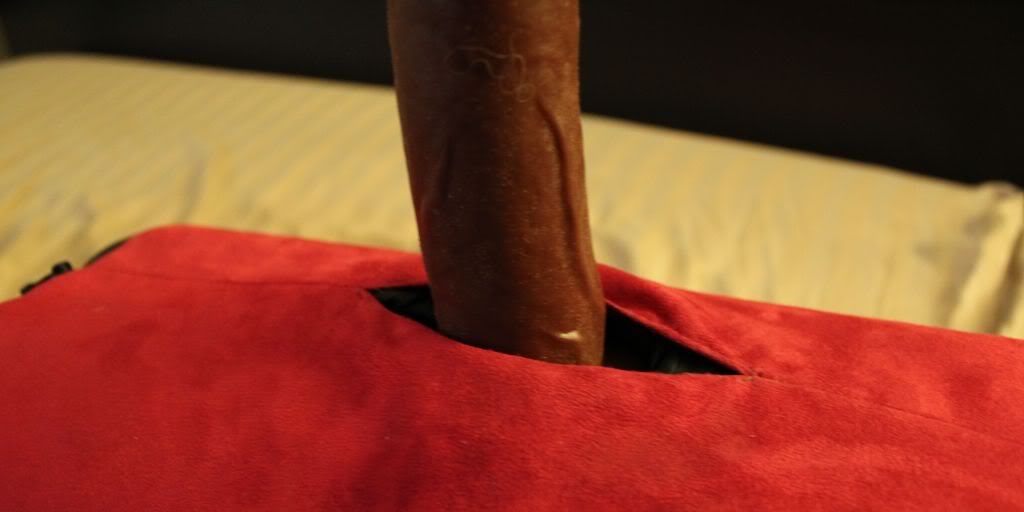 My wife took position over the dildo and eased herself unto it. Her exact words at the moment were "aaaaah", slowly she started moving back and forth, which thanks to the dildo length allowed her more room in her movements without any risk of "pop-outs". I watched for a bit and then took position behind her slowly entering her. I was expecting her to tell me to slow down due to the tightness — this happens a lot when we use our ridged dildos for double penetration. However, this time there was none of that and she happily accepted me. This was achieved in a large part thanks to the 'give' of the material I spoke about earlier. As I entered her and the available space decreased, the dildo squished in a bit to make way for me. It felt amazing, pretty much as close to a real double penetration session you can achieve without a third party. So for those couples that want to try dp, but are too shy or don't have a third, this toy will work amazingly.
Our second test run was on me. We just recently purchased the
Minx
harness and were eager to try it out. With Bandit as the Minx's accomplice, the session was better than it can be imagined. The bandit fit nice and secure in the harness and did not droop down. It has a nice weight to it, which my wife appreciated, not to mention the leather harness. She said everything felt wonderful and truly did justify the high price.
Initially I was a bit nervous and thought that the Bandit might be slightly too long and big for me. Thankfully though, I was completely wrong and it felt great. The material's give made insertion extremely easy and every thrust extremely comfortable — not to mention very delightful. There were times I felt that she thrust in too deep, but it wasn't painful; rather more along the lines of "lets back up an inch or so".
Overall, this toy has proven itself to be an invaluable part of our toy collection. If there is anything bad I can say about this, then it would be the fact that most of our other dildos will go ignored from now on. Oh well, survival of the fittest as they say!
Another interesting observation — at least to us, that that my wife immediately pointed out — was that the Bandit was basically a slightly slimmer version of me. Perhaps this would explain our affinity for this toy!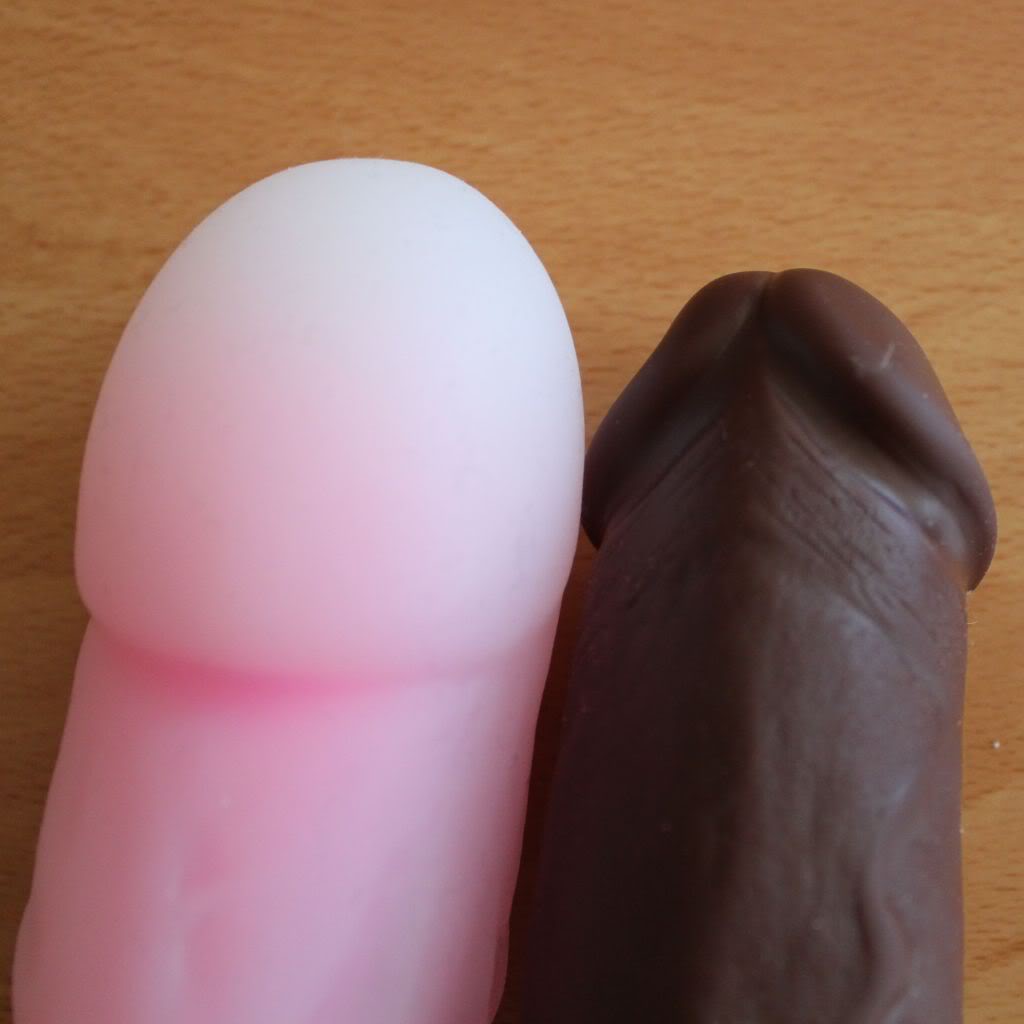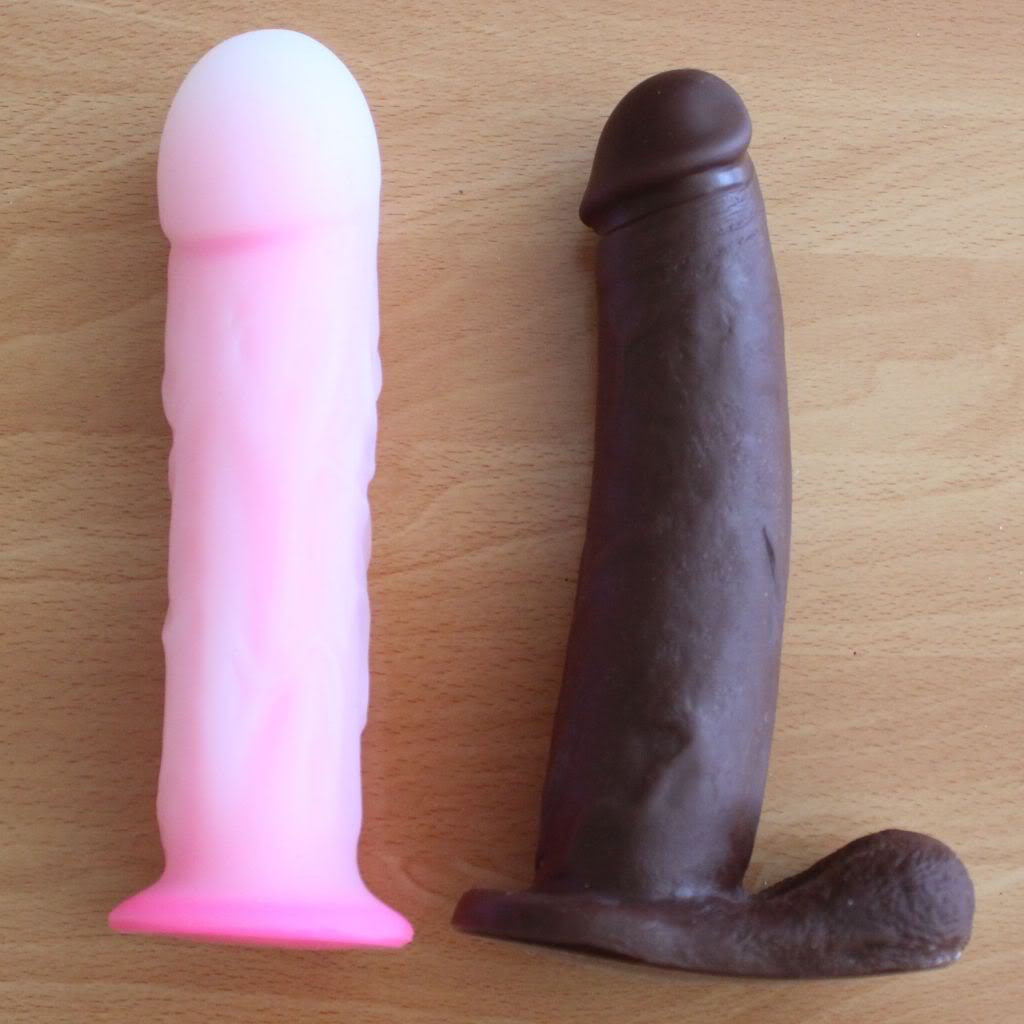 Comparison between the Bandit and the
O2 Revolution
(a new addition in our collection!)
NOTE: Video Review coming up soon. Check back for more details!
This product was provided at a discounted price in exchange for an unbiased review. This review is in compliance with the FTC guidelines.

Thank you for viewing
Bandit
– realistic dildo with balls review page!