Makes me see rainbows!
This amazing glass toy makes a wonderful addition to any glass collection, you can see how well it fits in with my collection. The wand's nubbies aren't too rough, and you can easily solve any problems you're having with the texture by adding a lot of lube to your solo or partnered play. I highly recommend the Rainbow nubby, it's gorgeous and made of my all-time favorite toy material - glass!
Published:
Pros
Gorgeous colors, easy to heat, easy to cool, sterilizable and shareable.
Cons
I don't have enough glass in my collection.
The Rainbow Nubby is #19 in the SSA Glass Collection, and, whether you're an experienced collector or a newbie you will have fun with this wonderful piece of glass. The colors and texture, which gives the player amazing sensations are truly unique. I do not believe the "nubbies" are too intense, however, if you're overly critical of textured toys, you may want to look elsewhere. I don't think this too has too much drag, and if your finding that it is catching on your skin uncomfortably- then use more lube!
Because this toy is not curved, or shaped in anyway, it isn't truly for g-spot stimulation. You can certainly use it for vaginal/g-spot coming but if you're looking to squirt, you may want to turn your gaze to the Amethyst (a g-spot glass toy.)
The best lube to use with this type of glass is water-based, silicone works well too but water based is generally the wettest and best for glass, especially texted glass. be sure to reapply this lube as soon as it begins to dry.
When I first saw the Rainbow Nubby, I though, "Jeez, that thing is friggen weird. No way would I ever try it out." But after my collection of glass became more and more elaborate, I decided I needed the colors and textures that my toy chest lacked. The Rainbow is certainly one of a kind, I believe it is ranked about 4th out of the 20 or so glass wands I own.
Glass is great because you can heat or cool it. I find that hot temperatures are good on cold, dreary days or for fore-play, whereas, cold glass is great to play with on a hot day, or after your already turned on and super hot down below. After all the blood pumps to your vulva, it is a great sensation to cool yourself down drastically with a "frosty" glass.
This toy is interesting because of its length. The eight inches is great because it gives the player something to hold onto, whether they are masturbating or pleasuring another. this length is also good for double-pegging, and vaginal/vaginal play. You can hold the toy with your kegals, while your partner rides on the other half. Not many glass toys are accommodating fir this, but remember to make sure your positioning is correct. if you rub yourself the wrong way with this powerful wand, you might end up with a sore spot.
Packaging
The Rainbow Nubby comes in a cute little purple sleeve, which is extremely padded. I could have dropped this off my balcony and I doubt it would have broken due to the intense protection. I love this sleeve because I often worry about my toys breaking during shipping, however, this time I felt completely comfortable. it also works great for storage and if you have separate smaller sleeves you can easily fit two glass dildos in this one case. This is great for traveling!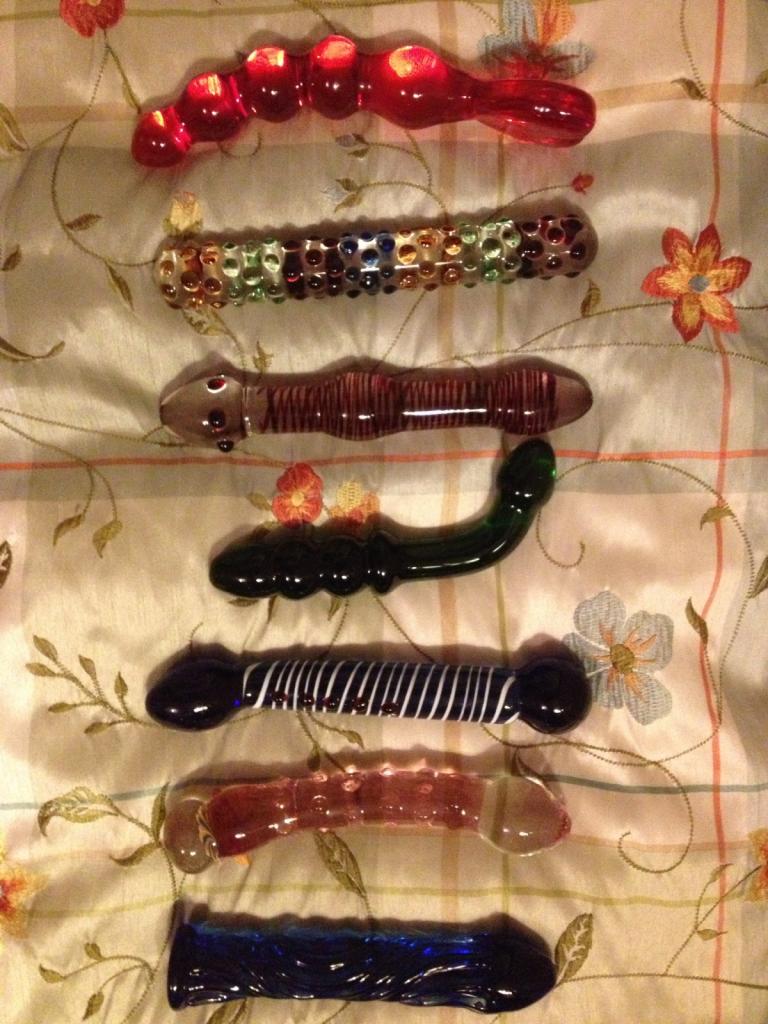 Eden's Measurements
Color: Multi-color
Length:8"
Insertable length:7"
Circumference:3 1/2"
Diameter:1 1/8"
Weight:9.7 oz
The toy up close, next to two other colorful glass wands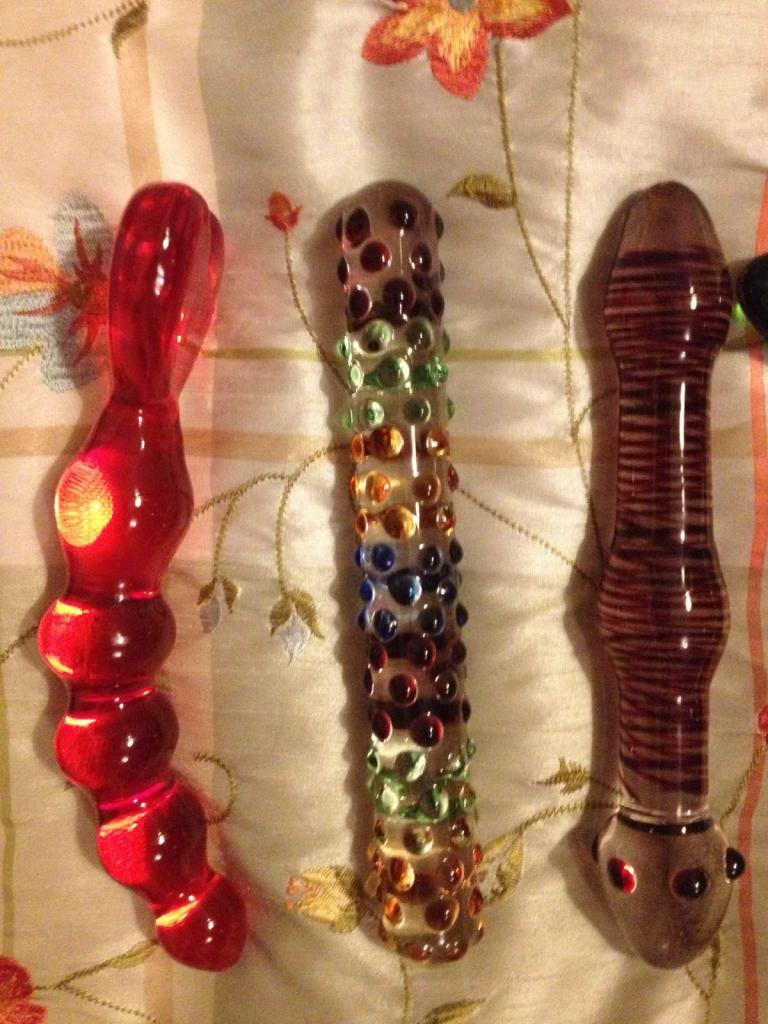 Experience
Because this toy is very textured, it may seem difficult to clean, however, it is actually quite easy to sterilize.
Glass is super easy to clean, as well as share. You can clean it by boiling, wiping, or dipping. To boil glass, simply place your toy in a pot of already boiling water. Leave your toy in the water for about three minutes and pull it out to polish it a few times. The only thing to watch out for is chipping your toy, so avoid drpping your toy suddenly or boiling it alongside others. You can also wipe your toy down with a Eden Wipe or a wet soapy clothe. Dipping your toy in a bleach solution is super easy and only takes a few minutes. Get a glass, or bowl, and create a 10% bleach, 90% water, solution. Make sure to air dry your toys after cleaning, and playing.
A Close Up of the toy- in my hand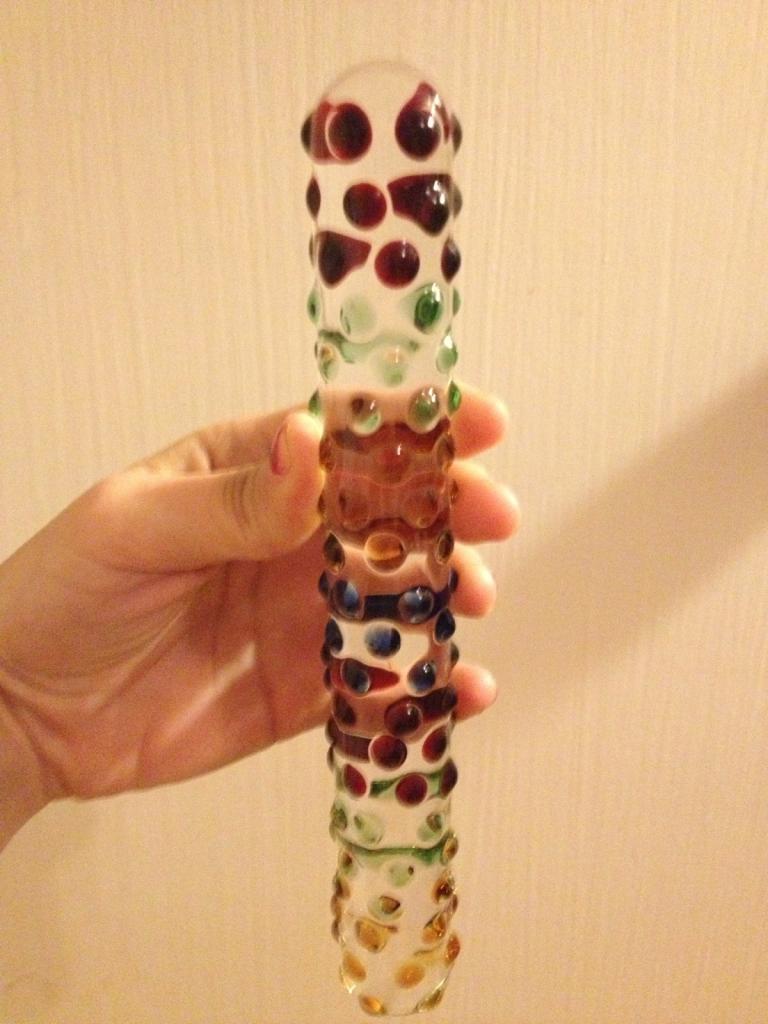 Follow-up commentary
10 days after original review
The Rainbow Nubby is amazing, I love the insane colors and awesome design. I have added this small section to my other glass reviews, so I thought this would be helpful in this write-up.

Handling Glass

Pyrex is solid, but life happens. I have a huge collection of glass toys, not all are pictured below, and I have broken a few of them in my lifetimes. Here are a few tips on how to avoid shattering your lovelies:
Don't leave them in your bed: Put them in their cases when you're done playing.
Buy padded sleeves for them: This will make it so they don't rub on other toys.
Boil them separately: This is so that the glass doesn't 'clink' together.
After boiling, when they are super hot, cradle them in a towel and not tongs.
Air dry them before picking them up.
Don't place them next to other dishes in the dishwasher, or keep them out of harms way by putting them in the silverware holders.

For some reason, I break glass toys constantly. I have hard wood floors, love sleeping next to my glass, and have a habit of storing them in a big pile. Hopefully you're more responsible! Glass is certainly worth the small amount of work that is needed to make sure the toy remains safe and usable. Remember that, although Pyrex is sturdy, if your toy chips or cracks, anywhere on the insertable shaft, it is likely time to scrap it.

This content is the opinion of the submitting contributor and is not endorsed by EdenFantasys.com
Thank you for viewing
Rainbow nubby wand
– sex toy review page!