Taste the Rainbow (of sensation)! Intensely textured and beautiful glass toy!
The Rainbow Nubby glass wand dildo is a beautiful and quality product that will make your toes curl if you can take the intense texture! 10 on the safety scale, well made, a great size and shape, and the bumps on it really feel amazing. Highly recommended.
Published:
Pros
Pretty, safe/easy to clean, great size, texture feels incredible, temperature play
Cons
The texture may be too intense for some users.
The Rainbow Nubby is my favorite glass toy right now. It's really gorgeous, a perfect size, and deliciously textured.
It arrives packaged in a red velour drawstring bag, with no other packaging except some paper in the box to cushion it. Of course, Eden Fantasys sends it in a plain box so it is very discreet. I like the bag; it could be a little more padded, but it's nice that it came with something that could store and protect it.
The Rainbow Nubby is 8" long and 1" diameter. It was bigger than I expected and it's a very nice size and even all the way in (for me) you still have length to grip. The 1" diameter feels bigger in use because of the bumpy texture. I've included a photo with a nail polish bottle for scale.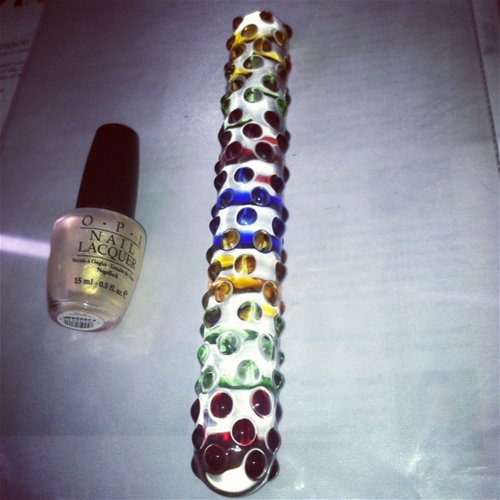 The bumps remind me, in size and appearance, of those dot candies that you peel off a paper roll, remember those? The body of the wand is clear, and the dots are rainbow-colored. The effect is quite beautiful and it may not be immediately apparent that it's an adult toy, though I'm not sure what else you might say it was. I really love playing with pretty things and this meets my standards very well. The bumps are very smooth with no points or edges to catch; they are not perfectly uniform, which gives it an artisan appearance. The top and bottom tip of the toy are smooth with no bumps.
One neat feature is that the bumps keep the smooth glass toy from rolling off the nightstand. It stays where you put it!
Because it is glass, this toy is ideal for temperature play. You can put it into the fridge in its storage bag, or set it in a bowl of ice water or very warm water to take on some cold or heat. ou could also stick it in the freezer. I was a little nervous to do that for fear of injury or for a frozen toy to get stuck in my gynie like that kid's tongue on the pole in A Christmas Story. That may be an unfounded fear but I'd be careful with EXTREME temperatures as it really does hold onto that heat and cold quite well.
The Rainbow Nubby can be used vaginally or externally. It should not be used anally because there is no base to avoid it getting lost up there. When used vaginally, I recommend starting slow as many reviewers have found the texture overwhelming. Because there is absolutely no give, hard thrusting can bruise you inside so be careful until you know how your body handles a glass toy. For me, though, the texture just felt wonderful, and was not too rough. Used externally, it also feels quite nice. I'd have to say that the combination of the size (perfection) and the texture have made this my favorite glass toy.
It can also be used as a body massager! Even just rolling the toy between your hands feels really nice, and it can be rolled or pressed onto back or other sore muscles. I work on a computer all day and rolling it with firm pressure between my hands feels just delightful.
Since it's totally waterproof, you could also use it in the tub. I would only recommend doing so if you have an acrylic or fiberglass tub. If you have a porcelain or steel tub, you could easily break the toy if dropped in the water. I would also be careful not to drop it from any height and I would, personally, not use it in the shower for that reason.
Glass is a 10 on the Eden Fantasys safety scale. It is body-safe and will not react with any of your bodily fluids. Any kind of lube can be used; I would recommend something thicker, like a gel or silicone. I imagine that liquid lube might make the texture of the toy irritating. You can totally sterilize it by boiling if you want to share this toy.
(Side note: I just learned that if you live at a high altitude, as I do in Denver, you need to boil a toy for a longer time to completely sterilize it. To completely sterilize a glass toy, you should boil it for 10 minutes at sea level, and 1 additional minute for every 1000' of elevation. The more you know... (cue PSA music)...)
If you don't wish to completely sterilize it, you may also put it into the dishwasher (top rack), wash it with soap and water, or a toy cleaner. If you are washing it by hand, make sure to scrub it well, as fluids can collect at the base of the bumps.
Experience
Holy wow, this toy really felt WAY better than I expected it to. My partner tried it on me for the first time after having kept it in the fridge for a few hours. The combination of the shock of icy cold and the textures as he slowly inserted it was mind-blowing. Alternating between slowly thrusting in and out, rotating the toy, and making a "stirring" motion to have it at different angles--I was begging him not to stop. I have not had non-clitoral orgasms, but the Rainbow Nubby got me closer than I ever have--I very nearly came with absolutely no clit stimulation. Since I was shackled, as I frequently am, it was pure delicious torture to just feel those bumps moving inside me with no release. Spectacular.

I will say that it was a little painful with deeper and more rapid thrusting--NOT because of the texture which I unequivocally enjoyed, but because of the end hitting me deep. I'd definitely recommend being careful with deep thrusts on this one.
This content is the opinion of the submitting contributor and is not endorsed by EdenFantasys.com
Thank you for viewing
Rainbow nubby wand
– textured glass dildo review page!