Explore the Rainbow!
I've always drooled over this piece of art. Then I finally bought it, cleaned all my glass toys and did a comparison playtime. Not my favorite, but still enjoyable.
Published:
Pros
Glass, Texture, Comes with a Bag, Easy to clean
What can I use this for?
This was intended to be used as a dildo for the vagina and it excels at that job! I also like to use it as a roller massager. If neither of those uses work out for you, you could always carry it around in your bag and use it for self defense. Getting hit by the rainbow wouldn't feel very good. But alas, if that still doesn't suit your needs, you can always use it as a paper weight.
Safety
Before ever using a glass toy, you will want to inspect it under a bright light, searching for scratches or any imperfections such as a sharp edge. I say under a bright light since I just use to do a quick once-over and call it good. It wasn't until I sat down at my computer to write a review that I saw the huge scratch on my toy. When I would run my fingernail over it, it would catch, which totally freaked me out, so I sent it back. The light helps brings safety issues to your attention. Air bubbles aren't the prettiest things to look at, but they won't cause you any harm.
It's also a good idea to wash the toy before use. Some even suggest before and after ever use. I'm on the lazy side and only wash before hand. Glass isn't porous so you don't have to worry about pores filling up with icky bacteria. You also don't have to worry if the glass will react with your favorite lube.
Glass is an extremely hard material. It does have the potential to bruise your cervix, so be careful! Personally, I've never bruised mine and I'm not nice to my lady bits (they like it that way). Another heads up is this toy is not safe for anal play. No flared base so your bum will think it's a tasty snack and try to swallow it whole.
If I have a massive orgasm will my vagina shatter the glass into a million pieces?
-The answer is no. Glass toys are usually made out of
Pyrex Glass
also known as borosilicate or tempered glass, which is made to withstand more presure than the glass that makes up your cups or windows.
Toy Time Tim
has actually done some tests on a few of his glass toys that are fun to watch
Part 1
Part 2
. So if your still worried about your toy shattering, check out those two links. I have yet to have one break on me, but if they do break they are gonna break apart in large chunks.
Storage
It's always a great idea to keep your glass in some sort of storage. I keep mine in bags (the more padding the better), or in the case of the one Icicle I do own that stays in its original packaging, then I place them all in a photo box, which I have all my toys sorted in.
Temprature Play
Safe: Running/letting sit in the desired temp of water. Placing on a heating or cooling pad. Heating pad is personally my favorite. Cooling off with water, drying, then placing in the fridge. Placing it on/under your body.
No-No's: Putting in the microwave or oven, boiling it, throwing it in the freezer.
-You want to avoid extreme temperature changes, these increase the chances of glass fracturing and therefore rendering your toy useless.
-It's also a good idea to test the temperature on a sensitive bit of skin like your inner arm first. Don't want to burn your naughty bits now.
Textures
On the Rainbow Nubby Wand, you'll find that it's covered in nubs -- short compacted nubs, that cover the entire length of the toy, except for the two tips. You've got your red nubs, green nubs, yellow nubs and you've got your blue nubs. So the title "rainbow" is a little bit misleading. These nubs are quite enjoyable, but they would have been more so if the shaft had a slight curve to it. Otherwise, it's fun to use. I like to start off slowly, then as I become more lubricated the faster thrusting feels amazing to me.
I find that when a toy is covered in nubs and rotating during penetration, it's like giving your vagina a massage. It's an experience that I truly enjoy. If you get it and you end up hating it, try it on the bottom of your feet, that feels real good too.
Experience
How the rainbow compares to others: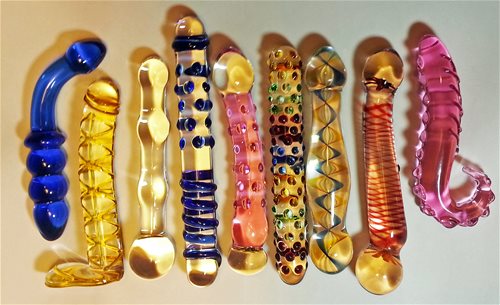 Left to right
Amethyst
--
Gold Laced G
--Don Wand Something--
Royal Duet
--
Nubby G Wand
Rainbow Nubby Wand
--
Cyclone Wand
--
Blossom G
--
Icicles no. 24
My two favorite textures that I've tried so far, are the Gold Laced G and the Nubby G Wand. I liked the more pronounced nubs on the Nubby G Wand compared to compacted ones found on the Rainbow. The only texture that I have tried and hated was on the Blossom G. The stand alone bumps I found painful.




What's Included
I received my glass toy inside of a red drawstring bag, which was then wrapped in a layer of bubble wrap. You won't receive any instructions or tips. Just a dildo and bag and BUBBLE WRAP!
G-Spotting
Look elsewhere.
Measurements
Product Page:
Length:8"
Insertable length: 7"
Circumference: 3 1/2"
Diameter: 1 1/8"
Mine:
Length: 7 1/2"
Insertable length: All of it!
Circumference: 3 1/2"
Diameter: 1 1/8"
All the glass toys I have ever gotten from the SSA Glass have been shorter than the product page measurements. This is due to the fact you have to blow the glass, which is hand done, so everyone's is a little bit different.
This content is the opinion of the submitting contributor and is not endorsed by EdenFantasys.com
Thank you for viewing
Rainbow nubby wand
– textured glass dildo review page!