Making love to a rainbow.
The rainbow bliss is a women's or man's best friend. It has this beautiful color affect, and just so lovely to look at. It is inexpensive, and the size is perfect for beginners and the advanced. I was so glad I ordered this dildo. You can use it for temperature play, if angled right its perfect for p-spot and g-spot stimulation. It is an incredible work of art, and is in my top five favorite glass dildos.
Published:
Pros:
Glass, Smooth, Temp play, Lightly textured, G-spot & P-spot stimulation, price, Beautiful,
Cons:
The pouch
Next to clitoral toys, glass dildos are becoming my newest obsession. I tried my first glass toy a few months ago, and I've been hooked. I'm slowly but surely building up my glass collection, and its soon taking over its own life. I wish my boyfriend was into P-spot stimulation. I'd love for him to try one of these out. That is a battle not worth fighting ha-ha. Maybe one day, but until then I'll just keep them to myself. I have not had this glass dildo for very long, but I've used it quite a few times, and I can not think of life without it. I'm so glad I got this one.
Like a lot of SSA glass toys, they come in that thin red pouch. I'm sorry but, I hate those pouches. I'm always worried about my toys breaking, or cracking. They are okay if you keep your toys in one place, and do not move them unless you are about to use them. If you travel a lot, you are going to need to buy a better pouch. EF has some that are nicely padded, and will keep your glass items safe. It can be given as a gift

I do have to give it to EF they do, do a phenomenal job of keeping the toys safe even though the pouch is lacking. Your bliss does come in the red pouch, but inside the red pouch, the bliss is nicely wrapped in bubble wrap to keep the toy from breaking during shipping. You can choose to reuse the bubble wrap over and again to make sure your toy is protected. I choose to keep mine. I do not travel with my glass toys, but when I move them around sometimes the dildos will move around.

Once you have removed the dildo from the pouch and the bubble wrap, you are automatically in awe at how beautifully made and decorated the bliss happens to be. It is just so darn beautiful. The glass is shiny like crystal. The head of the rainbow bliss is perfect! Not to bulbous, but not too small where you will worry about not feeling it. The head does have some texture too. The main texture two lines that are angled, but parallel from each other. This is another texture that you can feel with your hands, but not with used internally.

When you hold it to light, it is just a sight to see. You will also notice the red, blue, and yellow swirls twisting along the body. The swirls are raised, but not extremely raised. The swirls are about half of a centimeter. You will notice it when touching the bliss, but when using you will not notice the swirls. I found it to be a little disappointing, but it was not enough for me to dock any points off.

The shaft is about 7 inches in length, and 6 1/2inches insertable. It has a circumference of 4 ½ and a diameter of 1 3/8inch. The length makes it perfect for beginners, and the advanced. The thickness of the shaft is perfect for women who do not want to have an over full filling when using a dildo. The shaft fits perfectly in your hand. It fits perfect in mine, and my hands are about normal, maybe a little bigger than some women. The head along with the length of the shaft makes it suitable for g-spot play, although it is not made for that, but angled the right way you can it that sweet spot. I would also use caution when thrusting.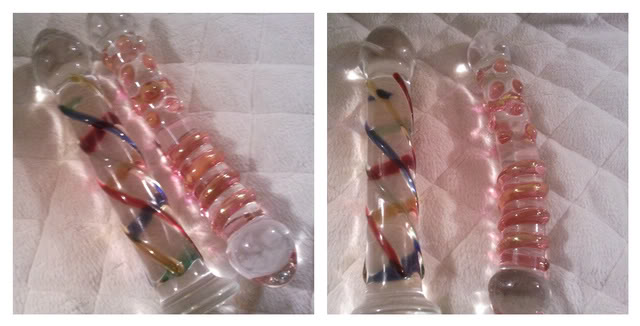 The base of the bliss is also my favorite one. I do not have many glass dildos that have a base; I think I have two other ones. My gold lace g and my blue swirls, so when I notice this had a base I jumped on the opportunity to own this one. The base is 1 centimeter thick and 2 inches across the bottom. The base fits perfectly in your hand, so that anal play and thrusting is a breeze. The size of the base allows you to safely insert it anally without any problems. The base also helps the toy stand on its own. I would not recommend riding the dildo, by just standing it on its base. I only do not recommend this because the base can slip from under you and cause some serious damage. Like I stated with above that even though this is not angled for it, it can still be used for p-spot stimulation when angled the right way.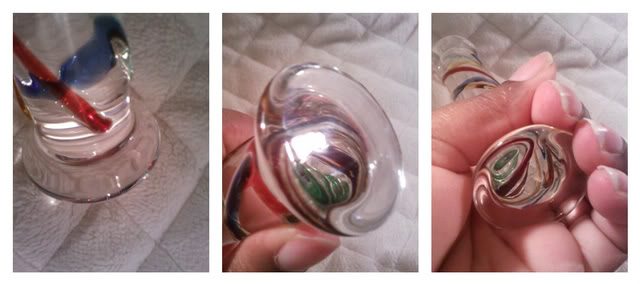 Experience
Continued...
Being the bliss is totally made of glass, when cleaning you can wash it with mild soap and water. You can also use your favorite toy cleaner, or you can use a 10% bleach solution. Glass is extremely smooth and nonporous. When sharing this glass toy you should use a condom, especially when switching from the anus and vagina. You can use the rainbow bliss in the shower, or bath. The bliss is also perfect for temperature play. You can place it into warm water, or a bowl of ice water. I would not recommend putting it into the freezer because this can cause the glass to fracture.
Traveling with the bliss is extremely easy; you can store it into your personal bag, or luggage. You should be extraordinarily careful when handling this dildo. Try to place it somewhere that will not cause it to fall or roll off anything. Try not to rough house (playing around) when having this out. You could hurt yourself or someone else if you mistakenly hit them with it. Try not to allow it to bang against anything hard, or against other glass toys. When storing this, it can be placed with other toys. You do not have to worry about chemicals interacting negatively, because its glass and comes with its own storage. You can use the bliss with any lube you choose.
Experience..
I love this glass toy. I do not think I could stress how much I love it. When I first had it in my hands, I was so surprised at how beautiful the bliss was. It looks 50 million times better in person than it does on the product page. I could not' wait to use it. I was dying. I ended up using it alone the first time, and it went smoothly. I was surprised that you could not feel the texture when using it. It just feels like one smooth glass toy. Inserting it was a breeze, and I did not have any complications. It was just like yummy clear goodness. I did use it with my boyfriend. He wanted me to wait and try it out with him. I'm impatient, so I did not wait.
I did use the bliss with him on another session. I did not want him to feel left out. He is an enormous whinny baby. When I used it with him, I was able to lay back and allow him to take full control. He than whipped out one of my favorite bullet vibes. The glass held the vibrations remarkably well, so when I had the bullet on my clit I could feel the vibrations on the inside. It was not extreme, but very subtle so that I could feel it, but did not take away from the sensations that were offered from the dildo. I have yet to use it anally only because I'm still in training, and I worried about it being too large for me. I hope to be able to use it for that soon. As for temperature play, I have not used it chilled, but I know it holds a warm temperature exceptionally well.
Follow-up commentary
5 months after original review
This by far is my FAVORITE glass dildo. I use it at least 3 times a week. I kind of feel bad, because I don't use the other quite as much as I use this one. My boyfriend is a fan of it because he thinks it's the best looking one that I own. I have dropped the rainbow bliss a few times on my kitchen floor when cleaning it, and it hasn't chipped or anything. I use to use it for temperature play, but I no longer do. There isn't a real reason why it hold temperature well. My only problem with this is and always has been the pouch. I wish it came in a thicker pouch. If something was to ever happen to this glass dildo. I would order another one without thinking twice.
This content is the opinion of the submitting contributor and is not endorsed by EdenFantasys.com

Thank you for viewing
Rainbow bliss
– sex toy review page!