Oh Glory Johnny!
Realistic, highly detailed and available in metallic purple; the large but manageable Johnny has made a friend in me. Whether you want girth, realism or both; Johnny was made to impress.
Published:
Pros:
Vixen Silicone, realistic detailing, girthy but comfortable, harness compatible.
Cons:
Will be too large for some.
With a growing collection of larger toys and a new love of both VixSkin and regular silicone VixSkin Creations toys, the giant looking Johnny was bound to end up high on my list of must have toys.
Packaging:
Unlike my other Vixen Creations toys that arrived in clear plastic tubes, the Johnny instead arrives in a square plastic box which can easily be opened and re-sealed making it ideal for long term storage of the Johnny. While I'm a fan of Vixens usual tubular packaging, the awkward shape created by the Johnny's testicles mean that this is the most space-friendly alternative. With most of the packaging being transparent you get a good look at the toy inside from every angle before it is even out of the box.
On the front of box you'll find the usual Vixen sticker that is included on all of their packaging. On this you'll see that Vixen Creations toys are 100% silicone and hand-made, with a lifetime warranty. It is recommended on this sticker that you store the toy upright in its packaging to maintain its shape.
First Impression:
Having seen this in photos and videos and read all about it in reviews I was expecting the Johnny to truly be a giant of a toy. Upon its arrival I was both surprised and maybe a little relived to see that it looked large but definitely manageable. Though seeing as I had just recently invested in and managed the Tantus T-Rex, this may be why other larger toys seem less intimidating.
Available in four color options, purple, black, chocolate and vanilla, I opted for well the only color that was in stock at the time. The purple Johnny is quite a deep shade with a metallic effect in some places and a duller finish in other places, looking at mine the testicles and base appear shiny and metallic while the shaft is quite matte looking.
Starting at the testicles the realistic look is obvious with lots of fleshy textured detailing on the balls and a less textured skin like look to the shaft. Along the sides of the shaft are light veins which are soft to the touch and can easily be pressed down or squeezed. Under the head of the toy there are some equally soft realistic skin folds. The head has a pronounced ridge which is realistic but perhaps a little intimidating on a toy this size.
Measurements:
Total Length: 7 Inches
Insertable Length: 6 ½ Inches
Circumference: up to 5 ¾ Inches
In Use:
The larger size of the Johnny means that a decent amount of both warm up play and lube is needed before attempting his girthy build. Compared to the likes of Tantus toys the silicone used is softer and has more give during use so for me inserting the head of the Johnny was surprisingly comfortable once adequately warmed up. The realistically raised head ridge is clearly felt especially during initial insertion but this softer silicone means it can be squeezed and will adjust and adhere to your body's shape.
Once past the thick head, the rest of the shaft feels as though it is slimmer than it is. I put this down to the very slight curve near the head of the dildo which gives the first few inches a thicker feel. The sensation of the smooth lower shaft works well with the more textured head ridge and skin folds giving the Johnny a good balance and creating extra stimulation where it is most wanted.
Though for me it didn't create any great deal of G-spot stimulation, for some the larger girth and slight curve may be ideal for gentle g-spot stim. For clitoral stimulation the Johnny can be used with the testicles facing the clitoris. When positioned like this anyone who can take the full length of the Johnny is treated to a clitoral spanking from them while thrusting. The testicles are also flexible enough to press against the clit and grind on with their fleshy texture adding to the stimulation.
The Johnny can also be used for anal play (if you can manage its size) and it's ideal for strap-on play as it is compatible with O-ring harnesses. I find that an average size 1.5 inch O-ring works fine with it but if you are nervous about marking or denting it a larger ring may work better.
Features:
Flared base for safe anal use
O-Ring harness compatible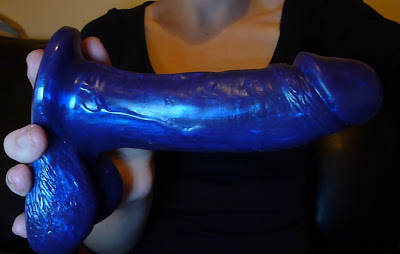 ...
Experience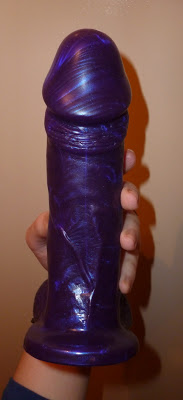 Overall:
With its large but manageable girth, realistic detailing and soft veins and head ridge; the Johnny has turned out to be a much more usable toy than I had anticipated. While ordering it I had expected this to be one of those 'once in a blue moon when vaginal miracles happen' type toys, but to my surprise the giant is actually a toy I can see myself enjoying regularly. Compared with the VixSkin Maverick these two are very similar in size/girth and if the girth of this sounds particularly intimidating it can also be bought in the softer VixSkin version making it more comfortable and manageable.
Its metallic purple coloring is deep and gives the otherwise very realistic look of the Johnny a fun twist while the testicles not only make it safe for anal play and strap-on compatible but they give you something to hold onto and can even be used to provide clitoral stimulation.
Material/ care:
In terms of care you can treat this as you would any silicone toy. This means that you can boil it in a pan to sterilise it if you want or even throw it in the top rack of the dishwasher. For normal cleaning after use I find warm water and mild antibacterial soap or specialist toy cleaner works well. Natural juices can dry on to the material but they come away really easy with a little gentle rubbing under warm running water.
Once it is clean make sure you dry it thoroughly before storing it. You can store it as is recommend in the plastic box it arrives in but if space is at a premium (and with us and our 50+ dildo collection it is); we find a zip-seal sandwich bag works best for a number of reasons. It takes up no additional space and it keeps the toy free from dust/dirt and lint which this toy collects like crazy! But probably the best reason to store it in a sealed bag is to keep other toys from reacting with or damaging the material.
This product was provided free of charge to the reviewer. This review is in compliance with the FTC guidelines.

Thank you for viewing
Johnny
– realistic dildo review page!