Rainbow Delight!
I knew when we ordered the Rocket that we would probably love it. Having an ever growing collection of Tantus toys this made a welcome addition. It is fun to look at and very comfortable to use. If you are looking for something a bit more unusual in color then I highly recommend this.
Published:
Pros:
Silicone, Fun/Attractive colors,Works equally well vaginally and anally.
Cons:
None
-Packaging-
My partner and I are always looking to expand our ever growing (both in quantity and size) collection of Tantus toys. If you have ever ordered a Tantus toy before then you know exactly what to expect with regards to packaging.
The toy arrives is a see through plastic container with the toy held in place by a plastic insert. The outside of the box has the usual Tantus red. There are some facts and information about silicone on the back.
Overall I knew what to expect but I still found it to be lacking, the plastic is so thin that it can tear easily and leave some very sharp edges. I know the packaging isn't the primary reason you get a toy but it would be nice to see something a little different. On the plus side it keeps the toy clean en route and is free from anything pornographic or seedy. It isn't very durable so wouldn't be suitable for long term toy storage.
-Material/Specifications–
As with most Tantus toys, the Rocket is made from 100% medical grade silicone. This is a superb material for dildos as it is non-porous (doesn't take in bacteria). Latex and Phthalate free and can be boiled to sterilise. It is completely odourless and tasteless as well.
Our initial impression of the toy was that it was very smooth to the touch and quite a petite size that would suit beginners and the slightly more experienced alike. Featuring a particularly wide flared base it is very suited to both strap-on on and anal use.
-First Impression–
Seeing the Rocket in person it is just as brightly coloured and cheerful looking as in its photos. It has a very smooth finish and a raised head ridge which looks stimulating but isn't too realistically shaped. Overall the look of the Rocket is very beginner friendly an unintimidating with its ice lolly look and abstract shape.
Looking at the product photos and comparing them to ours, it shows that the pattern of colour fade does vary from one dildo to the next. Ours only has pink on the flared base with most of the length of the shaft being orange and the green colouring stick mainly to the head. It is a nice though that each dildo is almost unique in its pattern of colour but also means that yours might not be what you necessarily expect so it's good to be aware that this can vary as much as it does.
-Measurements–
Total Length – 6 ½ inches
Insertable Length – 5 3/4 inches
Circumference – Up to 5 inches
Width of flared Base – 2 ¾ inches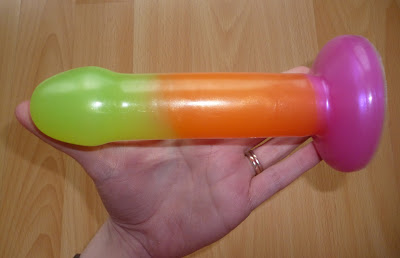 -Features-
Flared base for safe anal use
Compatible with O-ring Harnesses
-In Use–
While my partner mainly plays with larger toys than this, the Rocket struck us as being a handy warm-up toy. The smooth surface and rounded head mean that lube works very well with it. We use a water based lube with ours as silicone lubes are not recommend with silicone toys. The raised head of the Rocket is very comfortable to insert and once inserted it provides a gentle level of stimulation to the front wall of the vagina and even to the g-spot.
The back of the shaft is very smooth in shape and the gently raised head ridge which is just at the front of the Rocket is ideal for use vaginally as it rubs off the g-spot. The smooth finish and modest size of the Rocket doesn't just make it great for light g-spot stimulation but also makes it ideal for anal use and light prostate stimulation too.
While the shaft of the Rocket is quite straight, the shape of the head can be enough to give some prostate stimulation and the design of the Rocket is very comfortable for anal play. The flared base means that there is no need to worry when using it anally and this makes it suitable for use in a strap-on harness too. It fits a small to average sized O-ring and we found it fits Rodeoh's well.
...
Experience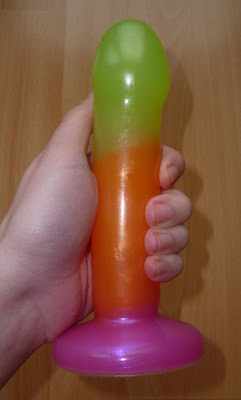 While size queens or fans of texture might find this tame or even a little lacking, it is so simple but effective in design with a head shape that my wife loves and a size that should suit most. It does work well as a warm up before moving on to bigger toys but even my wife who has a taste for bigger toys lately says it can please by itself. Perfect for quick sessions with very little lubrication needed for comfortable thrusting, we would love to see a bigger version (Super Rocket?) become available but even this modest sized Rocket is doing a good job pleasing by itself.
-Care/Storage-
Once you have finished playing with the Rocket, cleaning is a breeze. The simplest way of cleaning is with some warm water and a mild antibacterial soap or toy cleaner. If you want to clean it more thoroughly you can boil it in a saucepan for three minutes to sterilise it. If privacy isn't an issue you can even throw it into the top rack of a household dishwasher.
Once it is clean make sure it is completely dry before storing it. As the material (like most silicone) is a serious dust/lint magnet you will want to find a way to safely store the toy. As I mentioned above the packaging is a bit delicate as well as taking up at twice the amount of space. The best storage solution we have found is a zip-seal type sandwich bag. These are great because as well as keeping the toy clean they also keep any of your other toys from reacting with it.
This product was provided at a discounted price in exchange for an unbiased review. This review is in compliance with the FTC guidelines.

Thank you for viewing
Rocket
– dildo sex toy review page!