Sometimes Bigger Is Better
The Silk Large shines both in and out of a harness. The sturdy, wide flaring base makes it perfect for anal play as does the lovely give of the shaft. The toy is rigid enough for easy penetration but the soft and rounded head means that even vigorous thrusting won't cause bruising. This toy truly is good for a guy or a gal!
Published:
Pros:
High grade materials, larger size, smooth texture with some give
Cons:
None
I am a size queen when it comes to dildos and vibrators so while the Silk Large from Tantus is perfect for anal play, mine is generally reserved for vaginal play. Right now we are just beginning our exploration of pegging so this baby seems a bit scary though I am sure we will have worked up to it soon.
This was one of two dildos that came with my harness and while Sigel was ok with the smaller Silk sizes he still hasn't gotten all that interested in this one. I, however, love it for those times I want a quick and dirty thrusting vaginally. While the small and medium Silk do not have a pronounced head the large's head it slightly larger than the rest of the shaft. This makes it easier to stimulate the G or P spot as well as provide interest when thrusting. You get that initial slight stretch and then smooth glide feeling with this toy.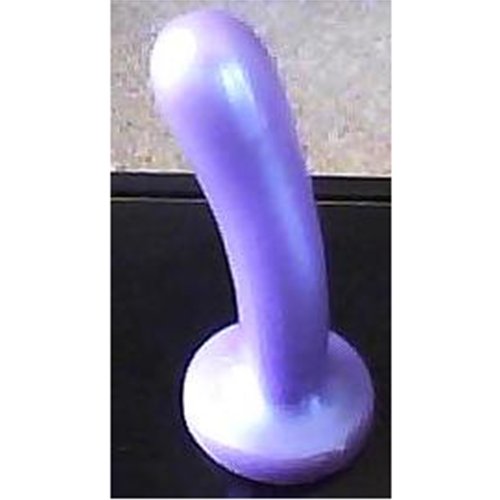 The Silk Large measures in at just over 7 inches with roughly 6.75 inches being insertable. The head measures 4.50 inches around it's largest point before tapering to just over 4 inches for the rest of the shaft. This makes for a smooth gliding sensation when thrusting after the initial pop of insertion but it doesn't allow the anal sphincter to grab hold and keep the toy in place easily.
The base of the toy measures nearly 3 inches across meaning you butt will know it's time to stop even if you aren't using a harness. The base of the toy is built up and thick so that while it is soft and flexible it is not going to fold back and be pushed or sucked into your butt. It is not terribly comfortable for sitting on or walking around with, though it is doable.
The Silk has a slight curve and follows the contours of the body easily because it is flexible, though it is not at all floppy. It is pretty darn near perfect for harness play because it has some give to the toy itself but is firm enough to be inserted with ease.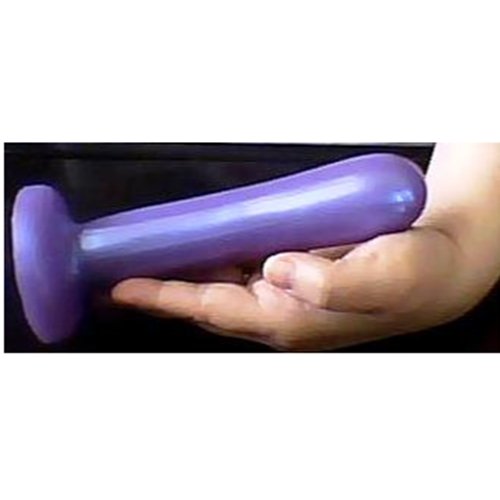 The silicone has a very matte finish meaning it provides a high amount of drag. If you prefer a silkier ride then a few drops of water based lube turns it deliciously slippery. Silicone lube isn't recommended because it has the potential to damage the finish of the toy. If you simply adore your favorite silicone lube then spot test an inconspicuous area of the toy before you play.
The toy picks up lint as though that was it's primary function. A quick rinse before use will remove all flurf.
Since the toy is non-porous it is great for sharing, though it is recommended that you clean it before passing it off to a partner. A toy wipe or a thin large sized condom does double duty; making the toy easier to keep clean and protecting you from sharing any nasties you may have.
The toy could be stored in the original box, though it might be a tad bit bulky for those who have limited space. This isn't a terribly discreet since it looks like a dildo, however, it is not anatomically correct so could be simply boring to jaded baggage handlers. It is a bit too large to be easily squirreled away but it can be stored in a sock drawer with ease.
This toy can be boiled, wiped with a 10% bleach and water solution, washed in the top rack of the dishwasher, scrubbed with hot water and soap or cleaned with a commercial solution and rinsed. Do not use a scrub brush or pad as it could mar the finish and actually provide a place for bacteria to proliferate.
Follow-up commentary
9 months after original review
This line of dildos has become one of my favorite for the ease of care, ease of use and how nonthreatening they look. We have used this dildo many times but I still look like a beginner because my dildo looks brand new. I'd pout but dang, that would be silly!
This content is the opinion of the submitting contributor and is not endorsed by EdenFantasys.com

Thank you for viewing
Silk large
– dildo review page!