Dark Side Of The Moon
The Luna Beads Noir set is like the Emo younger sibling to the original Luna Beads. It wants to fit in and garner praise and attention just like its older sibling, but there is just one problem. The original Luna Beads are so popular because the intense rattling sensation they create reminds you to do your Kegels, and since the Noir set has the same size weights, there's not enough wiggle room to get the same feeling.
Published:
Pros:
Small size leads to a more concentrated and intense workout
Cons:
Internal weights are too big to create a prominent rattling sensation
Use:
The Luna Beads Noir is a vaginal exerciser. They're basically Ben Wa balls with a twist: they have an internal weight that rattles around, letting you know that your vagina exists and that it deserves a workout like every other muscle in the body if it wants to be strong. And you do want your vagina to be strong: not only can it improve your orgasm, but it cures incontinence and helps with childbirth.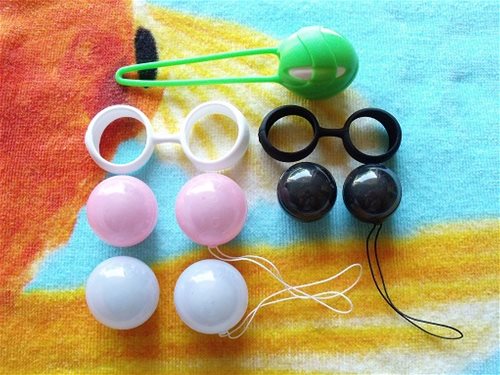 Here is a comparison photo of the Luna Beads Noir, the regular Luna Beads, and the Teneo Uno. As you can see, the Noir set is the smallest of the bunch. Also, you only get one set of beads instead of two; they weigh 37 grams each. Since they're so small and on the heavy side, they are very challenging for me to keep in. This has its pros and cons. It's good because I have to be actively, continuously clenching my vaginal muscles if I want to hope to keep these in. This means I'm really getting an intense workout. The con though is, I can't wear these out in public because if I did I'd be spending my whole time running to the bathroom to reinsert them. In other words, I can't use these passively or for long periods of time. This may change when my muscles become stronger, but for now they're best for a short, intense workout.
A note on the internal weights. Like the original set, their purpose is to rattle around inside the beads, and when you feel it, you're reminded to do your exercises (there's also a theory that your muscles automatically clench when they feel this rattling). The slight problem with this set though is that the internal beads are the same size used in the original Luna Beads. This means that the weight have less room to rattle around, meaning they're harder to feel internally. Because of this and their small size, I can barely feel them rattling when in use. It's unfortunate that the Luna Beads' best feature gets cancelled out with this set.
Cleaning/Packaging:
Caring for your Luna Beads Noir is simple. Since the holster is made of silicone, it can be boiled or wiped with a 10% bleach solution. Soap and water works great too. The plastic balls need a little more consideration. I wouldn't recommend boiling them in a pot of water without putting them in a strainer first so that they don't touch the bottom, and then leaving them in for only a minute or two. A less stressful method for making sure they're extra clean (if you're like me and worry that they could warp from the heat) would be to put them in a bowl and cover them with boiling water, and then let them 'steep' for a few minutes. Again though, soap and water works fine for routine care. As for packaging, these came in a standard cardboard Lelo box. I've since thrown it away because I don't have room to keep my packaging, but I seem to remember the box being black to go with the 'Noir' theme. It works for storage, but a nifty storage bag is also included.
Final Thoughts:
I recommend these if you're looking to challenge your regular Kegel workout routine. Just keep in mind that the Luna Beads' signature internal weights don't work as well with this set as they do with the original Luna Beads.
This content is the opinion of the submitting contributor and is not endorsed by EdenFantasys.com

Thank you for viewing
Luna beads noir
– exerciser for vaginal muscles review page!