Not marrying the night
This set, while admittedly more visually appealing to me than the original pastels, feels incomplete and a lot less worth the money with only one set of balls, and only available in the Mini size. The rattle is more subtle, therefore the effects are more subtle. It's just not going to be enough for many women, and I don't feel they're worth the price.
Published:
Pros:
Nicer color scheme
Cons:
1 set of weighted balls - should contain both. Weighted ball should be smaller.
One of the few things I disliked about the original Luna Beads has been the color scheme. The pastels with white seemed unimaginative and slightly clinical. So as a girl who greatly prefers grey and black in many aspects of life, you'd think I would be all over these. And I admit I do indeed love the look of the Luna Beads Noir. But the thing is, vag balls are not a fashion accessory. Nobody is going to see them. I don't wear them on my wrist, or loop them around a lanyard. So the only thing that I can think of as to why Lelo produced these, is to capitalize a little more on the Fifty Shades aspect. And yes, I found out that that is a factor in the production of the Noir beads. I didn't feel that the Luna Minis were anything to do with the Fifty Shades ordeal, because I had read numerous reviews of the Original Lunas in the past where some women stated that the Original Luna Beads were a bit too big to be comfortable for them. But the overpriced singular pair of Luna Noir in their graphite color scheme? Totally Fifty Shades, and, to me totally unnecessary. I even asked Lelo about that aspect and this was the response:

"Fifty Shades did have some influence on the creation of Luna Beads Noir, since we had feedback from consumers to make a more sensual version of the world's best selling sexual wellness product that is more focused on intense foreplay sensations. Luna Beads Noir are smaller for easier insertion and extraction and are a heavier weight compared to our classic version for stronger, more pleasurable sensations."

However, to me, Luna Beads Noir set is a bit of a head scratcher. They come only in one size – the mini size – and just one weight! The heavier weight. If you've never used a kegel bead set I wouldn't recommend jumping right to using the full set of these. I did that once after going a long time without using any kegel exercisers and I actually had sore, overworked PC muscles the next day, akin to overworked abs after doing way more crunches on the first day back to the gym than you really should have attempted. You could use just one bead at first; I would only recommend using one bead though if your kegels are toned, you consider yourself to have a tighter vagina, and truly do not prefer dildos above 1.25″. Otherwise?
You might very well find yourself doing whatever it is you do whilst wearing fancy Luna Beads, and out of your pant leg rolls your singular Luna Bead.
Ahem.
Anyways.

One slight benefit to the darker colors is that the retrieval cord while show less staining over time. The "girdle" is still silicone, the plastic balls are still sealed in a special way so as to withstand a few minutes submerged in boiling water (poured in a bowl, don't let it touch the hot metal pan).

Given the price factor I don't really feel like these are worth the money. I do like the look better; hell I'm the girl who wanted a new Acuvibe because it came in black and to replace my Devine Play Chest because it was out in a black-on-black (instead of my pink-on-black). If Lelo had made the Noir set as simply another color option to the Originals and Minis and kept the whole system the same I'd tell you that it's just a color preference. But the Original and Mini set both have the graduated 4-ball weight set that I've always loved so much, priced at $42.99. So when I saw that the Noir set, which only included 2 balls, was $35.99 I felt even more reluctant to recommend them. I've always preferred the Luna Beads to any other kegel system out there but the Noir set, as it stands, is another story altogether.
Experience
Since I've noted that these are the same size as the Minis (which I don't like, personally) I also wanted to note that Lelo fixed the problem that I and a few others reviewers had with the initial run of the Luna Minis – the inner weighted ball is back to how it should be, covered in rubber to muffle the rattling sound. But just as with the Minis, the issue is that the weighted ball is too large to produce any real noticeable sensations for me. The less room the weighted ball has to move around, the less you'll feel it. So to me, not only does it fail as a kegel exerciser (which doesn't seem to be the intended use if I read Lelo's answer) but it fails as an "intense foreplay" toy. It was really hard to capture this because of how dark the Noir beads plastic is, but you can see pretty well in the photo below how much more "wiggle room" that weighted ball has in the Original set on the left.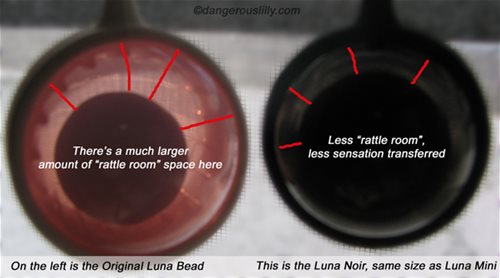 This content is the opinion of the submitting contributor and is not endorsed by EdenFantasys.com

Thank you for viewing
Luna beads noir
– exerciser for vaginal muscles review page!