Did You Apply It Yet?
This g-spot gel isn't all that exciting. I felt very little stimulation from it when it was applied to my g-spot, though that could just be me. I think the price is very high for this product, considering the amount you get and that most of the ingredients aren't expensive. I dislike the scent of this stuff. It's kind of like a weird combo of food and chemicals. I only really liked how easy this was to clean off of my skin and the included guide that helps you find your g-spot.
Published:
Pros:
easy to clean off skin, includes handy guide
Cons:
expensive, smells bad, bulky packaging, didn't work so well for me
While I don't have any particular difficulty in locating my g-spot, it definitely does not get stimulated all terribly too much. When I made an order a while back, I wanted to try another g-spot stimulation product, but that one was out of stock. Instead, I decided to give "Ooooh! That's It!" a try.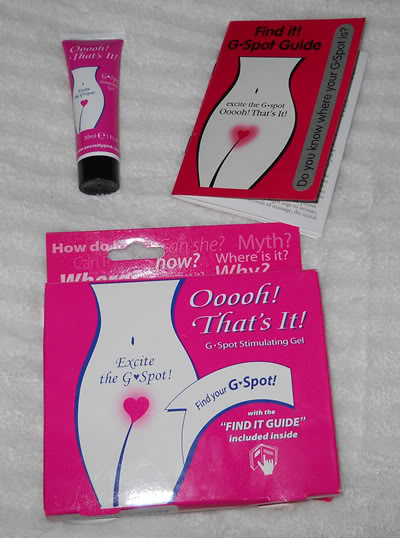 This gel comes packaged in an obscenely large box for such a tiny tube. The box is made of hot pink paperboard that has an illustration of a female body on the front. The box proclaims, "Find your g-spot!" and states there is a "find it guide" included inside. On the back are the instructions (which I will go into later) written in English, French, Spanish, and German. This product is made in Canada.
The guide offers great advice on finding your g-spot and is accompanied by a diagram showing you where in your body your g-spot is located. It also describes 6 positions to try for maximum g-spot stimulation, all of which contain illustrations in the back of the guide. This guide is written in the same languages as the box. I found the information inside it useful and worth a read.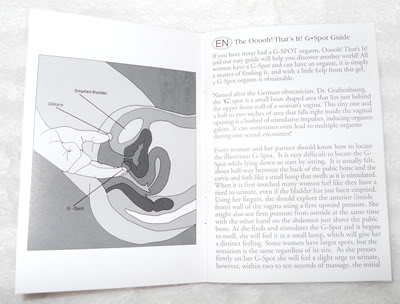 The gel itself comes in a very small 1 ounce tube. This is about the size of a travel toothpaste tube. The plastic tube is also covered in hot pink and has the directions on the back. The instructions are to locate your g-spot, using the guide if necessary, and apply a pea-sized amount of gel with one finger. Once the gel is applied, it should be massaged onto the g-spot a little bit. This gel should not be used by those who are pregnant or those who have STDs. The tube states that if irritation occurs, to discontinue use and wash the area thoroughly.
Ingredients:
Aqua, Propylene Glycol, Sunflower Seed Oil, Triethanolamine, Acrylates/C10-30 Alkyl Acrylate Crosspolymer, Peppermint Oil, Menthyl Lactate, Methylisothiazolinone (and) Phenethyl Alcohol (and) PPG-2-Methyl Ether, Sweet Almond Oil, Tocopheryl Acetate, Arginine HCI, Carrot Seed Oil.
The only natural ingredients in this product are the sunflower seed, peppermint, sweet almond, and carrot seed oils. Of these oils, all of them except for peppermint oil are just simple oils that are commonly used in foods, massage oils, and body products. Peppermint oil is commonly used in tingling sensation products and foods like chewing gum. The rest of the ingredients are broken down as follows:
Propylene Glycol:
Keeps product from melting or freezing. Helps active ingredients to penetrate skin.
Triethanolamine:
Fragrance and pH adjuster.
Acrylates/C10-30 Alkyl Acrylate Crosspolymer:
Viscosity increasing agent.
Menthyl Lactate:
Fragrance/refresher.
Methylisothiazolinone (and) Phenethyl Alcohol (and) PPG-2-Methyl Ether:
Preservative and antibacterial ingredient.
Tocopheryl Acetate:
Skin conditioning agent. Strong evidence supports that this is a human skin toxicant, however it is safe in small amounts. Small amounts of research claims it can cause cancer.
Arginine HCI:
Could not find information for this ingredient, unless HCI was a misspelling for HCL, which would make this an amino acid that supports a healthy immune system.
None of these ingredients are harmful, except for the one that can be a skin toxicant if used in large amounts. When I used this product, I did not have any negative effects from it. This doesn't contain any parabens, which is definitely a plus. I'd like to note, the ingredient list on my tube is completely different from that on the product page. The product page also shows a bottle, rather than a tube, so it is possible the company changed their product and I have the new version.
In appearance, this gel is a bit runny. It is still identifiable as a gel, though. It's half-opaque and off-white. It's kind of gross looking to me. It is easy to apply just a pea-sized amount to my finger; however getting that entire amount to travel to my g-spot is another story. Some of it will smear off your finger along the way.
I do not care for the fragrance of this stuff. It's kind of smelly. I don't know what I can identify it as, since I've never smelled anything like this. It's got a slight food-like odor to it combined with some chemical scent. I can't smell it if I have it more than 3 feet away. I did not taste this stuff. It's not meant for consumption and it will probably taste gross anyway.
Continued..
Experience
When we use this, he applies a small amount to a finger and massages it into my g-spot for me. I can feel some tingling and my g-spot feels a bit more sensitive than usual, though I don't feel enough stimulation to really justify using this product. Even when used with a position or vibrator that stimulates my g-spot, it doesn't make much of a difference. Stimulating products never seem to have much effect on me. This does not necessarily mean you will not feel anything. Everyone is different and their reactions to different products can vary greatly.

To clean this up, you can wash it off with a gentle cleanser or a body wipe if you happen to get it on your skin. A douche may help remove the gel from inside of your body. I don't care for douching and don't feel enough stimulation from this product to really feel a need to clean it out of me. If it gets on bedding, I would spot-treat it with some dish detergent and throw it in the washer. Once this is washed off, you won't have the unpleasant aroma on you anymore.

I just store the gel in my bag full of lubes. The packaging is bulky and unnecessary for storage. I saved mine only for the purpose of this review, so it's now going into the recycle bin.

Overall, I did not find this gel particularly exciting. I felt some stimulation and tingling, but not very much. I don't like how the product I received does not match the product page in appearance and ingredients. If EdenFantasys received a new product, they should definitely update the current product page to show the new product. I also feel the price is just a bit too high for such a small amount of gel, especially considering most of the ingredients are mega cheap and are common in beauty products.
This content is the opinion of the submitting contributor and is not endorsed by EdenFantasys.com

Thank you for viewing
Ooooh! that's it!
– g-spot gel review page!