Great Quality and Feel
These are wonderful. The chain and clamps can take a good amount of use/abuse. The quality is far superior to another set of clamps I have. They are adjustable, so both beginners and advanced users will find enjoyment from them. I could not get the clit clamp to stay in place, but it may just have been me. These clams fold down nicely to easily be taken along for fun on the road. The only drawback is that the tweezer style clamps are harder to adjust and must be readjusted before each use.
Published:
Pros:
Great quality
Chain is strong and a nice weight
Adjustable
Cons:
Clit clamp does not stay on well
No directions
No material listing
This is my first set of tweezer style clamps and my very first clit clamp.
Packaging
When it arrived, it was packaged in a circular, plastic, clam shell case. You can store it in this case. I tossed the paper insert. There are no directions included. The packaging is not discreet. It states that these are Y clamps and they are visible through the clear plastic. One really nice thing is that there were no naked people on the packaging. You can tell what they are from the packaging, as it is clear plastic, so this is not something you want leave out if you need to be discreet.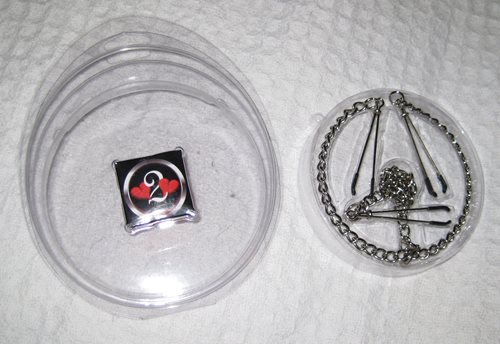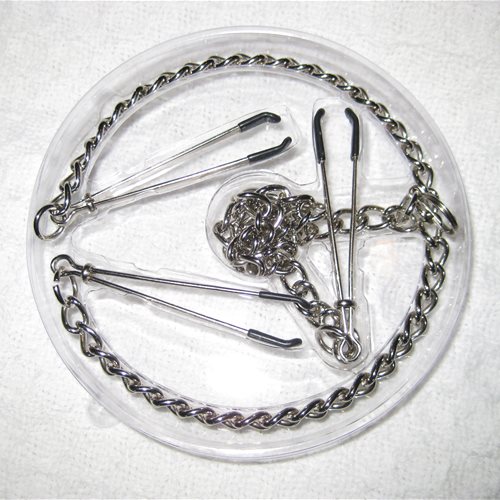 Material/Quality
When I took them out, I was quite impressed with the quality and weight. They are extremely well-made. The chain is sturdy. It is not so heavy that it is too much for a beginner, but not so light as to turn off a more experienced user. The chain for the clit clamp is easily detachable from the rest of the chain.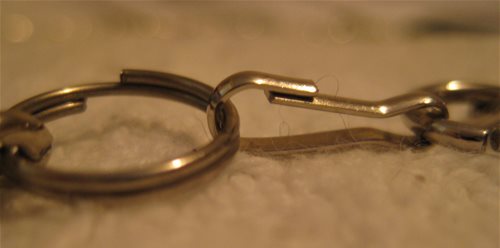 The nipple clamps are not easily detachable from the chain. With some pliers you can remove the from the chain, if you wish.
As there was no product information, I do not know what the chain or the plastic grips are made from. If you are sensitive to certain materials, you may want to avoid these. If you are using the clit clamp, you will want to be careful about sharing.
Cleaning and Care
No care or cleaning instructions were provided. I wipe the grips down with toy cleaner. You could also use a 10% bleach solution and then rinse them thoroughly. Be sure to towel dry the links and leave this out until it is completely dry. Putting this away damp could cause it to rust.
Style and Measurements
The tweezer style clamp is adjustable. This makes them good for beginners and experienced users alike. The tweezer style does not have as much bite as other style clamps, so it may leave some people wanting a bit more surface area. A downside to this style of clamp is that they must be individually adjusted for each use. It can also be a challenge to get them adjusted just right, especially if you are doing it alone.
The length between each end of the nipple clamp is 17". The chain itself is 13"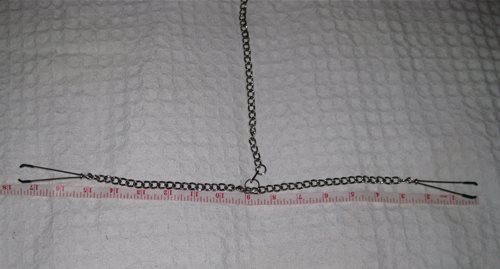 The length of the clit clamp is 16". The chain itself is 13"

The maximum the tweezers will open is 5/8" and they will close completely together.
Travel and Storage
These are travel friendly and can be put into a zip lock bag and dropped into your bag for travel. They fit into the palm of my hand, so you could stash them in a drawer or under the bed. The chain does jingle a bit, so you may have to come up with a quick explanation if someone hears it. They can be used anywhere. Due to the adjustable nature, you can wear them for extended periods of time and, with the appropriate outfit, under your clothing. You just need to be careful not to cut off the blood supply for long periods, so if your nipples start turning purple, it is time for a break.
Experience
I have used these several times and have been quite pleased. Tweezer style clamps are still not my favorite, however I really like these because of the quality. They are well made, and the chain does not feel cheap and flimsy like some others on the market. The plastic tips stay on well.

The nipple clamps stay on well. I found that putting them on in the direction that the chain will be pulled works best and decreases the chances of them being pulled off accidentally. They are adjustable, so they will service a wide range of users. Those with very sensitive nipples may not be pleased, as you do have to tighten them a bit to get them to stay on. Paring these clamps with a bullet vibrator against the tips was heavenly.

The clit clamp was a major issue for me to get to stay on properly. I have never used one before, so I did a bit of research (after a few failed attempts on my own). Even following the directions, found that I just could not get it to stay on for more than a few seconds. Being a novice, I am not sure if it is a product flaw or a user flaw.

If you are not using the clit clamp, the extra chain can be put to other uses. Your partner could use it to pull from a greater distance or connect to a stationary object. You could also add a weight to that portion of the chain to add a bit of variation.

You can add temperature play by putting the clamps in the freezer or in a cup of hot water, depending on what you are in the mood for. If you do submerge them in water or wear them in the shower, be sure to dry them after use as the metal may rust.

Overall, these are great and I would highly recommend them.
Follow-up commentary
7 months after original review
I still like these clamps. They are not my favorite but not because there is anything wrong with them. Tweezer style clamps just are not my favorite. I do use these occasionally because they are very well made and stay in place well. They are fully adjustable so are good for beginners up to advanced users.
This product was provided free of charge to the reviewer. This review is in compliance with the FTC guidelines.

Thank you for viewing
Y-style tweezers with clit clamp
– y style clit and nipple clamps review page!