Hey everyone look it is Bozo the Boobie!
These were my first toy for nipple stimulation. I am not impressed with this as much as I would like to be. This is not going to stop my search for the right product. They really do look like Clown nose on your nipple.
Published:
Pros:
Pink, fit many nipple sizes, affordable, water proof, and travel friendly.
Cons:
Material, femme color selection, painful to some, and hard time staying on.
Mini Nipple Suckers are intended to be used on nipples. They can heighten sensitivity and super suck. What other areas can are these used on? They can be used on the clitoris, neck, chest, thigh, and many more. All these areas would have the same use as nipples. **Warning: You may end up looking like you got into a fit with a vacuum. Unsightly marks known as hickeys may appear. Also too much sucking to any one area for extended period of time could do harm.

To use these you must first have erect nipples. Once your nipples are erect you slide your nipple or your partner's nipple into the hole at the bottom of the suckers. Now that they are on the intended nipple you may tweak away. Please for the user's sake, be careful not to squeeze to hard; this will pinch the nipple.

Mini nipple suckers are available in pink and purple; not sure why there are not masculine colors. The material is PVC. PVC is made of components of Polyvinyl chloride. The material safety rating is only 2. This is because PVC is semi porous. It is not as porous as cyber skin but more porous than silicone. This material has a slight fresh shower curtain smell to them; nothing a few washing can not handle. This material is soft and squishy.

Mini nipple suckers are designed to fit most nipples. They should fit all kind of nipples also but those with puffy or inverted my have some difficulty with them staying on. If you happen to have nipple piercing I would suggest taking out the rings before use. They stand tall 1" and are 3" circumference (7/8"diameter.) They are semi stretchable and flexible, so they may go bigger if need be.

Upon usage these suckers did not work so well for me. I ended up pinching too hard and squeezing my nipple really hard. This hurt extremely bad to me. After a few more tries I did get the hang of them. They do not at all feel like the suction of a mouth. To me they fell like having cloths pins on my nipples without the clamping feeling. Given the right mood this can feel really pleasure able. To me sometimes it is not. Sometimes these do not stay on very well. They just need some adjusting and they stay on, but sometimes it is a mood killer.

The worst part about these is they look ridiculous. The previous reviewers are right "Clown nose"! They are not at all sexy to look at, but they work so that is all that matters. There may be shits and giggles while using them but if they make you feel good, they are worth it.

Cleaning is simple enough. A quick wash with warm water and antibacterial soap, then allowing to air dry will do. Your choice of toy cleaner will absolutely work also. If you want to use some lube with these it is only recommend that you use water or silicone based lubes. I highly recommend lube if using on the clitoris. There is no need to worry about water damage, these are completely water proof.

Packing is your basic plastic clam shell package. There is a paper insert with no added instructions. The packaging is not discreet; it says NIPPLE right on it. Wrap this if gifting. The product is not discreet either, but really easy to hide. You could even wear them under clothing. With a padded bra no one would know, with a non padded bra it would just look like erect nipples. You might get asked if you are cold. I store these in a pencil bag along with my other small toys. You could store them anywhere. You can certainly travel with these; easy fit into your pocket.


Mini Nipple Suckers are a great deal for $10, you can not pass them up. They are a great product to add to everyone's collection. I just wish they made some colors for males; they have nipples also.
Experience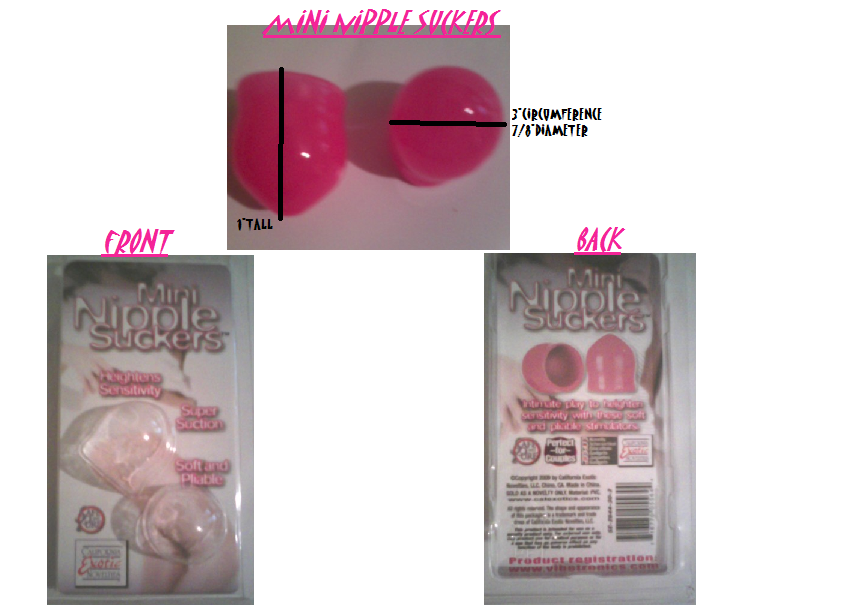 Follow-up commentary
3 months after original review
I still do not like these. I just could not get them to suck right for me. I only recommend these if you are in the market for suckers, since they are affordable.
This content is the opinion of the submitting contributor and is not endorsed by EdenFantasys.com

Thank you for viewing
Mini nipple suckers
review page!