Hmm, okay.
"Long time, no buzz". It's a great little vibrator overall. The plastic is quite unforgiving, and it's too hard for my tastes. It was a fun little toy to play with, though.
Published:
Pros:
great build-up vibrations, nice shape
Cons:
loses the strength of the vibration quickly, hard to hold when it's slippery
This was my first assignment from EF, and I have to admit that I was extremely excited about it. I would check the mail daily to see if the package slip had arrived, and when it final did -- on my day off no less -- I rushed to the post office and back.
I was a little disappointed with the package, but reminded myself not to look a gift toy in the mouth (for the clit). It was a simple clam, clear plastic packaging with a cardboard insert which stated basic instructions, and displayed an image.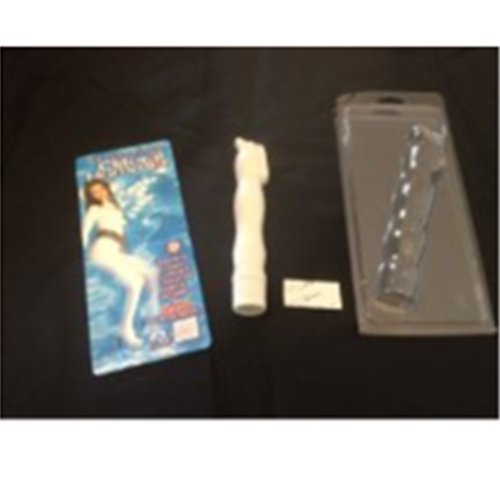 Determined to make the best of it, I grabbed 2-AA batteries, ran into the bedroom, and stripped. I wasn't in the mood for any kind of slow build up; it had been years since I had a vibrating toy, and I was looking forward to feeling the tingle again.
Quickly lubing up the toy and myself, I turned on the toy and gauged the vibration in my hand. It has a great build up -- starting softly and turning to a stronger buzz, as I turn the dial on the base. I find the shape of the shaft, and what I would describe as the "clit cup", to be a pleasing design for my body. It gives a great all-over sensation. I prolonged my time alone, to ensure that I enjoyed it as much as I could. In total, I enjoyed it three times -- which seems to be my limit for one day.
A few comments:
- I found the plastic to be too hard to use in the way that I would other vibrating toys.
- There is a little imperfection in the plastic at the top, which I could see scratching someone if you're not careful.
- The strength of the vibration dies quite quickly. After the first use, it stops being as satisfying, and it does make it harder to cum.
- If the hummer gets too much lube on it, it becomes extremely hard to hold.
- I found the little nub on the top to be a little too "pointy" to work as a g-spot stimulator. It caused more discomfort than pleasure.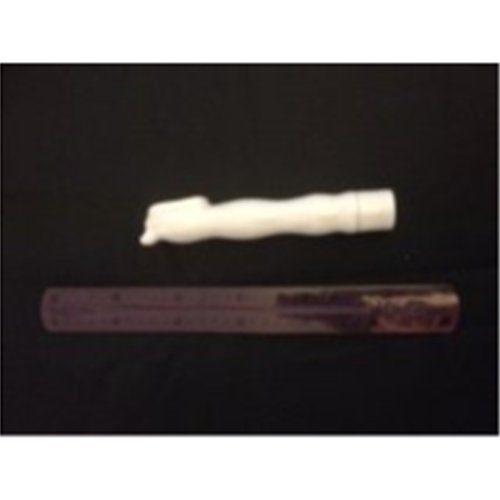 The design of the "clit cup works well. It allows me to stimulate the whole area, rather than just one part of my clit like my fingers do. The overall shape is a little weird. My husband commented that it kind of looks like the villian from Scary Movie -- the scream face in the robe. It works, though, so it didn't bother me too much.
The Clit Hummer is made from plastic, so it is non-porous. It has a safety rating of 8. It can be used with water, oil and silicone based lubricants. Cleaning is easy -- a simple wash with hot water gets off the water-based lubricate we use. If you need to, you can use antibacterial soap, too. It's water tight when the lid is on, but I wouldn't immerse it in water for cleaning.
Experience
When I knew this was the toy I was getting, I planned a few ways that I wanted to use it before I wrote the review.

*A simple on the bed alone situation: Check
- I really enjoyed having a vibrating toy again. The slow build-up allowed me to take my time -- something I normally forget to do.
*During sex with my husband: Check
- I found this a little difficult. I was always so worried about getting it in the way of my husband, or hitting him with it (because of the hard plastic), that we couldn't really enjoy it.
*While my husband slept beside me: Check
- It makes a little too much noise for me to consider using it again to get off when my husband is too tried. I hate the idea of waking my husband up, so it needs to be really quiet for me to enjoy it. This is just a little too loud.
*In the shower: Check
- Oh my God, I have been wanting a toy to use in the shower. I loved it. While I didn't orgasm, that wasn't really the aim I had in mind. I love the hot water and the buzz. It got me ready to jump into bed and have some fun.
Follow-up commentary
14 days after original review
I have to admit I am starting to like this toy a lot more. Putting in slightly better batteries has made a big difference, and my husband and I have managed to work it in to a few positions where I would normally use my fingers to get me there. I still find the plastic a little hard, but I am learning to love it.
This product was provided free of charge to the reviewer. This review is in compliance with the FTC guidelines.

Thank you for viewing
Clitoral hummer waterproof
– sex toy review page!